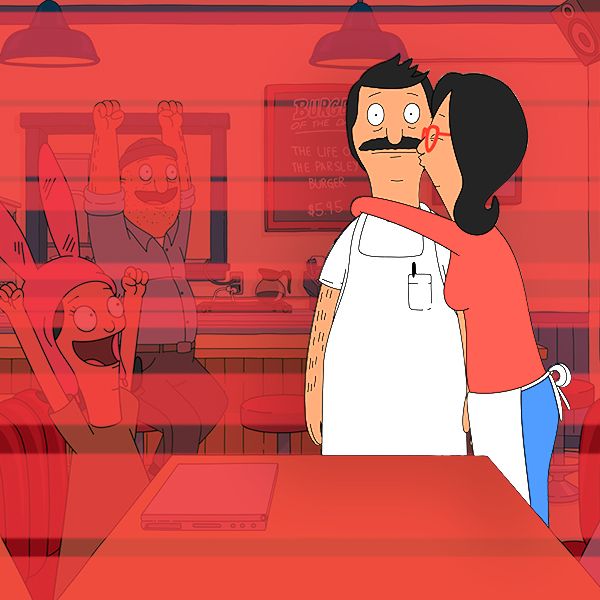 BOB'S BURGERS: Bob escorts Tina to a convention for her favorite TV show in the all-new "Equestranauts" episode of BOB'S BURGERS airing Sunday, April 13 (7:00-7:30 PM ET/PT) on FOX. BOB'S BURGERS ™ and © 2014 TCFFC ALL RIGHTS RESERVED.
Photo: © 2014 FOX BROADCASTING
We're coming to the end of our week-long Vulture TV Awards, honoring the best things television served up in the past year. We singled out Amy Schumer, Julianna Margulies, and others actors for their solid performances, gave props to director Cary Fukunaga for a particularly wonderful scene from True Detective, and welcomed the likes of David Milch and Amy Sherman-Palladino as guest judges. And now for the first of our two biggest awards: Best Comedy, as selected by Vulture TV critic Matt Zoller Seitz.
The nominees are:
Archer
Bob's Burgers
Girls
Louie
Veep
 And the winner is …
WINNER: Bob's Burgers
Loren Bouchard's great Fox comedy about a family-run burger joint snuck up on people. It's much quieter than its Sunday-night time-slot companions, The Simpsons and Seth MacFarlane's laff factory, but over the last few years it has come to feel like the heart and soul of the evening. Every now and then there'll be a flurry of cinematic daring, such as a Hayao Miyazaki tribute, ridiculously drawn-out slow-motion action sequence, or a musical number scored like a Gilbert and Sullivan operetta and cut like a Russian constructivist montage. But for the most part the animation is charmingly simple — like the late, great King of the Hill, it truly is a sitcom that just happens to be drawn.
At the heart of the series are five characters that are brilliantly drawn, in every sense. Loudmouthed crusader Louise (Kristen Schaal of 30 Rock) fights the power even when there's no good reason to. Her brother Gene (Eugene Mirman) works a keyboard and megaphone into everyday conversation and is constantly blurting out surreal interjections (listening to the theme music on the video game Burgerboss, he murmurs, "That's the song I wanna lose it to. Mm-mm-mm"). Big sister Tina (Dan Mintz) is utterly intoxicated by boys and writes what she calls "erotic friend fiction." ("Brr, it sure is cold in here. I wish some strong, chivalrous man would lend me his jacket, or his pants.") The children's mother Linda (John Roberts) bursts into song-and-dance routines for no good reason (she's often the star of the show's weekly post-credits musical bits). Half-assedly lording over the clan is Bob (Jon Benjamin, who also voices Archer). He fluctuates between can-do optimism and can't-win pessimism. The entire clan has a weakness for the big dream, the wild scheme, the Hail Mary pass. Their restaurant is fighting a losing battle for customers against their across-the-street rival, Jimmy Pesto's, and they've been shut down so many times for so many reasons that it's impossible to keep track of them all. Recent plotlines have produced one classic episode after another: My favorites are the Bronies sendup "The Equestranauts";  the cheerleading episode "Gene it On," in which Gene leads the cheer-leading squad and Tina bites her tongue and is rendered speechless; and "I Get a Psy-chic Out of You," in which Linda pretends she can read minds.