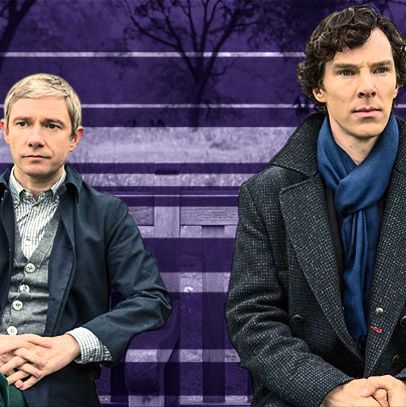 We're in the midst of our week-long Vulture TV Awards, honoring the best things television had to offer in the past year. In addition to the awards selected by our staff writers, we also asked a few industry luminaries to weigh in on their favorites. David Milch wrote about TV villains, Kurt Sutter discussed a death on Boardwalk Empire that particularly affected him, and to present her pick in the Best Dialogue category, we now give the floor to Gilmore Girls and Bunheads creator Amy Sherman-Palladino.
TV Week Award Winners
WINNER: Sherlock
I don't believe in "the best" when it come to writing. Who the hell am I to judge what the "best" dialogue is? Awards were invented by cruel businessmen and fueled by insecure artists who are desperately looking for validation and that elusive hug from Mommy and — oh, wait! Sherlock! Uh … okay, never mind that crap I just said. Sherlock has the best dialogue. Period.
The Sherlock Holmes series starring Benedict Cumberbatch and Martin Freeman is delicious. The snap, the humor, and the intelligence of the banter are addicting. It's crack without the life-destruction and bad teeth. Words fly fast and furious. This is not a show you have on in the background while you make a sandwich. As Arthur Miller once said, attention must be paid.
But the real secret to great dialogue is finding the actors to say it. When the Sherlock team first heard Cumberbatch and Freeman read together, there must've been a sea of stunned faces in the room. No one gets that lucky without some sort of satanic pact involved. And the writers took that luck and ran with it. This past season hit new heights with a brilliant second episode thrusting Sherlock into the bizarre role of being the best man at Watson's wedding. This involved a genius stag night sequence and a best man's speech that was a verbal tour de force for Cumberbatch. A speech that was equal parts hilarious, insane, and poignant, and, yes, by the end of it, had also solved the case. It was written to exploit all of Cumberbatch's quirky versatility and Freeman's muppet-faced humanity, and it hooked right into the heart of the show, the bond between these two very different men. And yes, it actually is the best of the best.