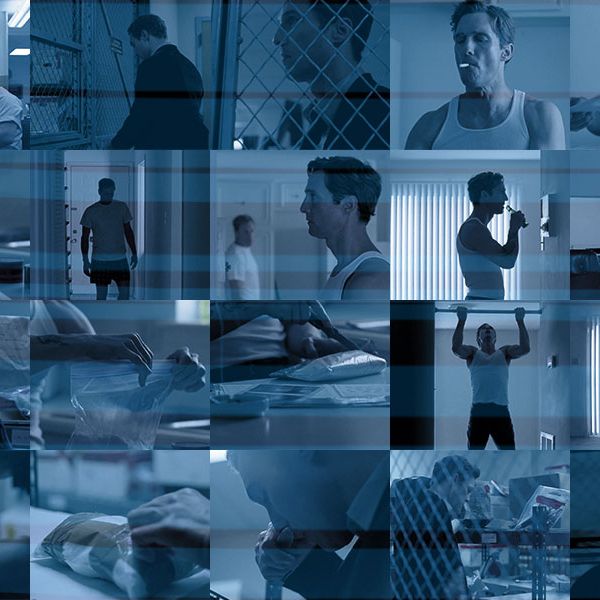 All this week, we're presenting the Vulture TV Awards, honoring the best in television from the past year. Yesterday, we showered Amy Schumer, H. Jon Benjamin, and others with love, and today we singled out Matthew Rhys and Julianna Margulies for their stellar performances. Up next: Best-Directed Scene, as selected by Vulture television critic Matt Zoller Seitz.
And the nominees are:

The Americans — The professor describes ARPANET to Philip in "ARPANET." Director: Kevin Dowling.
Fargo — Lorne Malvo's mob strike in "Who Shaves the Barber?" Director: Scott Winant.
Louie — Louie gets dumped in "Elevator Part 6." Director: Louis C.K.
True Detective — housing project shootout in "Who Goes There." Director: Cary Fukunaga. 
True Detective — "Are You Alright" montage in "Who Goes There." Director: Cary Fukunaga.
And the winner is …
Winner: True Detective — "Are You Alright" montage.
The fourth episode of Nic Pizzolatto's neo-noir series True Detective ends the most showily directed (some said overdirected) sequence of the TV year to date: a six-minute, single take through a housing project. That's admittedly a whopper of a Steadicam shot; kudos to season-one director Cary Fukunaga for pulling it off and pushing discussion of film aesthetics out of film blogs and into mainstream entertainment coverage. Similarly impressive, though more cruelly exact and mysterious, was the massacre in episode seven of Fargo, which showed Billy Bob Thornton's assassin entering a mob stronghold and killing several goons inside, their deaths indicated only through offscreen dialogue, sound effects, and the occasional muzzle flash. Just as daring, though admittedly quieter, was the breakup scene in the Louie episode "Elevator Part 6," which, like so many scenes in that show's fourth season, was done in a single take; the only motion was a very subtle pull-out, as if the show couldn't bear to be so close to such an uncomfortable moment. In season two, The Americans again distinguished itself as a series that's wizardly about explaining complex concepts or plotlines without making viewers choke on verbal exposition; my favorite example is the scene in episode seven wherein a college professor explains a progenitor of the internet to troubled hero Philip Jennings, and the camera illustrates the idea that electronic communication makes geography moot by seeming to rise through the ceiling to reveal the internet router, which may or may not actually be above the professor's office.
But for my money, the best-directed sequence of the half-year is a much quieter sequence in the same True Detective episode that showcased that amazing housing-project sequence. It shows Rust Cohle (Matthew McConaughey) and his partner Marty Hart (Woody Harrelson) committing to their cockamamie scheme to flush out an accused serial killer by having Rust infiltrate a biker gang. It's a perfect example of how to design a montage that gets across salient plot points while simultaneously giving the audience an eerily beautiful something extra.
On the surface, it's just a simple expository sequence showing Rust stealing cocaine from a police evidence locker and replacing it with a package containing flour. It runs about two minutes and has 21 shots (not many, in this age of overedited storytelling). And yet the images of Rust finding himself by losing himself (reviving his dormant undercover identity in simple physical actions such as weighing flour, doing pull-ups, and staring into a tiny circular mirror) have a mesmerizing power. They illuminate his loopy Spartan mindset (and Marty's fascination with it). The sequence gives McConaughey something akin to a movie-star-style trailer for himself, but because every gesture is related to Rust's "mission," the effect is hypnotic instead of laughable. These two are so obsessed with catching bad guys and doing justice for murdered women that they're going to destroy their careers and drive away the women they care about. The show worships at the altar of maverick heroes and critiques their toxic masculinity at the same time; the aesthetic intelligence at work in this sequence and others suggests that the show is aware of this eat-your-cake-and-have-it-too conundrum and is sincerely wrestling with it. The crowning touch is the song: Lucinda Williams's "Are You Alright." The female vocal track and warm, faintly maternal lyrics ("Are you all right?/Is there anything I can do?") make the scene play less like a celebration of prowess than a lament for one man's delusions, and perhaps a whole gender's.