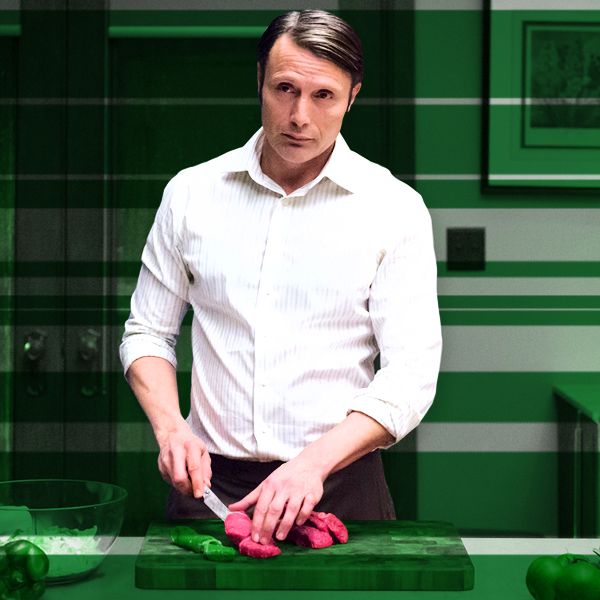 We've reached the end of our week-long Vulture TV Awards, honoring the best things television served up in the past year. We've singled out Amy Schumer, Julianna Margulies, and others actors for their solid performances, given props to director Cary Fukunaga for a particularly wonderful scene from True Detective, and welcomed the likes of David Milch and Amy Sherman-Palladino as guest judges. And without further ado, Vulture TV critic Matt Zoller Seitz makes his pick for Best Drama.
The nominees are:

The Americans
The Good Wife
Hannibal
Mad Men
Orphan Black
And the winner is …
WINNER: Hannibal
(Spoilers follow for season two.)

It's no longer surprising to come across a scripted drama that's written, directed, shot, edited, and acted with great skill, but it is surprising to find one that takes the tonal and stylistic risks that Hannibal takes each week. Nothing on this Bryan Fuller drama is supposed to be taken at face value. Every frame unfolds in a dream space in which feelings and sensations are more important than facts. It's an emotional procedural.
The subjective storytelling and flagrantly unreal atmosphere make what might otherwise be an unbearably gruesome spectacle not just tolerable but fascinating, at times weirdly stirring, in the way that a depressing opera or brutal fairy tale or Greek tragedy can be stirring. Hannibal showcases the most hideous violence ever seen on commercial TV — some of the murders and mutilations make the ghastliest stuff on True Detective and The Following seem mild — but because it's all shot and directed with an aesthete's love of color, texture, and light, it feels a touch abstract, at times defiantly figurative. The blood is photographed as if it were oil paint, the flesh like clay or wood (or latex, which much of it really is). The crime scenes are paintings, sculptures, and multimedia installations. The FBI investigators, led by Hugh Dancy's Will Graham and Laurence Fishburne's Jack Crawford, are art critics looking for influences, patterns, and evidence of a movement. The title character is a secret master and mentor, the private architect of an invisible school of mayhem. To paraphrase one of my favorite Roger Ebert quotes, this show is not just about what it's about; it's about how it's about it.
Hannibal took risks right out of the gate, but in season two the storytelling grew wilder, verging on chaotic. The writers killed off major characters willy-nilly. The carnage approached American Horror Story levels. And yet there was a horrendously beautiful anti-logic to the tale's construction, with key characters circling around each other, playing each other, and at times seeming to merge, via clever filmmaking, with each other (and with supporting characters). Two sex scenes between Hannibal, FBI psychologist Alana Bloom (Caroline Dhavernas), and Alana's great secret love Will Graham were edited to make it seem as though the three were having a ménage a trois. Another sequence cut between Will's conversations with Hannibal and Jack to make it seem as though they were, respectively, the devil and angel on his shoulder. This devil has tormented so many puny mortals, indulging his fantasy of acting with the sadistic indifference of an Old Testament god. The finale is a voluptuously drawn-out bloodbath whose intensity exceeds the most delirious violence in Brian De Palma and Mario Bava's Grand Guignol thrillers. Hannibal's house looks as though Jackson Pollock committed seppuku there. Bodies are cut, bruised, mutilated; there's blood everywhere. All hope seems lost, Satan is victorious but on the run, the building and climax and resolution are all deliriously pulpy, verging on deeply silly, and yet the effect is intoxicating and moving, because the actors and filmmakers believe so completely in what they're doing.