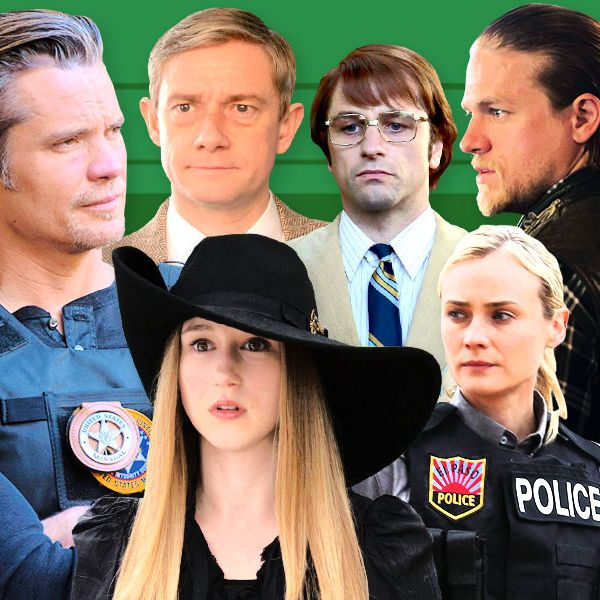 All this week, we're presenting our Vulture TV Awards, honoring the best things television had to offer in the past year. We've already singled out Amy Schumer, Julianna Margulies, and others actors for their solid performances, and gave props to director Cary Fukunaga for a particularly wonderful scene from True Detective. Up next: Best Network, as selected by Vulture's TV-industry guru, Josef Adalian, and it goes to a cable channel celebrating its 20th anniversary this month.
There's no question which network had the biggest audience last season: CBS. The only TV outlet to regularly pull in more than 10 million viewers each week, the Eye easily out-rated its dozens and dozens of broadcast and cable rivals. But while audience reach is important in TV, and CBS certainly made lots of money, the network was hardly the success story of the past season. Just the opposite, in some ways: Almost all of its returning shows suffered double-digit viewership declines, none of its new series broke out in a big way, and it fell to third place in the valuable demo of adults under 50. We mention all this not to rub salt in CBS's wounds — it remains a hugely successful and profitable network, envied by many — but to underscore why success in TV isn't just about who's biggest, as important as raw Nielsen numbers are. Momentum matters (is a network on the upswing or headed down?), having a wide variety of hits can be crucial, and in a world of endless program choices, buzz is increasingly important (if sometimes overvalued). Below, Vulture has selected the three networks we think had exceptional seasons when judged (subjectively!) on the aforementioned factors. These are not the networks with the most viewers or biggest profit margins. They're just networks that had really good years. And we start with the network that had the best year of all.
FX
For a long time, Rupert Murdoch's general-entertainment cable network often found itself being described as "the HBO of basic cable," thanks to critic-friendly fare such as The Shield or edgy stuff like It's Always Sunny in Philadelphia. But in the past year or two, FX has fully shed any reputation of being HBO Lite and evolved into a creative force very much on the same level as its premium-cable rival. The breadth and quality of FX fare these days is staggering when you think about it. The network has crowd-pleasing rating blockbusters that rank among cable's 25 most-watched shows (Sons of Anarchy, American Horror Story, Justified). Two of its youngest dramas, The Americans and the limited series Fargo, are regularly touted by critics as ranking among the finest shows on all of TV (with the love for Fargo reaching epic levels with this week's finale). Another new drama, last summer's The Bridge, hasn't generated quite the same critical hysteria, but its overall audience still put it among cable's 50 biggest original series last year. On the comedy front, meanwhile, Louie is adored and debated (if not watched by that many people), while the animated Archer is one of cable's biggest young-adult magnets. And while FX recently moved two of its biggest comedy hits  — It's Always Sunny in Philadelphia and The League —  to new sister network FXX, they're still part of the larger FX Networks portfolio, and still adding the to FX bottom line (both creatively and financially).
Not everything is perfect at FX, of course. Comedy Legit was a noble failure, while Wilfred, wrapping this summer, never took off (but once it's done, will have managed to stay on the air for a respectable four seasons). The network couldn't crack late-night, even with a talent such as W. Kamau Bell. It's also facing the loss of both Justified and Sons of Anarchy over the next year, depriving it of two major drama tentpoles. This is not a minor thing: As amazing as The Americans is, its audience is much smaller than those hits, with fewer than three million viewers watching most episodes (even including DVR data). Even The Bridge, while doing better than Americans, still reaches about half as many viewers as Sons. FX execs are not unaware of this, which is why this summer will see the launch of a pair of promising new dramas (the political thriller Tyrant and the Guillermo del Toro sci-fi thriller The Strain). And with Wilfred departing and Sunny now on FXX, the network is also rolling out two new comedies this summer (Married and You're the Worst) and greenlit two more for next year (the Billy Crystal/Josh Gad–led The Comedians and, depending on the pace of his recovery, a Tracy Morgan half-hour). There's no guarantee that all, or even any, of these new shows will work. But given FX's track record in recent years, don't bet against its hot streak continuing.
RUNNERS-UP
NBC
For the better part of a decade, NBC execs looking to resuscitate the plucked Peacock tried every strategy imaginable in pursuit of a turnaround: ambitious new business paradigms ("Let's put Jay Leno at 10 p.m.!"), quirky comedies that made critics purr (30 Rock), budget-busting musicals from superstar producers (Smash). NBC was forever thinking outside the box; its ratings seemed forever doomed to decline. But then a funny thing happened on the way to oblivion: When the official TV season ended last month, the Peacock found itself solidly in first place among viewers under 50,  the only one of the Big Four networks to add audience. Rather than achieving this milestone though some grand new strategy or bold idea, NBC climbed its way back to the top by going back to Broadcasting 101: ordering shows with broad-based appeal, populating them with charismatic actors, and then smartly scheduling them to take advantage of existing successes.
The Blacklist has become the poster child for the new NBC under boss Bob Greenblatt. It's an old-fashioned, star-driven Bad Guy of the Week action show, with just enough serialized elements to keep things interesting for a generation used to fancier cable fare. Maybe James Spader will get an Emmy nomination because he's James Spader, but the goal of the show is to hook viewers and not to get critics knelling. The meat-and-potatoes approach worked like gangbusters, with Blacklist becoming NBC's most-watched entertainment show (ahead of even The Voice) after just one season. In fact, its weekly average audience of 15.4 million viewers is larger than any series on ABC or Fox, and all but three on CBS (NCIS, NCIS: LA and The Big Bang Theory).
NBC's incredible year hasn't been powered by just one show, however. The Dick Wolf drama Chicago Fire saw its already-solid ratings grow in season two, while instant spinoff Chicago PD is drawing a bigger crowd than Wolf's long-running Law & Order: SVU on Wednesdays. The network has also worked overtime to keep The Voice fresh, balancing out the risky strategy of airing the show twice per year (it could burn out more quickly) with a regular rotation of new coaching talent. And Greenblatt's been equally smart behind the scenes, wooing veteran scheduling guru Jeff Bader to bring some common-sense skills to the job of deciding when and how to roll out shows. Rather than constantly making wild moves in a bid to quickly juice up ratings, Bader and his team have tried to improve NBC's schedule hour by hour and night by night, slowing improving time slots wherever they can. From top to bottom, adults now run the show at NBC.
None of this is to say the glory days are back at NBC, or that they'll ever return. Network TV is getting more challenging every year, and the damage done by a decade of mismanagement has left the Peacock with wounds that may never heal (nothing has worked on the comedy front; new unscripted efforts have all been duds). Ratings gains next season will be harder without the Olympics, particularly if The Voice doesn't see its recent ratings erosion halt. But for one season at last, NBC has gone from being TV's biggest loser to its most impressive comeback story.
The CW
Nobody will ever confuse the little CW for a ratings juggernaut. Its overall audience is tiny compared to many cable networks, with even its biggest hits (Arrow, The Vampire Diaries) scoring ratings well below most broadcast shows and many cable ones as well. But suddenly, the CW seems to have just the slightest bit of momentum — at least in terms of generating buzz and developing shows with passionate fan bases. Building on the success of TVD from a few years ago, the CW has carved out a niche for itself with fantasy- and sci-fi-tinged shows such as The Originals, The 100, Beauty and the Beast, and the aforementioned Arrow. It's also nurtured Supernatural, leading the decade-old series to grow nearly 20 percent last season — practically unheard of for a show its age. The secret to the CW's success seems to be finding properties that appeal to the network's core demo of women under 35, and yet also play well with their (hip) moms by not being too genre-y or geeky. That makes the CW's shows less narrow than traditional sci-fi, and gives the network a bigger overall audience base. (See also: the CW Friday comedy Whose Line Is It Anyway, which brings in yet another kind of viewer to the network.)
The CW also seems poised to build on these small successes next season, with Arrow spinoff The Flash generating rave early reviews from those who've seen the pilot (though a great pilot does not a hit series make). And now that it's mastered the genre show, the CW will take another shot at finding a long-needed successor to Gossip Girl with the intriguing telenovela-based Jane the Virgin. Yes, its overall audience is small, with just under 2 million viewers watching on average last season. But at a time when most broadcast (and many cable) networks are shrinking, that number actually represents a 7 percent uptick; among viewers under 50, the CW's average is also inching up. The CW might not be a network on fire, but it's hotter than it's been in a long time.