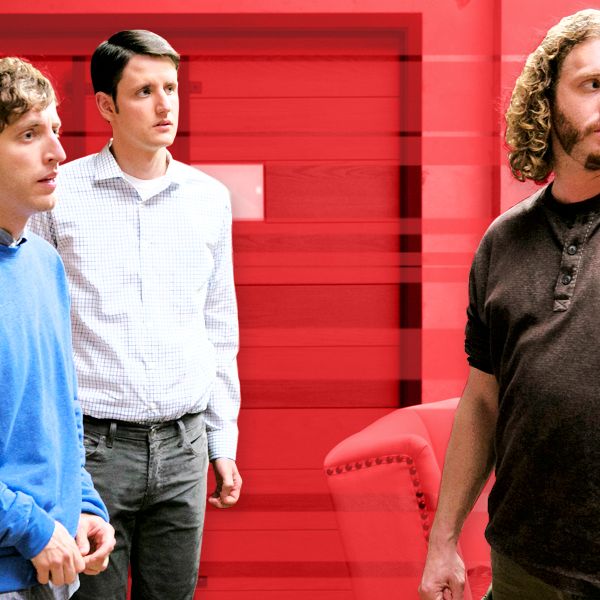 We're in the midst of our week-long Vulture TV Awards, honoring the best things television served up in the past year. We've already singled out Amy Schumer, Julianna Margulies, and others actors for their solid performances, given props to director Cary Fukunaga for a particularly wonderful scene from True Detective, and welcomed David Milch, Amy Sherman-Palladino, and other industry luminaries as guest judges. Here, Once Upon a Time showrunners Adam Horowitz and Edward Kitsis discuss why Silicon Valley is their choice for Best New Show.
As told to E. Alex Jung.
TV Week Award Winners
WINNER: Silicon Valley
This is one of those shows where it feels like it hit the world fully formed, which is really unusual in first-year shows. Most first-year shows take a while to find their footing, figure out what they are, and find their voice. This show arrived fully formed.
The writing is so smart and the characters are drawn so beautifully. We never thought we'd be laughing at jokes about compression algorithms, but then as we were laughing at the jokes we realized it was like a mirror image of us talking about a script we were trying to write. It's the same kind of emotions. We don't think we've ever seen a show that's captured that moment in your 20s when you're just starting out, where it's not focused on romance or those things you so often see. It's about going after your dreams when you're in an industry surrounded by people who have already achieved them. As two guys who moved out to Hollywood from college to be writers in the 90s that really resonates with us.
One of the major questions the show deals with is whether you pursue your own dream, or whether you take a job and hope for security. That's something everyone struggles with in today's world, that underlying sense of terror and how at every turn it's more competitive than you can possibly imagine. When Richard Hendricks (played by Thomas Middleditch) sold part of his business, Pied Piper, to Peter Gregory (Christopher Evan Welch), who asked him what his plan was, he realized that he was in over his head. Well, what'd you think would happen? Those are the realities of starting your own business. In today's world everyone wants immediate gratification right away, without realizing that there's a real-world component to it.
The standout characters are Peter Gregory (played by Christopher Evan Welch) and Dinesh Chugtai (played by Kumail Nanjiani). We love Kumail for the integrity he brings and the mercenariness of his character. As for Welch, from the first moment he came onscreen, it was such a specific take on a character that it felt like something we had never seen before, but also super real. It was an incredible twist on the mentor figure you all kind of seek in your 20s who provides the tough love that those characters need in an incredibly fun way.
When we heard about Welch's unfortunate passing, we started to ask: What are they going to do? Where are they going to go? And then there was a beautiful moment of epiphany which was that we can just enjoy this show. We don't have to worry about that. We trust these writers and creators that they're going to come up with something amazing. Undoubtedly it's going to be bittersweet and sad to have to say good-bye to a character, and we're sure that they had a close relationship with Welch himself. But as far as the show itself, they're going to find something unexpected and amazing to do, and we can't wait to see what it is.