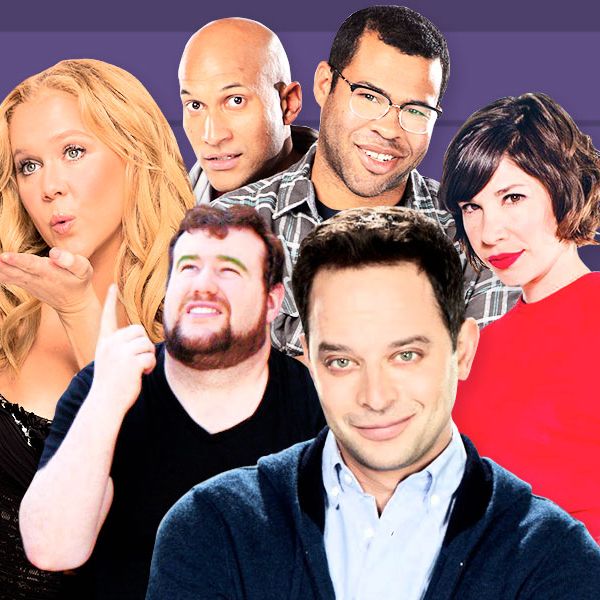 We're in the midst of our week-long Vulture TV Awards, honoring the best things television had to offer in the past year. Following up on his picks for Best Late-Night Moments is Vulture writer Jesse David Fox presenting his choices for Best Sketch of the Year.

TV Week Award Winners
America's interest in sketch comedy tends to go in waves, and right now it feels like we are in an unprecedented surge, not only with more sketch shows, but with a more diverse assortment of sketch shows. We did a list of the best Saturday Night Live sketches a few weeks ago, so for our TV awards, we thought we'd highlight the best of the rest. Here are 12 of the best.
12. Inside Amy Schumer, "Animal Rescue Hotline"
There is a reason Amy Schumer won Best Female Comedy Performer earlier in the week. She's great on Inside Amy Schumer. But she is great in a different way from a lot of other sketch performers on the list, whether they are Fred Armisen, Nick Kroll, or Key & Peele. Amy Schumer excels at playing herself more than anything else. She's doesn't create fully realized, absurd characters; she just examines the world through her nuanced comedic persona. "Animal Rescue Hotline" showcases just that, by presenting someone who wants to care about animals but doesn't actually want to — the well-intentioned asshole, if you will.
11. Comedy Bang! Bang!, "Tear Down"
Comedy Bang! Bang! is a weird hybrid of a show — part late-night-show parody, part sketch show. Though the interviews are sketches in a way, the show's true sketches are often fantastic.
Comedy Bang! Bang! particularly excels at bringing new life to the reality-show parody, as is the case with "Tear Down." Host and creator Scott Aukerman, who used to write on Mr. Show, knows exactly how to kill a joke so thoroughly that it becomes funnier than before. 
10. Portlandia, "Social Bankruptcy"
In Portlandia's fourth season, Carrie Brownstein really came into her own as an actress, especially in roles where she's playing a version of herself. "Social Bankruptcy" highlights that. She captures the overwhelming frustration yet addiction to social media that is seemingly inescapable these days. Well, there's one way out, but it has a Twilight Zone–esque ending.
9. The Birthday Boys, "Too Many Terms"
One of the Birthday Boys' most frequent targets of satire is satire, often making fun of the idea that comedy should say something. "Too Many Terms" is a brilliant anti-comedy in which a bunch of bankers just say seemingly legitimate finance terms at each other. The payoff is the lack thereof.
8. Key & Peele, "Insult Comic"
Key & Peele tends to be the most structurally tight sketch show out there (I'll get into that further down the list), but "Insult Comic" is a little bit rougher around the edges. Peele's character, with his burns and pain medication, is in a horrific situation, and they let the gravity of that raise the stakes. Tasked with having to make fun of him, you end up feeling more sympathetic for the comedian. Feeling for the comedian over the man with face burns — that's good comedy writing.
7. Kroll Show, "Dr. Armond – 'Can I Finish'"
It's hard to categorize Kroll Show as a sketch show. It's more of a sketch-sitcom hybrid. He tells long-term stories in sketchlike settings with sketchlike characters, creating something wholly unique. As a result, it's difficult to pick out one moment. "Can I Finish" is a reccurring bit, parodying the extreme of cable-news talking heads, and here it is applied to the story of Dr. Armond's trial. Due to the nature of the structure of "Can I Finish," you get a quick look at so much of this universe so quickly.
6. The Birthday Boys, "Keepin' the Beat"
As mentioned before, the Birthday Boys are opposed to comedy that feels too heavy. This results in sketches often about the most minute observations. "Keepin' the Beat" does an incredible job at capturing the personality of every drummer — regardless of the seriousness of the band. Beware: That song will get stuck in your head.
5. Portlandia, "The Best Part Is Going Home"
Concerts are terrible, and this Portlandia sketch perfectly captures this fact. But there is more to it. Ultimately, it's a trenchant portrayal of getting older and your priorities changing.
4. Inside Amy Schumer, "The Food Room"
"Food Room" will be studied in sketch-writing classes for years to come. It is a perfect Aaron Sorkin parody. There's not much more to say.
3. Comedy Bang! Bang!, "Movie Trailer"
Sometimes a bad joke done on purpose is a good joke. It's not everyone's cup of tea, but this fake movie trailer nails it. Made up of a series of very, very dumb plays on words, the comedy is able to get more and more absurd while sticking to the silly premise of a trailer that uses movie-review clichés and takes them very literally. It is brilliant and so stupid.
2. Key & Peele, "Mr. T PSA"
As I alluded to before, no one writes a tighter sketch than Key & Peele. With Ian Roberts, one of the founders of the Upright Citizens Brigade Theatre, as co-showrunner, the sketches hold very true to the improv school's idea of "game." The sketch establishes the unusual thing — in this case, Mr. T is doing a PSA, but he's only teaching lessons that apply to him — and then very deliberately heightens the specific premise a few times. Not much time is spent meandering and letting the premise sink in; instead, they hit the concept with laser precision. This one stands out for how tragic Peele's Mr. T is.
1. Inside Amy Schumer, "A Very Realistic Military Game"
Sketch shows tend to have moments. Key & Peele and Portlandia had them in their first seasons, and Inside Amy Schumer had one this year. It's that palpable feeling of relevance. "A Very Realistic Military Game" was one of the sketches that broke out, and it's easy to see why. It is an impressive piece of comedy, taking a dark subject and not really letting up, allowing the severity to stay there. Still, it expertly balances tone, making sure there's enough laugh lines and things are presented silly enough that it doesn't feel like a lecture. It is Inside Amy Schumer at its best: unflinching, no holds barred, hilarious.