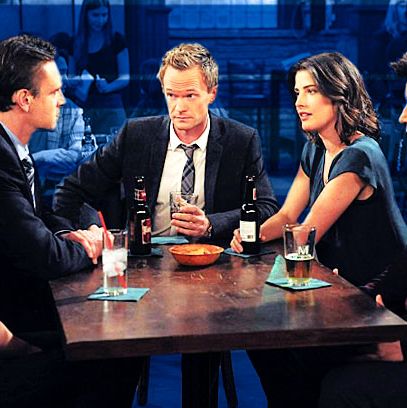 We're in the midst of our week-long Vulture TV Awards, honoring the best things television served up in the past year. We've already singled out Amy Schumer, Julianna Margulies, and others actors for their solid performances, given props to director Cary Fukunaga for a particularly wonderful scene from True Detective, and welcomed David Milch, Amy Sherman-Palladino, and other industry luminaries as guest judges. Up next: Most Disappointing Show by Vulture writer Margaret Lyons.
TV Week Award Winners
MOST DISAPPOINTING SHOW: How I Met Your Mother
It's been more than two months since the finale of How I Met Your Mother aired, and yet the dismay and irritation has not worn off. After nine years, the mother died, and it turned out Ted was accidentally telling the story of how he fell in love with Robin — a kind of one-two punch of sad decisions that made the whole series feel like a cruel misdirection. Thanks a lot, show!
The disappointment here comes from a few factors, not the least of which is that HIMYM was once a terrific show. In its later seasons, the quality and earnestness of the series waned, and the series finale was a chance to repackage that decline, to go out on a high note that told fans, "You were right to have stuck by us!" The entire ninth season, painfully and needlessly spent covering only the events of Barney and Robin's wedding weekend, was so sour and unfun that it compounded the confusion and dissatisfaction with the finale — I sat through all of that for this?
I suppose it's bold to kill off the title character on How I Met Your Mother, but that's not really the kind of boldness I'm in the market for. I liked HIMYM's bold silliness, its (early) bold sincerity, its series-long running jokes. I'm not against the show having sad episodes — the one about the death of Marshall's father is among the best of the series. But killing the Mother just felt so mean and pointless. HIMYM spent most of its run after their dalliance in season one begging us to give up on Robin and Ted as a couple, which got easier when Robin and Barney became a really great comic pair down the stretch. But then the show reneged on that in a single episode. Suddenly, we were being asked not only to root for Robin and Barney to get divorced but for Ted to become a widower, so that Robin and Ted could finally get back together after, what, twenty years?
Of all the shows that didn't need a twist ending, How I Met Your Mother did not need a twist ending. It needed a boost, a really joyous and exuberant exit, and what we got instead was a rushed divorce, and offscreen death, and ferociously awful wig. It still stings.
(Dis)honorable mentions
Downton Abbey: Finally, the rape story line we've all been waiting for …
Homeland: R.I.P., Brody. Too bad it had to end like this.
House of Cards: Turns out things are less interesting without Corey Stoll and Kate Mara!
New Girl: This season wasn't flat because it focused on Nick and Jess as a romantic couple. But it certainly didn't help.
Nashville: Oh, for the love of god, Nashville. Scarlett's meltdown made me yearn for the days of the rich subtlety of Emily Valentine's downward spiral on Beverly Hills 90210.