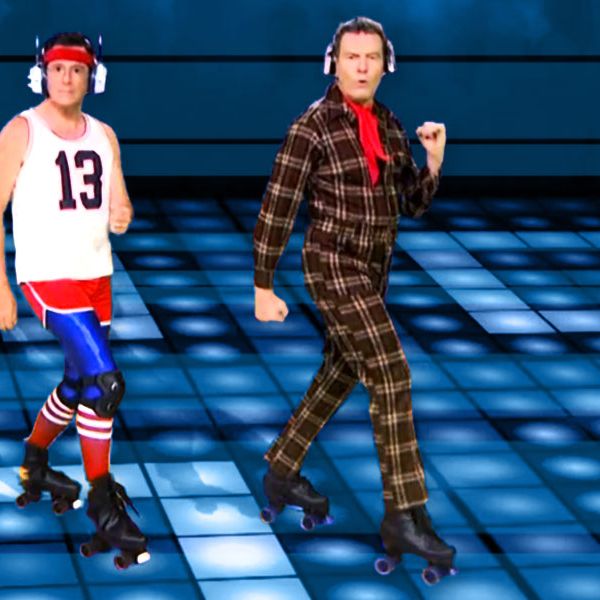 We're in the midst of our week-long Vulture TV Awards, honoring the best things television had to offer in the past year. We've already singled out Amy Schumer, Julianna Margulies, and others actors for their solid performances; given props to director Cary Fukunaga for a particularly wonderful scene from True Detective, and welcomed David Milch and Kurt Sutter as guest judges. Up next: Best Late-Night Moment, as selected by Vulture writer Jesse David Fox.
You may have noticed that it was an unusually eventful year in late-night. With all the changes, picking the best moments presents the opportunity to assert what late-night could and ultimately should look like. Though it is still undeniably dominated by middle-aged white men (R.I.P., Totally Biased With W. Kamau Bell), late-night has diversified over the years in terms of its breadth of style and substance, as a survey of the many great moments that have aired in the past year reflects. Here's a countdown of the seven best.
TV Week Award Winners
7. The Daily Show With Jon Stewart: Kristen Schaal Talks Sexy Halloween Costumes
No one has ever made Jon Stewart laugh on The Daily Show quite like Kristen Schaal. This bit is no exception. Though wildly funny, the bit stands out because it effectively sends up the absurdity of the "sexy ____" costumes and those who criticize women for wearing them. Also, once you see a giant vagina with a pizza on it, you'll never forget it.
6. The Late Show With David Letterman: Bill Murray Sings "I Will Always Love You"
This year Letterman announced his plan to retire from The Late Show, but also not long before that, he celebrated the CBS program's 20th anniversary. To mark the occasion, Letterman welcomed back Bill Murray, the show's first guest. Murray sang "I Will Always Love You" because it topped the charts when The Late Show started. Though silly as hell, it truly captured the affection between two of comedy's greatest icons.
5. Jimmy Kimmel Live: Worst Twerk Fail EVER
I was out of the country when this happened, so I was able to see it at a distance. And though I understand the stunt must've been super-annoying to anyone who fell for it, the gag undeniably worked and was undeniably Kimmel. It's one thing to do a comedy bit about the internet and its blind-leading-the-blind nature — many people have attempted that — but it's another to satirize virality by successfully making a fake viral video go viral.
4. Late Night With Seth Meyers: "Second Chance Theatre": Jennjamin Franklin
Very quickly after Seth Meyers took over Late Night, it became clear that his tenure was going to be very different from Jimmy Fallon's. Gone were the stabs at going viral; in their place was something more understated and comfortable, like a clubhouse for well-educated grown-ups. "Second Chance Theatre," a hopefully recurring bit, in which Meyers lets his old SNL castmates mount sketches that never made it on-air, is the epitome of the show's new direction. On SNL, sketches work because they are good; on "Second Chance Theatre," sketches work because we're all friends.
3 (tie). Late Night With Jimmy Fallon: Lip-Sync Battle With Joseph Gordon-Levitt; The Tonight Show Starring Jimmy Fallon: Lip-Sync Battle With Emma Stone
Fallon had done the lip-sync battle on his show before, but the ones he did with Joseph Gordon-Levitt and Emma Stone put his others to shame. If you prefer Gordon-Levitt over Stone, that's on you, but both are undeniably special.
2. The Tonight Show With Jay Leno: Jay Leno Says Good-bye
Just to be clear, this is not a joke; like, the best moment was that Leno finally left. It's incredible easy to make fun of the guy — particularly because that voice is easy to ape — but you can't ignore the fact the man has been on the air for more than two decades. His good-bye speech was both touching and lovely underlined the workmanlike attitude that Leno brought to the show, for better or worse, every night of the week.
1. The Colbert Report: Daft Punk'd
When it was announced that Stephen Colbert was going to take over The Late Show, I wrote a piece that now reads almost like eulogy for "Stephen Colbert" the character, whom I consider one of the, if not the, greatest comedic characters created for and by TV. "Colbert cared so much about this character that he was willing to share a life with him," I wrote, and a few sentences later, I highlighted the moment that tops this list:
"Sometimes it felt like the character was the Colbert he wanted to be, like during the whole Daft Punk malarkey, when a defiant and entitled 'Colbert' ruthlessly mocked his parent company. This mix of biography and complete commitment resulted in something totally unlike anything that had ever been on television."
Now, almost a year later, that series still pops. Apolitical, it feels like where Colbert the comedian and "Colbert" the blowhard meet. Sure, he was in character, but it was the most genuine moment in late-night this year. It was the best. So, congrats, Stephen Colbert and "Stephen Colbert." Now it's time to dance.