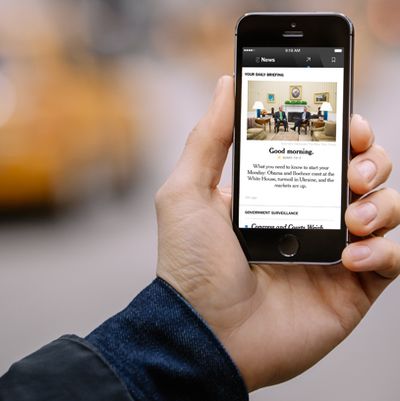 Nearly a year ago, The New York Times set out to design a new way to view the news that's specifically tailored for on-the-go people who live on multiple devices throughout their busy days. The new subscription offering needed to deliver the top stories of the day intelligently, succinctly, and visually—via sleek interfaces built for iPhones® as well as desktop and laptop computers. Most important, it needed to be worthy of the name "The New York Times."
Two-time Pulitzer Prize–winning editor Clifford Levy was assigned to bring together the most innovative thinkers in technology with the most accomplished journalists in the world. NYT Now is the result of their efforts. And in April, it was named a "Best New App" by none other than Apple.
With NYT Now, subscribers can use the Times' new mobile app for iPhone to quickly and easily access a specially curated feed of stories culled from the Times' vast daily offerings and other trusted sources. An elegant scroll of pictures and headlines includes story summaries that give busy users the essential information they need to know. Readers can then either click through to the full article immediately, or use the "Save for Later" feature to easily access the story when time permits. And in addition to the mobile app, NYT Now subscribers also have access to these top stories via their desktop computers.
The day's NYT Now coverage begins with a morning briefing that brings the issues of the moment into sharp focus. Updated throughout the day, the app offers a carefully selected roster of stories, along with a stream of articles from elsewhere, chosen by a dedicated staff of 15 to 20 Times editors working around the clock. An evening briefing rounds out the coverage, recapping the events of the day. And all this is offered for just $8 every four weeks, as compared to $15 for the Times' lowest-priced Unlimited Digital Access web-and-smartphone subscription.