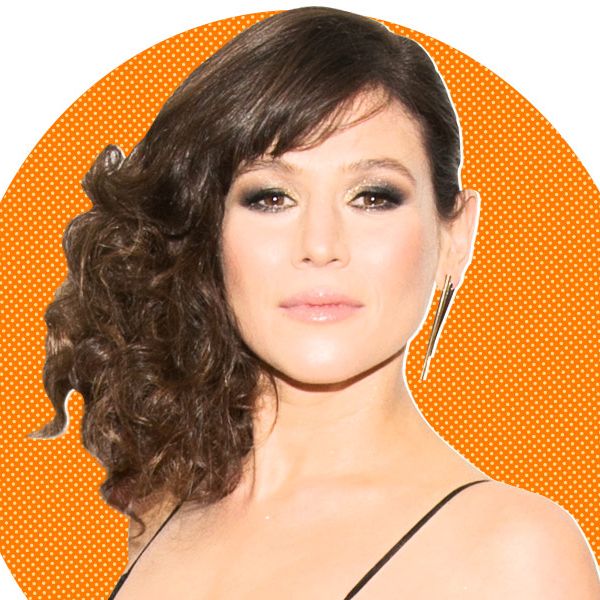 Photo: Maya Robinson and Photo by Getty
The accent keeps Yael Stone up at night. It's a memorable mix of her own making, equal parts Boston, Brooklyn, and Miss Adelaide from Guys and Dolls. No one can really tell when she flubs a word — after all, she wrote the rules — but the vocal hat-trick is crucial to the Australian actress's transformation into Lorna Morello, the happily engaged Italian-American prisoner she plays on the Netflix series Orange Is the New Black. While hunting for seats in the crowded lobby of the Ace Hotel in New York City one polar-vortex-ified February morning, Stone explained that, independent of whatever the writers have dreamed up, she believes that Morello tripped down the East Coast, a gypsy in constant search of family.
So what if the voice isn't real? It still offers as much of a challenge as if she were learning to speak Dothraki. "Sometimes I fuck it up and it drives me crazy," she says in her regular lilt, a product of her Sydney upbringing. "I lie awake all night long thinking about a vowel that I definitely, definitely, got wrong." In the first season, panic arrived in the form of the line "What's the drama?" and specifically with the difference between pronouncing it "What's the draaamuh?" and "What's the drah-meh?" After we settled in at some empty bar seats in the back, Stone walked me through it. "I got two takes," she said. "One I did right and one I did wrong. For a week, every night I was up thinking, Which one are they gonna use? Shit. Shit. Shit. They used the right one, I think, but it's still a little dodgy."
Some zealous viewers have picked fights with her over its origins, but it's just another way that the Jenji Kohan series's rabid fans — who showered Stone and three castmates with adoration at our recent Vulture Festival's trivia event — have been expressing their obsessiveness about the show. It doesn't seem to bother Stone, 28, who came armed to her Orange audition in 2012 with the accent and bright red lipstick clearly defined for herself. "I created my whole biographical world," she said, sipping on a strong Stumptown coffee. "No one can touch it. I'm, like, precious about it. I realized by episode five it was completely stupid to do that on a TV show." When pressed, she repeatedly refused to reveal her early guesses at what crime had brought Lorna to Litchfield Prison. "It's too embarrassing," she squealed. "It was big." Suffice it to say, she was wrong. (The lipstick she uses, by the way, is her wedding-day shade, broken in the day before she read for the part. "I wore the Sephora one where it's so intense that it sucks into your lips," she recalled.)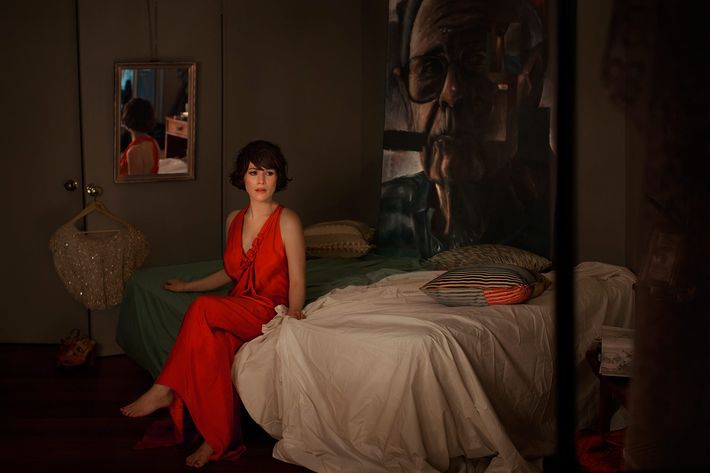 Stone's used to knowing the beginning, middle, and end to the story. She grew up a dyed-in-the-wool thespian in Sydney, where she's been an award-winning fixture on the Australian theater scene ever since graduating from the prestigious National Institute of the Dramatic Arts. Her brother and sister are also artists. She claims an almost innate obsession with voices. As a young girl, she wrote "angsty teenage prose" that she would perform herself, and her big break Stateside was playing several characters with distinct patois, among them a Finnish maid and a lunatic, opposite fellow Aussie Geoffrey Rush, in the 2011 Off-Broadway production of Diary of a Madman. At the moment, she's working on a side project where she records the sounds and stories of her "pretty rad" older relatives, hoping one day to turn the voice of her 80-year-old Romanian great-uncle ("a crazy, post-Holocaust gangster-style dude," as she refers to him) into a one-woman performance piece, à la Doug Wright's I Am My Own Wife.
"A lot of those ladies on Orange are super extroverted," Stone told me. "Morello's pretty bold sometimes, and weirdly opinionated." Finding Morello's tough yet endearing sound, like a more intelligible Rosie Perez, "gave me a kind of confidence I don't have otherwise." But she said that she's learning about how to retain that out of character, too, especially from her co-star Natasha Lyonne, who plays Morello's on-and-off-again fuck-buddy Nicky Nichols. "Seriously, I've asked her how she does it," Stone said. "Natasha comes in, she's got great personal jokes going on with everyone — they're all highly sexual."
"Doing a scene where you're in the shower getting fisted, someone's going down on you, it could be pretty awkward," she says. "But it's not with Natasha. It's funny and easy and nice."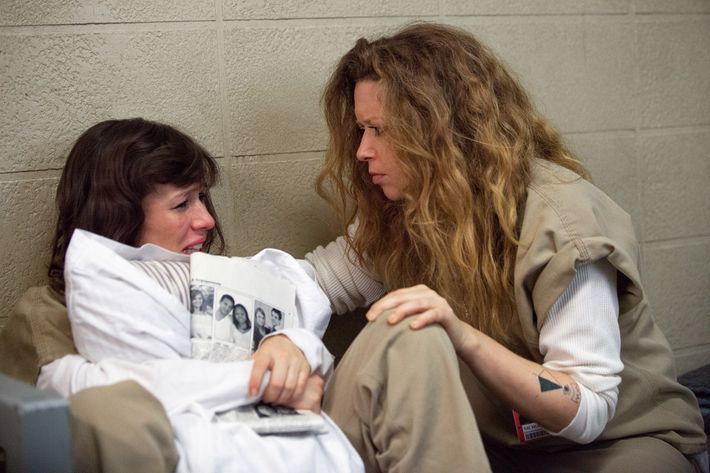 In person, Stone stands a teeny tiny five feet. Dressed in a turtleneck, ponytail, no makeup, and carrying an orange Jansport backpack, she looked as much like one of the many NYU students keeping warm around us than an actress on TV's hottest show. Without Morello's red smackers and finger waves, Stone said, she goes largely unnoticed, which is how she, a person who grew up idolizing the stars of Old Hollywood, prefers it. "The privacy and mystery of them, terrifying people like Katharine Hepburn," she said, "that's what I love." The writers of Orange borrowed that particular fixation in shaping Morello, a tough yet hopeful romantic who fancies herself Litchfield Prison's Natalie Wood, the trapped Maria of West Side Story.
And what of Tony? Like many of the inmates on Orange, Morello's backstory, including where she came from, what she did to get thrown in jail, and why her fiancé, Christopher, hasn't visited in years, remained a question mark going into season two, which went live this morning. Lorna's history will be revealed in the new batch of 13 episodes, and despite being trained to avoid giving spoilers, Stone offered up something telling about her character's relentless brand of optimism: "There's always that break between fantasy and reality. There's always the space between." And Stone added that the new episodes are much darker and more violent than those in the first season; most notably, Piper Chapman, the whiny, Waspy blonde at the show's center, will become especially hardened after having mercilessly pummelled Pennsatucky in the first-season finale. "Things get crazy for her," said Stone, of Piper's evolution. "Shit gets crazy, and she just keeps traveling deeper."
Netflix ordered a third season of Orange Is the New Black in May, and reviews and buzz continue to be excellent. But back in February, Stone was in "a strange place of unemployment," having recently attended the second-season wrap party, which was held at a bar that had been converted into a roller-skating rink (best skater? Pablo Schreiber). She said her farewell to cast and crew but didn't yet have a guarantee of reuniting with them for more episodes. She told me that she was planning to go back to hustling from her Queens apartment to auditions in the city and working on her own writing projects, which include an adaptation of the 1940 sci-fi novel The Invention of Morel. She and her husband, fellow Australian actor Dan Spielman, also keep busy running an experimental theater collective called the Cannery out of a studio in Bushwick, where they drink, talk shop, and "encourage people to be brave."
As she bundled up to head back out into the snow, Stone reminded me that she's not a series regular on Orange Is the New Black, just called in to work on an as-needed basis. When I tell her that such an arrangement sounded rough, she said that she was okay with it. "I don't know," she laughed. "Actors used to work in troupes and travel around in a cart and be prostitutes. This is slightly better than that!" Four months after our interview, Stone's position on the show had improved even more dramatically: Netflix confirmed to me today that she has been promoted to a regular for season three.