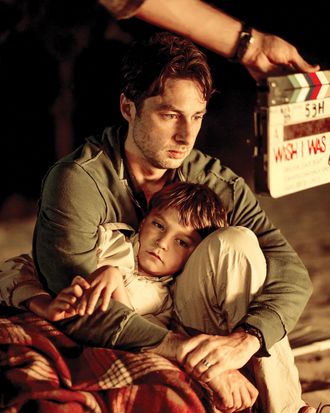 Photo: Merie Weismiller Wallace/SMPSP/Focus Features
There are several kinds of Zach Braff: There's Scrubs Braff, whom we know well from nine years on network TV—he of the elastic face and outsize reactions. There's Garden State Braff, who is dead serious and maybe a little depressed. There's the People's Zach Braff, who posts jokes and funny pictures to social media, often and gleefully and with heavy doses of both gratitude for his fans and pictures of his pal Donald Faison. You can find this Braff at the stage door of the St. James, too, taking selfies with Bullets Over Broadway fans.
The Zach Braff who meets me at Gemma in khakis, holding a bike helmet, is not very Scrubs at all, but also not entirely Garden State. He's earnest, and if he seems a little reticent, you could perhaps forgive the guy. Yes, he's been well received in his first run on Broadway. Yes, on July 18 he'll release Wish I Was Here, the second feature he's directed—the first was Garden State, in 2004—and it was nicely reviewed at Sundance. But then there's publicity for the movie, which maybe won't exactly be fun in light of the treatment he got last year, when, inspired by the Kickstarter campaign that got the Veronica Mars film made­, he announced that he'd be crowdfunding WIWH.
The movie, which he wrote with his brother Adam, is tonally similar to Garden State, and also thematically similar. Out-of-work actors, troubled father-son relationships, absent mothers, and bad swimmers populate both films. Here, too, Braff plays a struggling actor who has to figure out whether his dream is working out, but this time he has a wife with a job she hates, two kids in an expensive yeshiva, an ailing father, and a dipshit brother.
But if compromise is an overall theme of the Braff canon, it is not necessarily one in his life. To make his movie, he'd put together $3 million via foreign sales and an "ass-ton" of his own cash and needed $2 million more to cover the costs. The studios wanted final cut and a say in casting. "I took this movie out, probably with too big of an ego, going, 'Everyone's going to want to make my second film,' " he says as we walk his bike back to his apartment. He soon learned otherwise. Garden State was a critical success and did turn a profit—"Something would've had to go horribly wrong for it not to make a little bit of money"—but it was a cult hit more than a financial one. And, well, that was ten years ago.
The vicious reaction to the Kickstarter campaign nearly melted the internet. He was, it was said, suckering people of modest means to donate instead of invest; he had gap financing from a studio; he was stealing potential donors from needier projects; he should use his own money. Although he answered the criticism—the financing was a bridge loan; a lot of his backers were new to Kickstarter; he didn't have $5 million, and no director puts in that much of his own money—he ultimately had to tune out. "I learned not to read a lot of it," he says now. "There's places on the web that what they're selling is snark and meanness." He won't name them, citing another lesson he's learned, which is "Don't poke the bear."
"All we remember is that we read something, we had an opinion about it, we then opined," he continues. "That's fine when we're joking around, but when it's judging someone without all the facts or opining on something that you know nothing about, it's a little scary." He shakes his head. "People are tried and convicted on Twitter in 30 seconds." As his friend and mentor Bill Lawrence, the creator of Scrubs, puts it, "Most kids that I met that starred in a TV show would have been very quick to jump in and star in another TV show—Zach's done feature films," suggesting that Braff ought to get credit for stretching beyond inertia. In the end, Braff's fans—1.42 million on Twitter; 1.4 million on Facebook—were eager to see someone they love create more of the product they love, having waited a long time for a follow-up to Garden State. In 30 days, nearly 47,000 of them pledged $3,105,473.
At his apartment downtown, we sit in a corner where two seats face each other near the windows. Braff, who doesn't smoke, keeps the setup so his friends can light up "as long as they're not chain-smoking." Today he has to finish sound mixing, then set up some Kickstarter fulfillments, like screenings in backers' hometowns.
From the windows we could see what used to be a big music store and is now not a music store at all. I mention that I'd bought the Garden State soundtrack there long ago. He smiles and recalls that the store had to put up a sign saying that they were out of the CD because they were tired of the requests. "No one expected it to sell, so no one had ordered enough." It sold nearly 1.5 million copies.
Braff stares out the window and gives a brief laugh. Maybe he is thinking about how much has changed in ten years. The soundtrack to this movie is good, but there are no more bins of CDs. Or maybe he's thinking about how some people who loved Garden State—he told me over breakfast—are now embarrassed that they did. "If I'm polarizing, that's fine. Who's more polarizing than Woody Allen? And he's my favorite filmmaker." And this here is a new Braff—maybe it's director Braff?—wiser, definitely warier, but also someone who knows that we'll see his movie and cry. (I did, profusely.) He knows that even if we pretend later we didn't, he still managed to get through to us, which is all he was trying to do in the first place.
This article appears in the June 30, 2014 issue of New York Magazine.