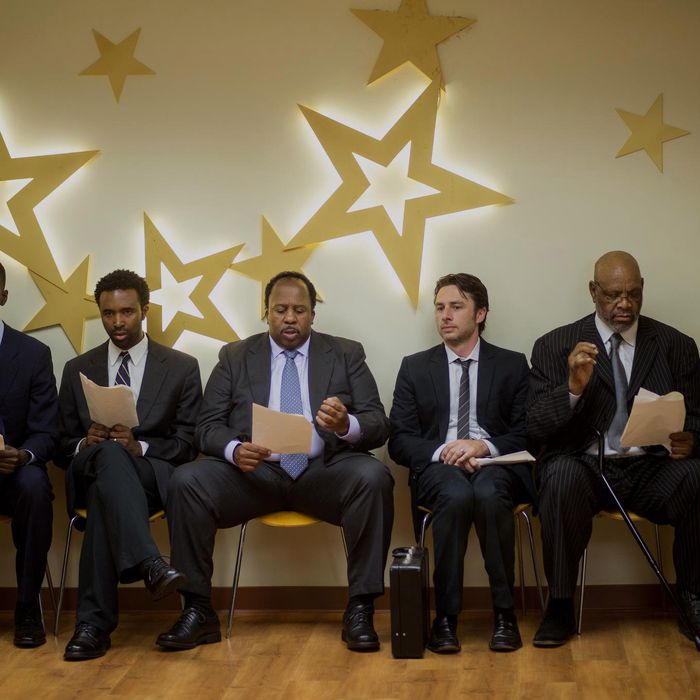 Photo: Merie Weismiller Wallace, SMPSP/Focus Features
Love him or hate him, Zach Braff sure is Zach Braff. His signature directorial style is this specific blend of quirky and schmaltzy, like early Wes Anderson meets late Lasse Hallstrom. Then there are the heavy-handed decisions — in Garden State, the shirt that matched the wallpaper, Natalie Portman's weird dance that no one has ever done in human history, or the characters screaming into the "infinite abyss" while "The Only Living Boy in New York" is playing — that make some people want to die and some people fall in love. Where you land comes down to taste, but personally, I'm onboard — so as a celebration, here is a countdown of the 18 Zach Braff–iest moments in Wish I Was Here, ranked by their Zach Braff–iness. [Giant, massive SPOILER ALERT. Please, do not read if you haven't seen the movie and are ever planning to. We literally spoil the climax.]
[Before we start, it might be helpful to have a quick rundown of the cast and their roles: Zach Braff is Aidan Bloom; Kate Hudson is Sarah Bloom, Aidan's wife; Mandy Patinkin is Gabe Bloom, Aidan's father; Josh Gad is Noah Bloom, Aidan's brother; Joey King is Grace Bloom, Aidan's daughter; and Pierce Gagnon is Tucker Bloom, Aidan's son.]
18. Braff drops off his kids at their private Orthodox Jewish school. Stuck in traffic trying to leave the parking lot, he's stopped by a young rabbi who tells him that the school asked all the families to plant a tree in their backyard for Tu Bishvat, but he never picked up his seedling. The rabbi then hands Braff a seedling to grow something.
17. While repairing their fence, Braff has his daughter read Robert Frost's poem "Mending Wall."
16. After learning that his father doesn't have much longer to live, Braff immerses himself in mourning pamphlets. When Hudson comes in, he notes that you spend your whole life wondering if your life has meaning "and then it all comes down to one question: 'What should we do with your bones?'"
15. When Braff first drops the kids off at school — without any explanation — Gagnon tries to take a power drill with him.
14. King brings Patinkin welder's goggles. "Now when you head into the white light, you won't have to squint, so you'll be able to find Grandma."
13. Braff leaves the hospital when he first hears how bad Patinkin's condition is. He walks toward a courtyard with a mazelike pattern (this scene is shot from a distance). Then he stops and throws up in the bushes.
12. Gad refuses to see his father for the entire movie despite the fact that his dad has terminal cancer. When Patinkin's death is imminent, Braff and King make one last plea for Gad to come see his father — calling him while he's having sex at Comic-Con, wearing a spaceman costume. Gad doesn't show up. Then Patinkin looks up and says, "Do you see that, or is God very different than I imagined?" Cut to Gad wearing his costume, standing behind thin curtains.
11. Braff is driving into the desert with his kids, soundtracked by Bon Iver's "Holocene." The car is shot from above and keeps on zooming out as Justin Vernon sings, "And I could see for miles, miles, miles."
10. Paul Simon's "Obvious Child" soundtracks Gad's triumphant walk into Comic-Con.
9. In the desert, Braff takes his kids to the spot where he had "one of the deepest, most spiritual moments" of his life. Shot from behind, the three stand on boulders, looking into the desert.
8. Very early in the movie, Patinkin points out Braff's pool, which is empty and has been since they bought the place.
7. This shot of a wall of wigs.
6. Gad is turning a large fishbowl into a helmet as part of his Comic-Con costume. After Gad refuses to see their father, Braff says, "You know what the problem is with hiding in a fishbowl, Noah? Everyone can see you."
5. After an audition goes poorly, Braff screams "fuck" in his car.
4. A Shins song plays over the credits.
3. The shot of Braff waiting for an audition in a row of older black men (above).
2. Braff explains to his kids that Patinkin keeps a jar of every contact lens he's ever worn: "He couldn't bear to throw them out because it was everything he ever saw."
1. Early in the movie, after it's revealed that Braff's father's cancer is back and he has to remove his kids from private school because they can't afford it without Patinkin's help, Braff sits in a hospital waiting room. He looks down to see an empty pamphlet dispenser that reads, "This pamphlet could save your life."