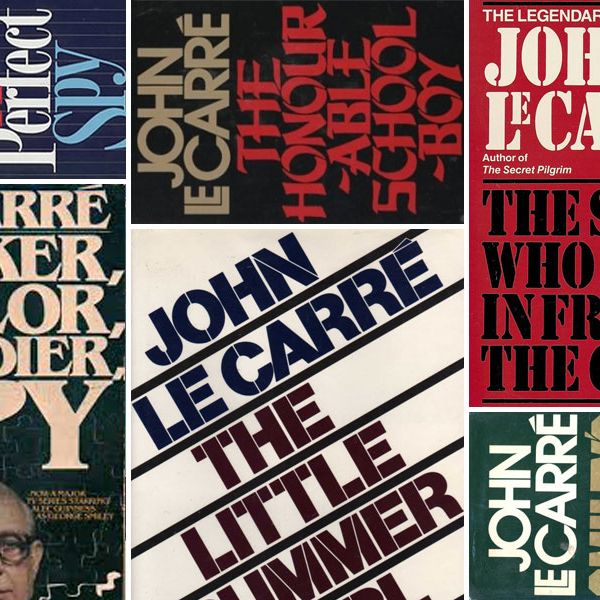 Later John le Carré novels — like The Constant Gardener, or A Most Wanted Man — have made for some terrific Hollywood films, but the author's best work (which also happens to be his earlier work) is better enjoyed in book form. For the new recruits among you (or for those of you want a do-over after A Most Wanted Man), here are six classic le Carré titles to get you started.
The Spy Who Came in From the Cold, 1963
The bleak worldview of A Most Wanted Man (and pretty much every other le Carré novel) owes its origins to this 51-year-old Cold War classic. Here, Alex Leamas, a grizzled British agent operating in East Germany, signs on for one final mission, a dangerous, double-cross frame-up designed to force an ex-Nazi assassin to defect. After a career of trusting no one, Leamas is damaged beyond repair. (Case in point: A woman asks Leamas, post-sex, if he loves her, and he tells her he doesn't believe in fairy tales.) Still, in his cruel undercover world, there are plenty of new ways to be broken.
Tinker Tailor Soldier Spy, 1974
Despite its straightforward premise — there's a mole buried deep in the British Secret Service — this is not the easiest book to get into. There are approximately 1 million white male characters introduced in the first 50 pages with names ranging from super-weird (Control, Roach) to super-English (Roddy Martindale). The locations are aggressively unglamorous, and George Smiley, our brokenhearted, badly dressed hero, resembles a frog. James Bond it's not. But stick around, because confusion here is essentially world-building — what an elaborate maze of mirrors our traitor hath wrought! — and once you're in it, you're in it. Watching Smiley dismantle the labyrinth is among the world's most satisfying reading experiences.
The Honourable Schoolboy, 1977; Smiley's People, 1979
Catching the mole was only step one, so these two Tinker Tailor sequels focus on the hunt for Karla, George Smiley's counterpart in Moscow Center. In Honorable Schoolboy, Smiley follows the money, using Jerry Westerby, a reporter-slash-spy, to uncover a drug-smuggling operation that runs through Hong Kong, China, and Vietnam.  It has all the hallmarks of an international thriller (including some casual racism), but it's one of the few le Carré works that's never gotten a screen adaptation. Then Smiley's People gets the gang back together again (at least the members who haven't been killed in action) to capture Smiley's "black grail" once and for all.
The Little Drummer Girl, 1983
Want to read something about Israel and Palestine that doesn't fill you with rage and despair? This is definitely not that thing! But what it lacks in uplift, The Little Drummer Girl more than makes up for in intrigue. It's le Carré's best novel not about the Cold War, and the first to prominently feature a woman in an active role. Charlie, an actress, is known to her friends as Charlie the Red, "in deference to the color of her hair and her somewhat crazy radical stances, which were her way of caring for the world and coming to grips with its injustices." Joseph, a sexy Israeli spy, exploits both qualities when he recruits her to infiltrate a Palestinian organization that uses young, attractive European women as a bomb-delivery service. It's an adventure story that's both cinematic and wrenching — basically as close as you can get to the experience of a Bourne movie outside of a theater. (Pro tip: Skip the 1984 film adaptation starring Diane Keaton as Charlie.  That is some weird casting.)
A Perfect Spy, 1986
If le Carré books were Friends episodes, this would be "The One With the Daddy Issues." The story centers on Magnus Pym, son of a con artist whose childhood antics — defrauding schoolteachers, local police, and assorted enemies of his father — has impeccably prepared him for a career in intelligence. But Magnus's eagerness to please Jack Brotherhood, his British spymaster, is personal, not patriotic, and his appetite for approval is no smaller with his friend Axel, who just happens to serve in the Czech Secret Service. The author based Rick Pym on his own "beguiling and persuasive" father, so maybe do not recommend this one to your own dad.