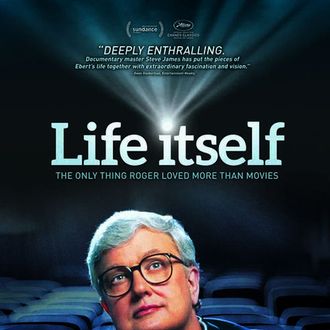 Life Itself, a new documentary about Roger Ebert that's currently out on VOD, is sad, happy, and worth your time. So are the many other biographical documentaries — films that look deeply into the lives of a single human — that are waiting at your fingertips. All six of these films are available to stream via VOD; you'll only need a Netflix, HBO Go, or Amazon Prime account to dig in.
Ethel (HBO)
Stories of the Kennedy clan always deal in sadness, but Ethel's goes beyond the tragedy. As Robert F. Kennedy's wife, Ethel served as the matriarch for a family of eleven children. She was pregnant through RFK's entire political career, still played the perfect politician's wife, and then handled the fallout of RFK's death and the deaths of two of her children. I'll admit that I initially watched the film because Taylor Swift (who was, at the time, dating one of Ethel's grandsons) told me to. But it was so wonderful that now I am indebted to her twice over. (I already owed her for "22.")

The Punk Singer (Netflix)
If you happened to miss out on the world of riot grrrls, don't be ashamed: The Punk Singer will catch you up. The documentary goes over the movement's beginnings and Hanna's contributions — as well why zines, punk bands, and feminism are so damn important.
Katy Perry: Part of Me (Netflix, Amazon Prime)
No, I'm not trolling you by putting Kathleen Hanna and Katy Perry back-to-back. Part of Me follows Perry on tour, somehow capturing the highs of celebrity (Fans! Fame! Private jets!) alongside the lows (Her impending divorce from comedian Russell Brand). You will cry.

Who Is Harry Nilsson (And Why Is Everybody Talkin' About Him?) (Netflix)
The only thing I knew about Harry Nilsson was courtesy of my dad overplaying "Coconut" when I was a kid (it passes for childrens' music very easily). But Nilsson's story is a lot crazier than I ever knew: the obligatory sex and drugs, and ultimately a legacy not as universal as it should be.

Whoopi Goldberg Presents Moms Mabley (HBO)
Another documentary about an unrecognized talent — someone that people you adore cite as a huge influence, but whom you may never have heard of. Director Whoopi Goldberg deals with holes in comedian Moms Mabley's story by showing how (and guessing why) she was as funny as she was. Matt Zoller Seitz writes: "In its heart, this documentary is less a standard biographical portrait than an examination of style … [It's] one of those documentaries that's about what it seems to be about, but is also about something else."
All About Ann: Governor Richards of the Lone Star State (HBO)
The documentary about Texas legend Ann Richards has a pretty powerful subtitle: "The Story of a Liberal Who Rose to Power in a Conservative Stronghold." But her life is also a lot about being a woman in a room full of men, being a real-talker in a room world of political speak. Perfect for your #MisandryWeek film festival.