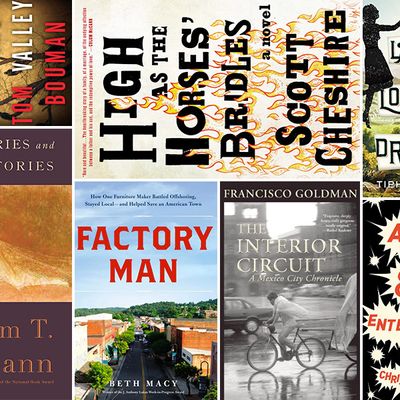 Each month, Boris Kachka will offer nonfiction and fiction book recommendations, and you should read as many of them as possible because they are all worth it.
1. Arts & Entertainments, by Chiristopher Beha (Ecco, July 1)
Good satire aims to be both funny and true, and Beha's second novel hits that surprisingly elusive target dead-on. Our hero and comic foil is Eddie Hartley, a prep-school drama teacher with a couple of Law & Order credits behind him. Sunk into debt by in-vitro fertilization, he sells a sex tape, starring him and a currently famous ex-girlfriend, to a "meme evangelist." His wife finds out, of course — and conceives triplets, and becomes a reality-TV star, leaving poor Eddie to the tabloid wolves.
2. Factory Man: How One Furniture Maker Battled Offshoring, Stayed Local — and Helped Save an American Town, by Beth Macy (Little, Brown, July 15)
Macy's first book, ostensibly the story of John D. Bassett III — furniture heir, Virginia good old boy, and unlikely savior of domestic manufacturing — is better thought of as an Appalachian Random Family. In the course of narrating Bassett's efforts to fight China's underhanded underpricing, Macy digs in all directions, visiting company towns without companies, unearthing family secrets, and explaining the economic forces that determine our lives.
3. Last Stories and Other Stories, by William T. Vollmann (Viking, July 1)
Don't be afraid of the bricklike mass of this collection, or of Vollmann's forbidding reputation as a less-accessible David Foster Wallace. Fear only the specters and vampires that invest these 32 stories, ranging from six sentences to 90 pages and from Bosnian killing fields to an American cemetery, with highbrow Goth of the first order. Another reason to savor them at leisure, well into the fall and beyond: Vollmann (perhaps facetiously) declares it "my final book. Any subsequent productions bearing my name will be composed by a ghost."
4. Dry Bones in the Valley, by Tom Bouman (Norton, July 7)
Bouman's entry into "rural noir" (a trend of which he's well aware), distinguishes itself by incorporating the style's literary elements — thick atmosphere, regional rootedness, social scope — into an actual fast-paced mystery series. Dry Bones introduces policeman Henry Farrell, half of Wild Thyme, Pennsylvania's police force — a fishing, fiddle-playing brooder in over his head as fracking invades his impoverished paradise, bringing with it infusions of corporate cash, illegal drugs, and perhaps inevitably, a few unsolved murders.
5. The Interior Circuit: A Mexico City Chronicle, by Francisco Goldman (Grove, July 2)
In movies, the city-as-main-character is a hoary cliché, but in books, it's an often-glorious subgenre of the travelogue. Goldman splits his time between the U.S. and Mexico, and his deep immersion into the Distrito Federal — learning to drive, getting over loss, finding history and politics on every corner — is a sort of sequel to Say Her Name, a memoir about his young wife's death in 2007. Then it becomes the story of Mexico City's tragic slide into the narco-violence from which its modish denizens had long considered themselves exempt.
6. Land of Love and Drowning, by Tiphanie Yanique (Riverhead, July 10)
If anyone has earned the right to a title this Marquezian, it's the St. Thomas–born author of this century-spanning, magic-inflected debut. There's plenty of folklore and lyricism and even some incest in Yanique's first novel, about two almost impossibly beautiful daughters of an upper-class ship owner who died suddenly. But this isn't just a retread of post-colonial magic realism; the Virgin Islands of this novel are shaken not by plundering conquistadors, but by the more ambiguous effects of the postwar tourist boom.
7. High As the Horses' Bridles, by Scott Cheshire (Henry Holt, July 8)
Stick with this one — the book and, more important, the first-time novelist. Leaping back and forth between the past and present of a man who was raised in a Doomsday cult in Queens — with detours into 19th century Kentucky — Cheshire seldom deigns to make his connections explicit. He's a more earthbound (if less assured) DeLillo, painting familiar subjects — a scrappy outer borough and a fraught father-son dynamic — in bold new colors.