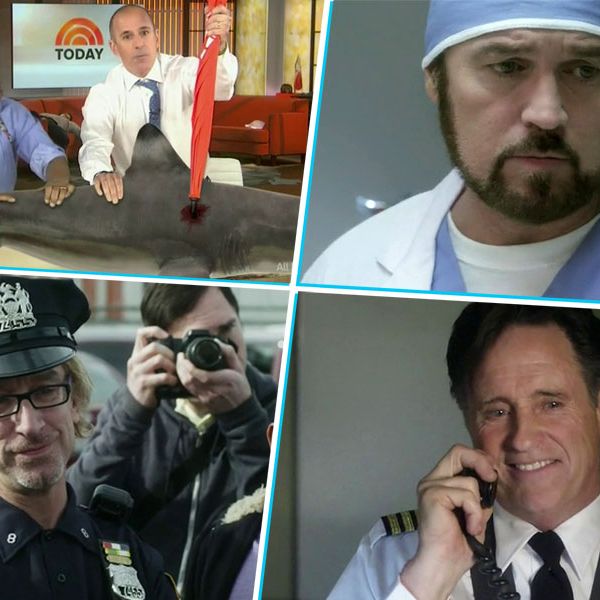 There were so many overtly stupid things you could call out from last night's Sharknado sequel, Sharnado 2: The Second One. But youv'e got to hand it to the creators for making a somewhat-watchable parody sequel to a film that was a parody in the first place — ooh, levels! One of the ways Sharknado 2 stayed decent was by constantly surprising you with a stream of cameos. From Airplane!'s Robert Hays to Subway's Jared Fogel, Sharknado ran the lowbrow gamut. Here's who we caught (and whether or not they lived):
Kelly Osbourne
Status: She knew it was coming.
Robert Hays from Airplane! …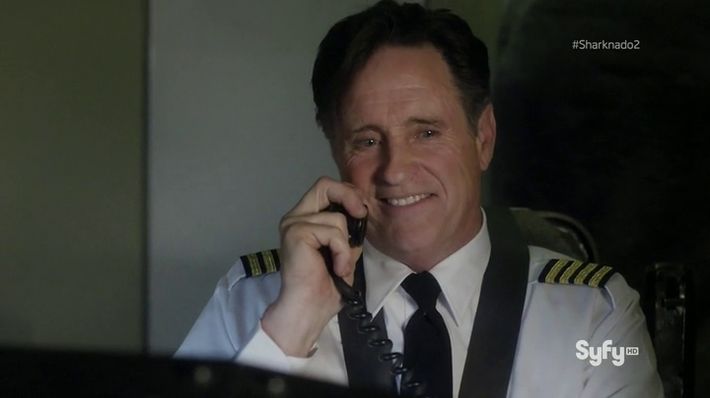 And Rachel True from The Craft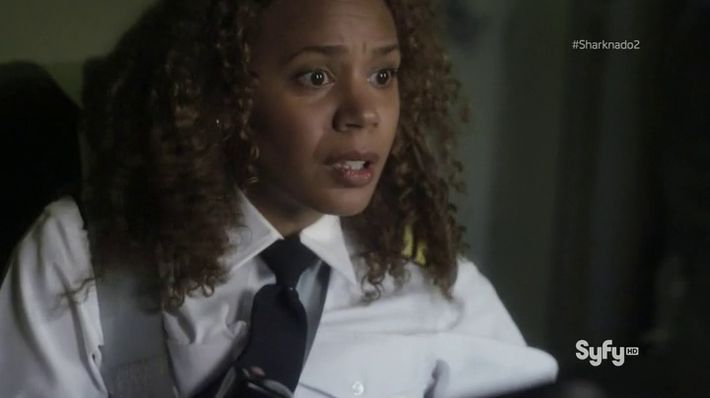 Status: Both dead.
Star Trek: The Next Generation child star Wil Wheaton
Status: R.I.P.
Comedian and famous Twitterer Kelly Oxford
Status: Yes. She died.
Andy Dick
Status: Alive and incompetent.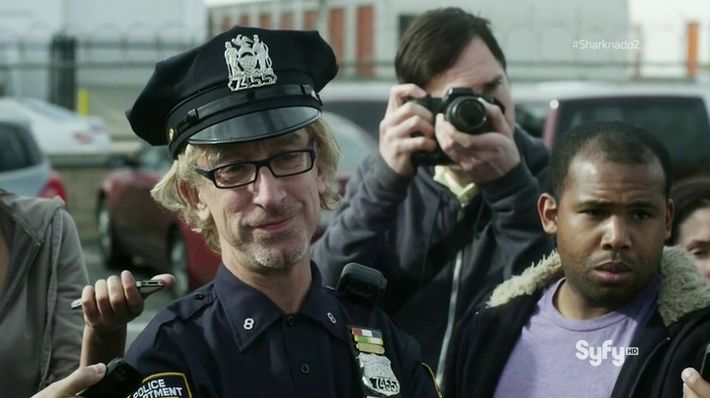 The Naked Cowboy
Status: Not in the movie long enough to die, but who knows, really.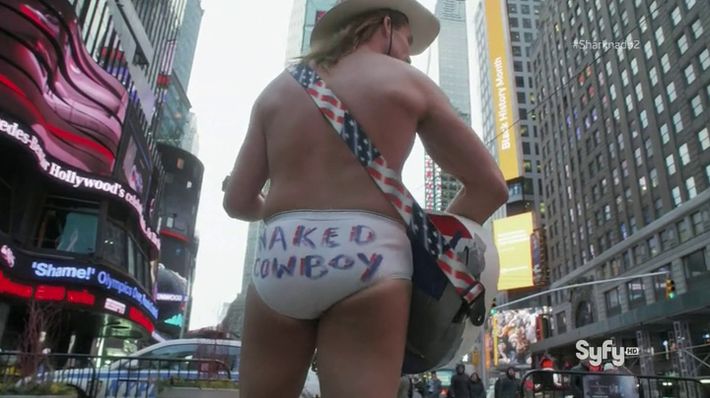 Al Roker and Matt Lauer
Status: Got lots of screentime; somehow survived.
Salt-N-Pepa's Sandy "Pepa" Denton
Status: Killed while riding a Citi Bike! Weirdly NYC-specific death.
The Weather Channel's Stephanie Abrams
Status: Recommends you stay indoors while she stays alive.
"Scream Queen" Tiffany Shepis
Status: Duh, she dies.
30 Rock's Judah Friedlander
Status: At least he didn't have to wear that trucker hat this time? Dead.
Taxi's Judd Hirsch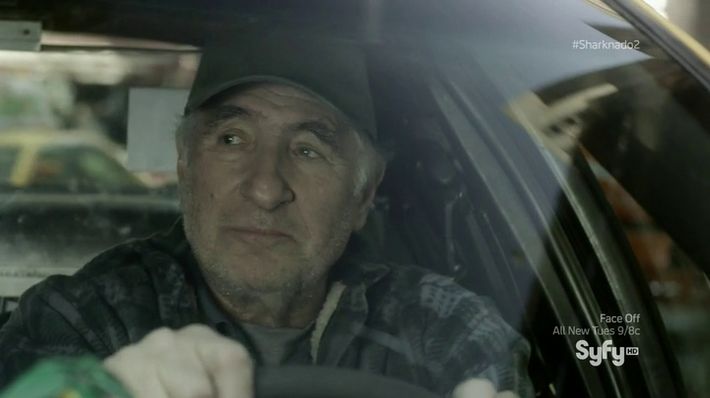 Status: Couldn't do a simple rope swing over a bunch of sharks. Dead.
Subway's Jared Fogel
Status: Survived with his good health intact. You can't kill the sponsor.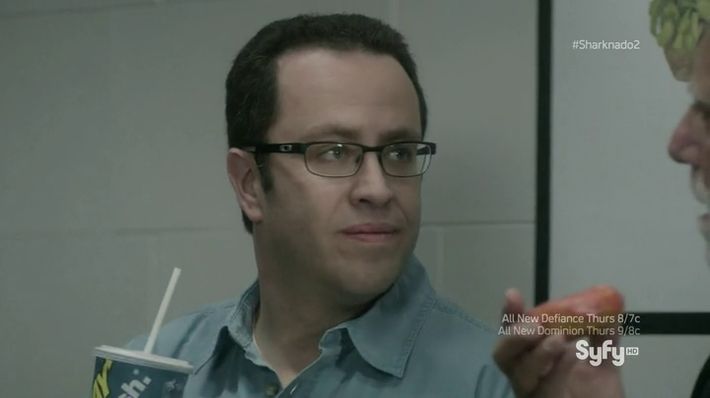 The Howard Stern Show's Benjy Bronk
Status: Bye.
Biz Markie
Status: Lives and is very helpful.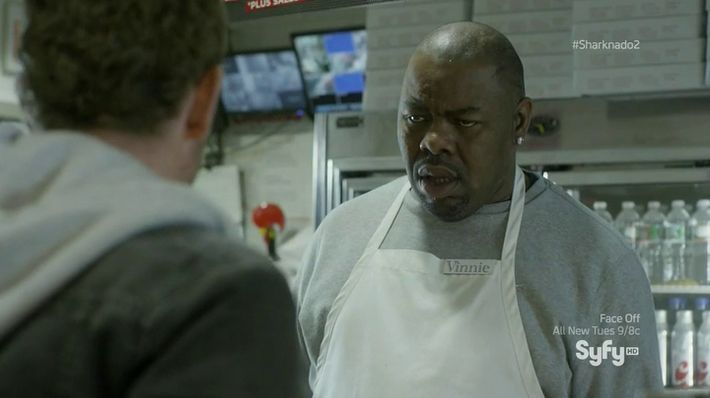 Downtown Julie Brown
Status: She's a nurse, so she lives.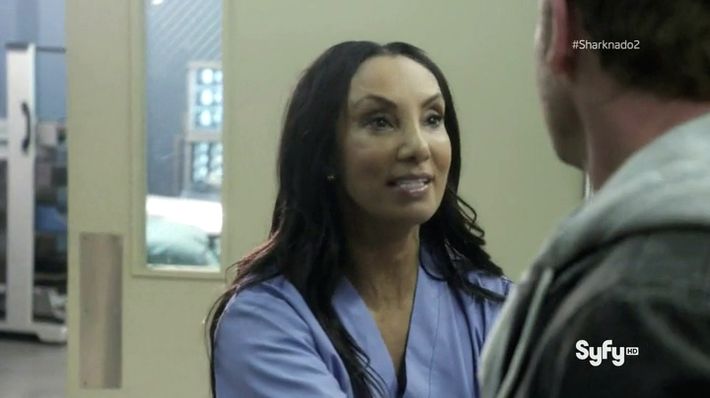 "Doctor" Billy Ray Cyrus
Status: Couldn't save Tara Reid's hand because it was stuck somewhere in a shark's mouth, but some how manages to stay alive.
Daymond John from Shark Tank
Status: Turned back to grab a briefcase of money (ha! Get it?) and perished.
Perez Hilton
Status: You can't not kill Perez Hilton. Even he knows that.
Richard Kind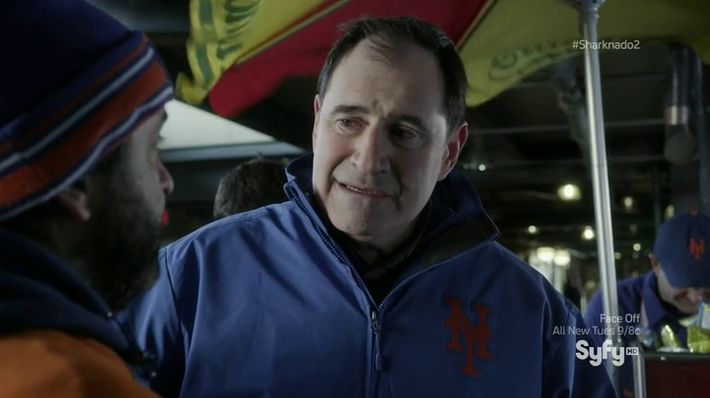 Status: Does not die, but does do this:
Stand-up comedian Robert Klein
Status: As the mayor of NYC, he must live.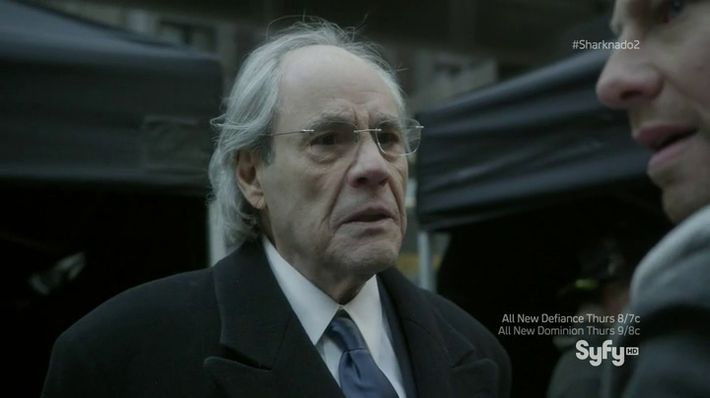 Pro wrestler Kurt Angle
Status: Lives! And doesn't even have to fight anyone.
Live With Kelly & Michael co-hosts Kelly Ripa and Michael Strahan
Status: He fights a shark; she stabs one with her stiletto. They live.
Live With Kelly & Michael producer Michael Gelman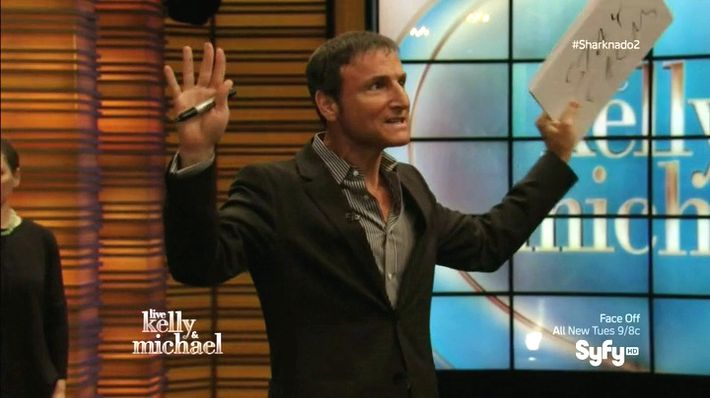 Status: Oh, no.
Did I miss anyone? Let me know in the comments. But you'll have to GIF them yourself, because there's no way I'm watching this thing ever again.