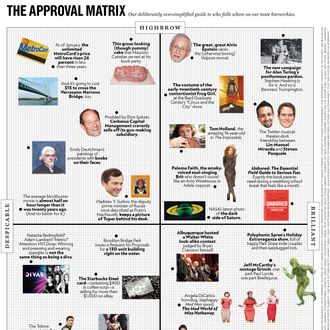 Hosted by comedian Neal Brennan (co-creator of Chappelle's Show), Sundance's The Approval Matrix talk show will roll out the first of its six episodes on August 11 at 11 p.m. Based on New York's famous back page matrix — which measures cultural events on a scale from highbrow to lowbrow and brilliant to despicable, and is generally the first thing each of you looks at when you read the magazine — The Approval Matrix will feature interviews (with celebrities including Amy Poehler, Chris Rock, and Jon Stewart), sketches, and segments in which panelists discuss the pop culture of the day. But which panelists are going to be on The Approval Matrix, you ask?
These panelists:
Vulture's Julie Klausner
Broad City's Hannibal Buress
Two Broke Girls' Whitney Cummings
The Today show's Willie Geist
Chappelle's Show's Donnell Rawlings
The Opie and Anthony Show's Jim Norton
30 Rock's Judah Friedlander
Orange Is the New Black's Jason Biggs
Comedian Rob Delaney
Comedian Kurt Metzger
Tune in. It'll be brilliant.