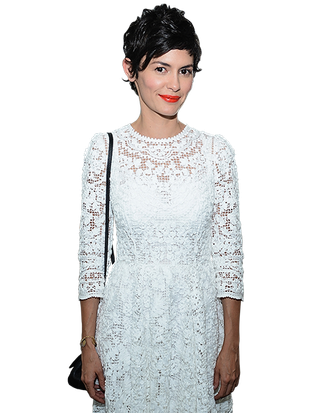 Audrey Tautou.
Photo: Dimitrios Kambouris/Getty Images
Audrey Tautou is no stranger to whimsy — she starred in Amélie, after all — but she's never made a movie quite like Michel Gondry's Mood Indigo. Truth be told, nobody has: In addition to an unusual story that finds Tautou's character falling ill because of a water lily growing in her lungs, Gondry dresses up the movie around her with all manner of visual tricks, from stop-motion animation to bizarre-yet-practical special effects. Still, there may be no better effect in the movie than the impish sensibility that Tautou comes by quite naturally. Last week, she called up Vulture to discuss her love of Michel Gondry and problems with the red carpet.
There are so many creative special effects in Mood Indigo. Which was your favorite?
Maybe because I'm 7 years old, but I really love the special effect with the doorbell [where it crawls around and is smashed into several baby bells]. It's so cute! I remember that I went to see the person who was to create the little baby bells, and she spent two days just painting them. They had to create maybe 15 to 20 of them, and all the animation took them two more days. It was really very interesting — there were so many wonderful things on this movie that it's hard to pick just one.
It's rare to get a movie filled with this many special effects where they're actually tangible, practical effects — not something added later by a computer.
It's much easier when you have minimal effects and everything is in front of your eyes. The prop guys were working on the set every night, and it was great to see them doing this work creating our world. It was a way to feel like we were really a part of this very special adventure. You know, we're not only in this film for our acting. This movie is almost like an object — it's not a conventional movie, so it was very different to make. It can be a funny thing when your daily life becomes completely crazy and full of visual poetry, but I found it interesting. Once you start to assume that everything around you is normal, it becomes very natural.
Another romantic drama that Michel Gondry directed, Eternal Sunshine of the Spotless Mind, has become one of the most beloved movies of the last ten years. What does that movie mean to you?
It's a very special movie. When a movie like that comes out at the right time, it can last forever. I would say it's a little masterpiece, but you can feel all of Michel's eccentricities in it.
He's a very playful, creative personality, and I know he likes to give gifts to his friends. Has he ever given anything special to you?
He gave me a wonderful gift when he proposed me the part: He made me a cartoon! A little animation movie, where he is in Brooklyn and flies over the ocean to Paris to see me with a letter about the part — and I didn't understand it. [Laughs.] I didn't even know he was preparing a movie! So it was a bit mysterious for me until he made it clear, and then I was very happy, because I knew it would be a special experience.
Michel has said that you'll be starring in his next film, too. What can you tell me about it?
I do plan to star in his next movie, but it's a little part — I'm a supporting actress in this movie. It's the story of two young teenagers who build a house on a car to travel through France. It's like a road movie, but with a lot of charm. I don't know exactly what it's going to look like, but I think it's going to be funny.
In Mood Indigo, your lover is played by the French star Romain Duris, who you've already co-starred with several times before.
On this experience, we actually got to know each other much better than on our previous films. Even though we'd done some movies together, I'd only done a few days on each. We'd never had a full shoot together until this one, so it was great. He's a brilliant actor, generous and a nice man, so it was a real treat to really work with him.
One of my favorite films that you've done is Dirty Pretty Things, where you co-starred opposite Chiwetel Ejiofor. It must have been very gratifying to you to see what a breakout turn Chiwetel had last year with 12 Years a Slave.
Oh, yes! I'm so proud of him and his career. He's a wonderful actor, and it was so evident that he would great make movies and be wonderful in so many parts. He's just great.
When you first shot to stardom with Amélie, you had an uneasy relationship with fame — most particularly, the red carpet. Do you feel any less anxiety about that now?
I don't feel like I've improved on the red carpet. I've tried to improve my performance, but I can't say I'm especially interested in it. So I do what I have to do, but I always hope it's going to be the minimum. It's very bad for an actress, but I can't help it!