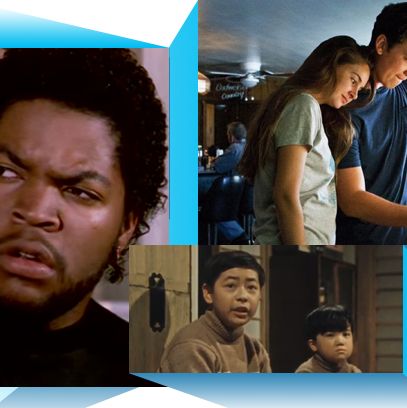 Photo: ALP, Columbia Pictures, Sh?chiku Eiga
This weekend, you should either go see Boyhood or pick one of approximately 14 billion options available to stream (at least until the next screening of Boyhood is available). Every Friday, Vulture tries to make life easier by narrowing it down to a handful of heartily recommended options. This week, grow up all over again in Compton, Tokyo, Athens, Georgia, and small-town New Zealand.
Boyz n the Hood  (Stream on Netflix)
Don't let the recent Taylor Lautner vehicle Abduction fool you: When 24-year-old John Singleton picked up a Best Director nomination in 1992, making him the youngest filmmaker in Oscar history to do so, he earned it. Early on, Boyz n the Hood could be confused for a South Central–set Stand by Me, 10-year-old Tre Styles drifting through a childhood of ball-busting friendships and bullies. Tree and his buddies even find a dead body. But unlike Stand by Me, there's no comfort or glow to this upbringing. It's tense as hell from beginning to end. Anyone could take a bullet to the back — and they do. The real coming-of-age occurs seven years later, when Cuba Gooding Jr., Ice Cube, and Morris Chestnut take over for their younger doubles. Singleton shows us that, in '90s-era Crenshaw, you either get out of the neighborhood or succumb to it.
The Spectacular Now (Stream on Amazon Prime, Rent on iTunes, Vudu, Amazon, YouTube, Google Play, Xbox)
Young adult dramas come in a variety of colors. On one end of the spectrum is the force-fed weepiness of The Fault in Our Stars. On the other is director James Pondsoldt's tender teen romance (coincidentally, written by the same pair who penned TfiOS). Sutter (Miles Teller) is a class clown constantly drunk on delusions of grandeur and malt whiskey. Amy (Shailene Woodley) is a sheltered academic weighed down by self-imposed responsibilities to take care of her family. When they meet — Sutter passed out on Amy's lawn — their opposing personalities attract, entangle, and complicate each other's existences. Teetering between somber and sunny, Pondsoldt's film is the rare one to treat teens like human beings, not pawns in a coming-of-age parable. The Spectacular Now is so emotionally honest, you won't even scream "Coach Taylor!" when Kyle Chandler shows up as Sutter's Dad. Okay, you might.
Good Morning (Stream on Hulu Plus)
Yasujirō Ozu had a knack for turning seemingly inconsequential moments of life into introspective dramas. On the surface, Good Morning is about whether or not a family should buy a television. When the mother and father decide TV melts brains, their two children give them the silent treatment. Like an elegant, piercing episode of Leave it to Beaver, Ozu burrows into the family dynamic and follows the children as they rebel against the irrational adults. In the hands of a master, the simplicity never fizzles out into boredom. Good Morning could ramble on for days and Ozu would know where to point the camera to uncover quirk or understanding. It's bold, subdued filmmaking — and one that fully embraces the odd behavior of children. There are a reasonable number of fart jokes in Good Morning. The film puts Kevin James to shame.
Whale Rider (Stream on Hulu, Rent on iTunes, Vudu, Amazon, YouTube, Google Play, Xbox, Target Ticket)
It's tough to find female coming-of-age movies that aren't myopic toward the diverse experiences of young women. Not every girl-centric story involves traveling pants, you know? Which is why, as a story of organic empowerment and self-consideration, Niki Caro's Whale Rider remains a refreshing alternative to Hollywood's stilted attempts. With roots firmly planted in the ethereal New Zealand coast, 12-year-old Keisha Castle-Hughes gives a robust and compassionate performance as Pai, a Maori girl vying to become chief of her tribe. It's a typically male role, and Pai's grandfather would sooner break the girl than allow her to compete. Whale Rider's masterstroke is never pushing Pai to become more masculine in order to succeed. Castle-Hughes's femininity is as essential as her ability to wallop boys with her fighting stick — which she does quite well.
Other movies available: