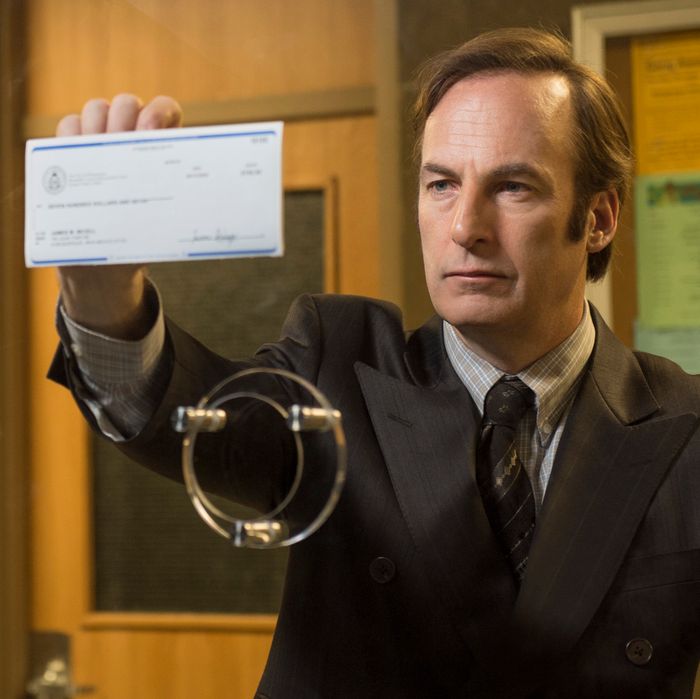 Photo: Ursula Coyote/AMC/? AMC Network Entertainment LLC. and Sony Pictures Television Inc. All Rights Reserved.
The Breaking Bad spin-off Better Call Saul will be set six years before Saul and Walter White meet, circa 2002. According to official word from AMC, the prequel will pick up when Saul was known as Jimmy McGill, "a small-time lawyer searching for his destiny." Mike will be there as his "fixer." Though it's been described previously as a comedy, a release says "the series' tone is dramatic, woven through with dark humor." So, pretty much like Breaking Bad. "It's a leap of faith or stupidity into the unknown," Vince Gilligan told reporters during AMC's summer press-tour session. Gilligan is serving as executive producer and co-showrunner alongside Peter Gould.
Even though the show will be set in the past, Gilligan said it doesn't preclude the previously reported idea that Better Call Saul would jump back and forth in time. "You saw from Breaking Bad that we like nonlinear storytelling," he said. "It's fun for us to be as nonlinear as possible. We like jumping around in time." Producers also confirmed that Michael McKean had been cast as Saul's brother, ("We just ask him about Spinal Tap on set all day," Gilligan said), and that Rhea Seehorn, Michael Mando, and Patrick Fabian had been cast in supporting roles. Giancarlo Esposito might also return as drug kingpin Gus. Or at least they aren't ruling it out. "There's so much more to say about that character," Gould said. But he isn't interested in doing the series equivalent of a clip show either. Besides, he added, "it always seemed to me Saul didn't know Gus directly. He knew a guy who knew a guy who knew another guy."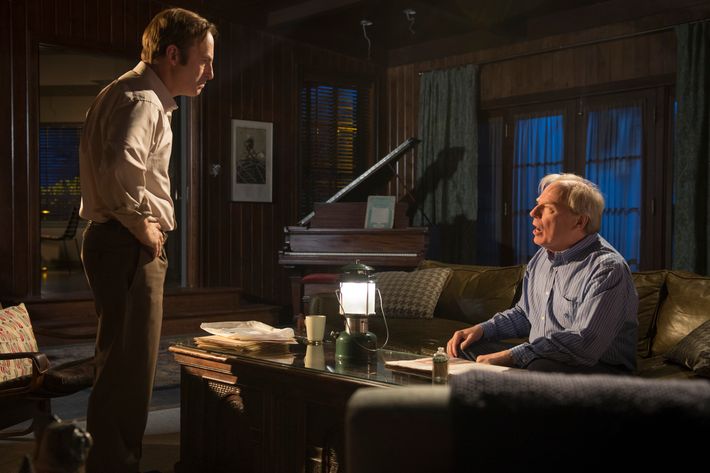 The writers are in the middle of breaking episode eight of ten, the first of which will debut next year. Asked about why AMC pushed the series premiere originally scheduled for November to early 2015, Gilligan said he asked AMC for more time and they obliged. "I am slow as mud as a TV writer. Always have been," he said.
Gould said working toward the first time we meet Saul in Breaking Bad, "reminds me a lot of when we started season five and we had that machine gun in the trunk. We knew it was the right image," he said. "But we had no idea how we were going to get there." The good news is that Breaking Bad didn't really tell us much about Saul's personal life or history. "We discovered we didn't really know who this guy is at all," Gould said. "So what problem does being 'Saul Goodman' solve? That was our kick-off point."