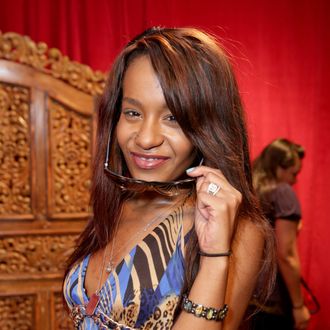 Photo: Tiffany Rose/WireImage
Angela Bassett wins my fictional Cool Answer Award after explaining to EW, in an impressively straightforward manner, just why Whitney Houston's daughter Bobbi Kristina will not be in Bassett's upcoming Lifetime biopic:
"I did not think about casting her. And probably for a number of reasons, you know. One being that she's not an actress … I know she's been on their family's reality show, but she's not an actress and acting is a craft. It's an attempt to illuminate the complexities of human behavior and life."
As you'd imagine, Bobbi Kristina wasn't so thrilled to hear these things, and she took to Twitter to air some grievances, which included harsh words about Bassett. ("When I win my first Grammy or Oscar, *Shrugs* hmm whichever comes 1st, I'll be sure 2shout URname out b - tch! Hah UrTestResults = Male. Lmao.") She apologized a few days later: "I'm a young woman that can admit her wrongs. 4who was offended I apologize BUT understand me before you're quick to judge though. ThankU." Does this also give you some hope that this Lifetime biopic might not end up so … Lifetime-y? Bassett might just be using a bit of that leftover American Horror Story magic here.