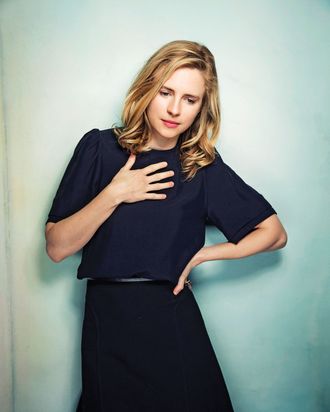 Photo: Victoria Will
Photo: Victoria Will/Invision
"What is this light? Is my phone spying on us?" Brit Marling is peering at her iPhone, which has begun emitting a piercing white light from its back. The 31-year-old actress, in the city for the premiere of her latest movie, I Origins (out July 18), is standing on a bench at the rooftop bar of the Conrad hotel. It's the middle of the afternoon on a cloudless 90-something-degree day, and she's trying to get a picture of the view from Battery Park of the Statue of Liberty and the harbor. She can't figure out how to turn off the light, so she ignores it and snaps away. "This is it—this is the New York view."
Marling steps down from the bench, arranges her pale-pink silk skirt and blouse, and settles in front of a table full of pastries from Tu-Lu's Gluten-Free Bakery ordered up specially for us. (A few years ago an herbalist suggested going gluten-free might help chronic health issues. "She was like, 'Yo, girl, you probably have a food allergy.' I stopped eating wheat, and I just never got sick anymore.")
"This is amazing," she says, taking a huge bite of a vanilla cupcake with chocolate frosting. Marling goes even further on the second bite. "This is the best thing I've ever eaten." She is a very good actress.
At Georgetown, Marling studied economics and interned at Goldman Sachs. But instead of pursuing a career in finance, she decided to live in Cuba for a year and shoot a documentary. Then L.A. to try acting full time. (She did at least play a banker, in 2012's Arbitrage.) "The L.A. mentality is a bit dangerous, like, 'If you just get a colonic twice a week, you're not going to have any problems anymore,' " she says. "There are so many cultish circles, so many ideas for a quick fix on how your life is going to be as blissful as the weather out there." She eyes the box of gluten-free chocolate-chip cookies in front of her.
Marling knows from cults, having star­red in two movies about them (Sound of My Voice and The East, both of which she wrote with her college friend Zal Batmanglij). She broke through as an "It" girl in 2011 when she had two films at Sundance (Another Earth in addition to Sound of My Voice). Since then, she has been working in more and more prominent films, making her something of a thinking man's ingénue of the moment. In I Origins, her second film with Another Earth director and friend Mike Cahill, she's believable as a scientist in a love triangle who wears Fair Isle sweaters and glasses: Marling plays smart in just about all her roles.
A friend recently asked her if she bakes, Marling tells me as we discuss her switch away from wheat. "I told him I will make a pie if someone dies—I'm a bereavement baker. I don't know what else to do." I mention the best advice I've gotten on that front: Send a card with a quote from Hamlet: "Absent thee from felicity awhile." "I'm going to steal that," she says. "What Hamlet tells the players—that's actually some of the best advice about acting." It is only when she Googles the exact quote ("Speak the speech … trippingly on the tongue") that she realizes her phone has overheated and shut down. "Should we go inside?
"Sometimes I think about alternate livings that I could make," she says once we find a suite and spread out the baked goods, which we had rescued from the heat, on a coffee table in front of a sofa. "The one that seems the most appealing to me right now is to go to school and study physics and get on the bandwagon of whatever is happening right now in this quantum-physics dialogue that I just, like, can't understand past a certain point."
Marling adds, jokingly, that instead she should go for the full indie-actress lifestyle. "I'll be with my imaginary dogs—a German shepherd and a rescued Chihuahua—and a hot, bearded boyfriend who's opening an organic butcher shop. And then you get a green juice and retire to do something quirky and fun."
There's no boyfriend, hirsute or otherwise, at the moment, which is a side effect of shooting all the time that no one warned her about, she says. When Marling was filming the upcoming Civil War drama The Keeping Room, she was so in the zone that when she got a third-degree burn on her upper right arm—from a prosthetic-wound application gone wrong—she powered through it. She shows me the scar. It's the size of a large coin, raised and white. "You just think you're in the Civil War, so you're like, 'No big deal. Tie it up.' So how do you take somebody there with you? You're like an astronaut in deep space."
Tinder, the dating and hookup app, intrigues her as a concept. "I should maybe try it tonight and just be like, 'Hey, what I'm looking for right now is, like, an amazing bottle of Scotch," Marling says. "Actually, preferably, you can come over if you can find some Pappy Van Winkle in Manhattan. If you can find that bottle, please come to my room.' " She doesn't think she's well known enough for her fame to be an issue with potential matches. "They wouldn't even know. They'd be like, 'Who? What's happening? What do you do for a living?' "
Marling curls her body toward me and suddenly asks, "What do you want out of life?" I tell her that once I got really stoned in high school and had a revelation that life was about companionship. She doesn't laugh—she just nods. "I think that might be true. I was always proud of my independence and really proud of being self-contained. But lately I've started to think it actually might be about a connection with somebody—real intimacy over time, and what that might mean, and how deep you would be willing to let someone in." She smiles and shrugs. "Hard stuff."
After I Origin's premiere, Marling will fly back to London. She's been there for five months, wandering around parks and going to plays in the West End and filming a TV series about cops by Trainspotting director Danny Boyle. She plays an American, which has saved her from perfecting an accent. "I could try to do one anyway. Now that I've been spending so much time across the pond," she says in a very bad, Mary Poppins–style British accent.
"What is this, oatmeal raisin?" Marling starts breaking off pieces of the cookies in front of us and pops one in her mouth. The remains of the pastries, picked at and crumbling in their box, remind her of a book she's reading by the environmentalist Bill McKibben. "He's saying we lived in a time where more was better. Because of course more is better!" Marling says. "Like, we had cupcakes and then I wanted more and then we had cookies. Like, more cupcakes is better cupcakes." She sees an economic argument. "Now we're in a place where more actually means less—like, the more we consume the more we're producing."
Marling reads a lot. Her purse is a canvas tote from a London bookstore that gets overstuffed with reading material. "Yesterday I went to get an iPad for the plane ride. I thought, I want to be able to read things and not care [about space]." She went to an Apple store to buy one. "I'm about to check out, and the girl who's checking me out is like, 'Did you see that rainbow yesterday?' And I was like, 'No, I didn't see it.' And she was like, 'Yeah, after that big storm there was this huge double rainbow.' " A second clerk said she'd seen it, too. " 'I saw it on Instagram,' she said. And something about that just like broke my heart a little. It did something weird and visceral to me."
Marling decided against the purchase. "I looked at her all of a sudden and was like, 'I'm so sorry. I can't take the iPad.' And I ran out of the store. It was so dramatic; it was ludicrous. And tomorrow I'll probably go get an iPad to go read about late capitalism."

*This article appears in the July 14, 2014 issue of New York Magazine.