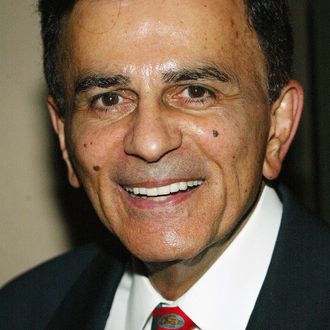 Photo: Frederick M. Brown/Getty Images
The voice of American radio, Casey Kasem, who died at 82 last month, just can't seem to rest in peace. The protracted battle between the Kasem children and their stepmother, Jean, entered a strange, new chapter with the disappearance of his body. A Washington state judge granted Kerri Kasem, Casey's eldest daughter, a temporary restraining order to keep Jean from taking and cremating the body. But when they went to deliver the restraining order to the Tacoma funeral home, they were informed that the body was already gone. "We can confirm that he is no longer in our care and that we carried out final disposition per the Death Certificate," wrote Gaffney Funeral Home's Corey Gaffney in a statement to the Los Angeles Times.
Jean reportedly filled out the original death certificate (Washington state grants authority to the spouse over the children regarding disposition of the deceased), and listed the Urgel Bourgie funeral home in Montreal as the place she wanted to be responsible for the remains. Kerri told the New York Daily News, "My dad has nothing to do with Canada. He lived in Los Angeles for 45 years." However, according to the AP, the Urgel Bourgie funeral home claimed not to have the body as of Friday night. A representative for the Kasem children called the situation "pure insanity." Yep, that about sums it up.