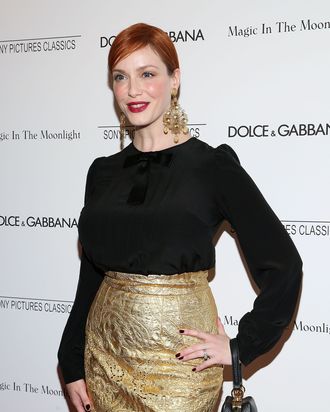 Photo: Monica Schipper/FilmMagic/Getty
Mad Men taped its final episode earlier this month, but the cast is still figuring out which mementos they'll keep from the set. Make that buy from the set: Turns out seven years on a series doesn't provide as many perks as we thought. "I am purchasing a few things. They're making us buy them," Christina Hendricks told Vulture last night at Harlow, following the New York premiere of Magic in the Moonlight, presented by Dolce & Gabbana and the Peggy Siegal Company. "I am taking away a picture from Joan's apartment, but I have to pay for it. It's an Asian mosaic landscape. That's always been in her apartment and I just love it so much, so I thought even though [Lionsgate is] charging me, it's worth it." Other cast members have their own beloved tchotchkes. "Some people really liked a lamp in their office, some people really liked glassware, personal things like a lighter — a lot of people wanted things from their desk," Hendricks said.


As for Mad Men farewells in general, Hendricks confessed that after the show wrapped, "We partied for about a week straight." But put aside your ideas of glamour or decadence and instead picture late-night show-tune sing-alongs. "We're all surprisingly into musicals. There was a lot of singing of Little Shop of Horrors, 'Defying Gravity' [from Wicked], and a little bit of Frozen. I wish we were cooler," Hendricks laughed. "John Slattery is a very good singer. The first time I realized what a good singer he was was years ago on the show. He never talks about what a good singer he is, but then he'll just open his mouth and he's quite good." Time for a John Slattery/Jon Hamm "Let It Go" duet, folks.