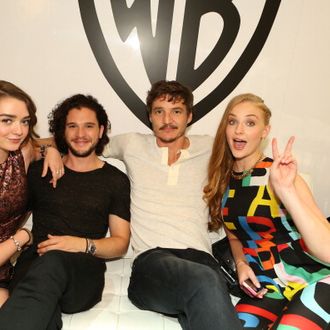 There was a parade of TV panels at Comic-Con yesterday. Sadly, Vulture couldn't get to all of them, so here are some of the tidbits we've rounded up, from Orphan Black's Tatiana Maslany talking about her Emmy snub to George R.R. Martin talking about the difference between the Game of Thrones book and the show. There is also first look at the CW's Arrow and a new action-packed trailer for Starz's Outlander. Take a look:
Game of Thrones
So we've already told you about the major casting news for season five (Keisha Castle Hughes, a.k.a. Whale Rider!) and shown you the blooper reel. GRRM et al didn't reveal any spoilers, but there were some other interesting bits of news: 
While talking about the book versus the show, Martin said that Jeyne Westerling — Robb Stark's wife in the book — will be in the prologue of The Winds of Winter, his long-awaited sixth novel in the series. When speaking about the differences between the book and the show, he used the Scarlett O'Hara analogy,

"The show is the show and the book is the book. Who did Robb Stark marry? Did he marry a noblewoman from Volantis named Talisa, who died at the Red Wedding? Or did he marry a woman named Jeyne Westerling who's still alive and will be seen in the prologue of 'Winds of Winter'? Is one true? Is one not true? Well, how many children did Scarlett O'Hara have?"



According to D.B. Weiss, Stannis Baratheon (played by Stephen Dillane) will have a larger role to play in season five.

Weiss said, "He's a fascinating character … and we will be taking advantage of both the character and the actor in the season."

Well, what about Tysha? (If you have no idea who that is, we have the explanation for you.) A fan at the panel asked why they omitted the crucial scene where Jamie tells Tyrion about Tysha, which would have given Tyrion even more reason to off Daddy Lannister. The creators said that at that point in time, they would have had to use a flashback to explain it, and they didn't have the time or room to do flashbacks. That doesn't rule out flashbacks for the future though! 

Community
Dan Harmon doesn't anticipate the form of Community changing drastically now that it will be on Yahoo, saying that the show will still air weekly. Also: "If we're asking how different the show will be just because [now that it's on the internet] it's allowed to be different, I really think that the Community that these guys recognize has to be there, I have to be careful about that. My philosophy says make the same show, and let the lack of boundaries make themselves felt, rather than saying 'we can make this episode 49 minutes long and nothing but the F word.'"
Casting changes: Jonathan Banks probably won't return because of his commitment to Better Call Saul. As for John Oliver, Harmon said that it's "contractually possible" for him to come back, but, "We're not gonna tear him away from his amazing HBO show, but…" Joel McHale interjected: "He does it

 

once a week!"
But maybe we'll see Troy again? Harmon: "

Troy's out there somewhere, he may be in peril. That's what movies are good for. I'm not rejecting the idea that he comes back for Season 6 … Donald, if you're listening.

"
Orphan Black
Co-creator Graeme Mason says that for Allison's mother, the top of his wish list is Catherine O'Hara.
They originally planned on killing off Mark Rollins (the creepster from the Promethean farm) played by Ari Millen, but decided to keep him, because they were so impressed by him.
How Tatiana Maslany feels about her Emmy snub:

"I just feel really lucky to be at this point in television history making a show like this, and in the company of shows like that. The Emmys is lovely and wonderful, but to me it's more about hearing the response from the fans … Being in this room — that's why we do it."
Bob's Burgers
Creator Loren Bouchard said that he might have a solution for fans who want to see the animation flip for Bob's Burgers and Archer: "I was driving down, and I think I thought of how we could do the Archer crossover. This is what we're going to do. We'll take an episode of Archer. We'll get all the dialogue Archer said in that episode, and we spread it out over a season of Bob's Burgers. So if you knew where to find it, you could actually cut it together so that all of Archer's lines come out of Bob's mouth." He may or may not be joking. 
Meanwhile, Kristen Schaal (who voices Louise) says that when Louise grows up, she'll be a "firecracker" in the sack:
Archer
As for that other H. John Benjamin show, Archer showrunner Adam Reed said that after last season's drug-caked Vice, the team will go back to the usual spy offices. Why? Reed:

"We ran out of cocaine!"

Christian Slater will be back as Slater and Allison Tolman will guest-star as Edie, Pam's sister.
Rick and Morty
While Dan Harmon says that he's the guy who makes everything "unmarketable" on Community, he's the opposite on Rick and Morty. Co-showrunner Justin Roiland says, "He's the guy who makes it very marketable …If Harmon weren't there it would just be Rick and Morty doing shit."
Marvel Agents of S.H.I.E.L.D.
The directors of the two Captain America films, Anthony and Joe Russo (The Winter Soldier) and Joe Johnston (The First Avenger) will direct three episodes of the upcoming season.
Outlander
A newly cut trailer for the Starz show based on Diana Gabaldon's best-selling series can be seen over here.
Arrow
Here's a first look at the new CW superhero show: