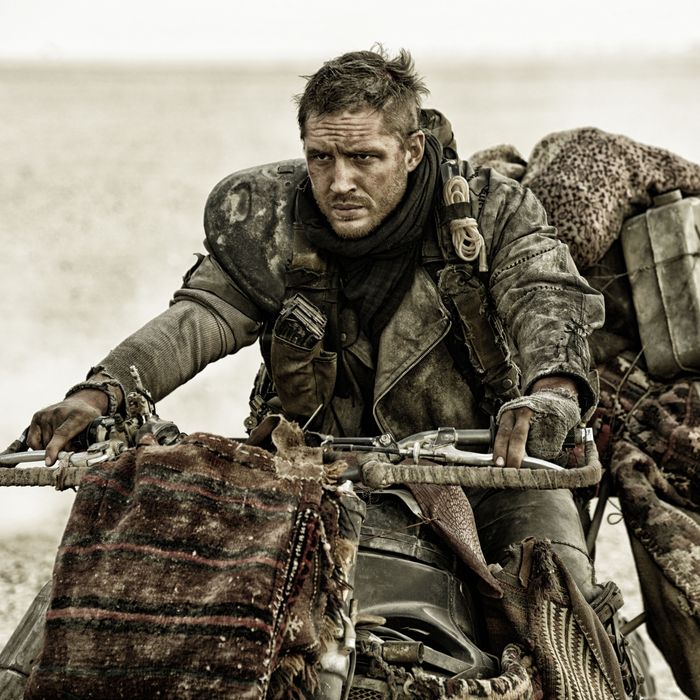 Warner Bros. showed off a whole lot of footage from its long-gestating Mad Max reboot today at Comic-Con, and the thing looked relentless. We first meet Tom Hardy's young Max, bearded and dirty, as he's stomping and chewing a lizard; it's not long, though, before he's the one who's being kicked and tortured by a roving gang of marauders that shave his scruff and tattoo his back. He's then masked and placed on the front of their car like a very unusual hood ornament, but as the villains pursue Charlize Theron (who's spiriting away three young women including Zoe Kravitz and Rosie Huntington-Whiteley) across a desert landscape and through lightning-laden dust storms, Hardy eventually frees himself and allies with Theron.
Good stuff! According to director George Miller, the movie is practically a feature-length chase scene, and it certainly felt that way. But though Hardy looks persuasive in the role that Mel Gibson originated in Miller's first Mad Max movies, the specter of Gibson still hung in the air at Hall H. "Who knew that Mel Gibson would literally turn into Mad Max at some point?" panel moderator Chris Hardwick asked Miller, to gasps from the audience.

"Well, uh, well," said Miller, who fumbled for a way to handle that topic. After a minute of hemming and hawing, he attempted a response. "We all ask the question, 'Why is there charisma?' Why are some people set apart as movie stars?" Miller said. "Part of that is because those people have that internal tension. On the one hand, they're lovable. On the other hand, there's the element of danger. That applies to every charismatic person."

Fair enough — and according to Miller, Hardy follows in those footsteps. "Tom has that quality. He's extremely lovable, and has another quality that's like watching a big wild animal — you don't know what they're gonna do next. That paradox is one of the elements of charisma." Hardy wasn't in Hall H to testify on his own behalf, but we figure that the marvelously moody star would have pretty much agreed with his director. In any case, audiences can decide how well Hardy inhabits Max next May, when Mad Max: Fury Road is finally out, almost three years after its long, difficult shoot started.