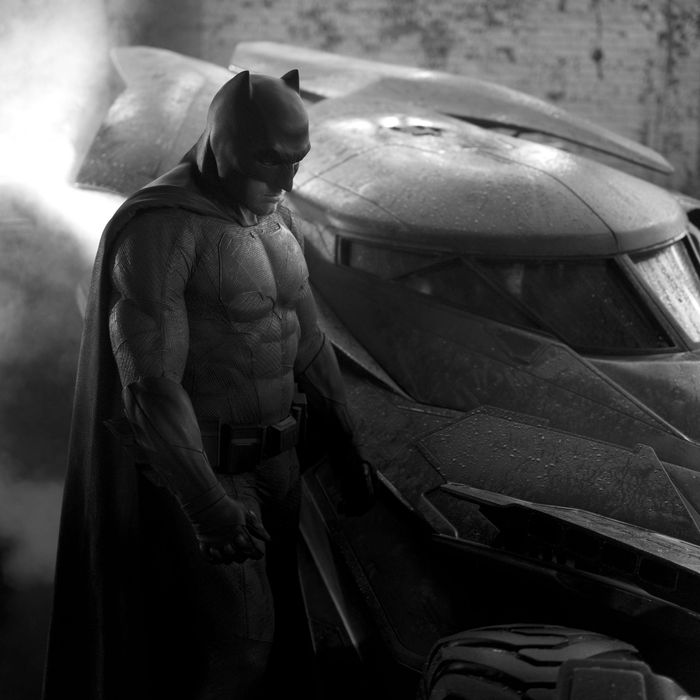 After a sleepy two days at Comic-Con, Warner Bros. just opened its Hall H panel by playing its biggest hit right off the bat: The studio screened the very first footage from Batman v. Superman: Dawn of Justice. "We were shooting last night, [we] jumped on a plane and came here this morning," said director Zack Snyder, who brought stars Ben Affleck (leather-jacketed and uncomfortable-looking), Henry Cavill, and Gal Gadot. "I'm not giving them a microphone because I'm afraid you guys are gonna ask them some questions," said Snyder.
True to his word, those big names didn't say a word onstage; instead, they walked out after nearly 60 seconds, letting the briefest of teasers do the talking.

And what did we see in that teaser? The clip opens on a roof prowled by Affleck's Batman, heavily armored in his Batsuit on a stormy night in Gotham. Almost all you can see of Batfleck are his glowing blue eyes in the cowl — a night-vision touch that kind of makes Batman look like a dour Iron Man — until Batman activates the bat signal, sending his new, fat bat logo into the rainy sky.

But what's this? As the camera pans up to the moon where the bat signal is pointing, we see Cavill's Superman floating there, blocking the signal and staring down at Batman with slitted, angry red eyes.

"Dude, Superman looks pissed," noted panel moderator Chris Hardwick.

And that was it! "All right, guys, we gotta go back and finish making the movie," said Snyder. "Appreciate it!" The reaction from the crowd was strong, even if these two superheroes said as little in the teaser as their silent stars did onstage. As the presentation concluded, there was a brief glimpse of Gadot in full Wonder Woman costume on an adjacent screen; expect Warner Bros. to release that still soon, even if the footage from the Comic-Con teaser isn't likely to be seen by the general public until much closer to Batman v. Superman's 2016 release date.