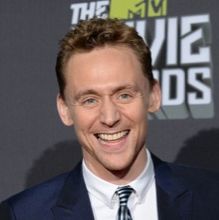 Yes, the Comic-Con crowd was excited to see Benedict Cumberbatch this week. Yes, they were happy that Daniel Radcliffe made his first trek to San Diego. But for the fans huddled here in Hall H, there is one high truth far holier than any other: Thou shalt take no gods before Tom Hiddleston. The British actor has flitted through many a Marvel movie as the trickster villain Loki, and he brought the house down last year when performing in character at Comic-Con. Though Hiddleston wasn't present today, director Guillermo del Toro still had something to say about the actor, whom he cast in his new gothic thriller Crimson Peak.
"I must tell you girls, Tom Hiddleston is the nicest fucking guy on Earth," del Toro said during the Legendary Pictures panel, to a swell of shrieks from the audience. "It used to be in the past that you were either nice, or you were good-looking and an asshole. Now that barrier is ruined."

And though Hiddleston inspired yet more screaming when del Toro showed off a Crimson Peak teaser that featured him in period garb, the director also wanted to stress that this haunted-house story boasts a heavy female presence, as it's toplined by Mia Wasikowska and Jessica Chastain. "I wanted the freedom to tackle a great adult story with a female lead," del Toro said. And this one won't be beholden to the same genre hallmarks that women are often put through in the movies. "Let us see her leap past all that," said del Toro. "Getting the guy? Fuck that shit. No, let us see her become her own person."

Still, it's Hiddleston who narrated the creepy teaser, which features a freaked-out Wasikowska traipsing through the snow with a dagger, in addition to shots of Chastain and Charlie Hunnam looking appropriately old-fashioned in a three-story haunted house. "A house as old as this one becomes, in time, a living thing," intoned Hiddleston, who says the forbidding manse has "timber for bones and windows for eyes." It's also got some creepy, malevolent ghosts, and in the last shot, a black arm appears out of the dark to grab at a hyperventilating Wasikowska.

"It's the best cast I've ever had," said del Toro. "That's my special effects in this movie." And since Crimson Peak won't be out for another year and a half, the director hopes to bring them all back to Hall H next summer. "You will get me, but you will also get Tom fucking Hiddleston." The audience yawned. Ha-ha, just kidding, they went apeshit.