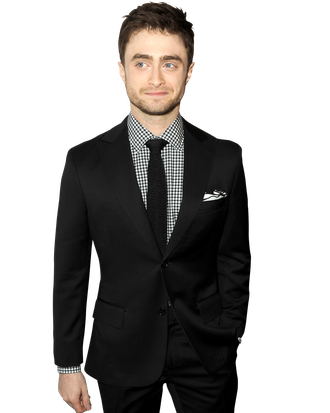 Daniel Radcliffe.
Photo: Kevin Winter/Getty Images2013 Getty Images
Daniel Radcliffe has put in a lot of time in front of green screens and rocking period attire, so at first it's a little jarring to watch him being a plain-old millennial in this summer's riffy rom-com update, What If. But as Wallace, a newly brokenhearted med-school dropout who falls for a girl (Zoe Kazan) after meeting her at a party, Radcliffe proves highly adept at playing a regular guy. Even when things in the Michael Dowse–directed film get complicated, Radcliffe, with his snappy and knowing performance, doesn't let the film get trapped in the well-worn genre's more precarious trenches. (That his best friend is played by Adam Driver doesn't hurt.) Radcliffe, who's in New York finishing his run of the Broadway comedy The Cripple of Inishmaan, spoke to Vulture about starring in his first rom-com, the chances he'd ever sign on to another film franchise, and his obsession with a certain peroxide-haired rapper.
This character feels like the most regular person you've played since Harry Potter. Was it a different experience?
It was! It was very different playing just a modern character as well. It was fantastic just to be in modern clothes. It sounds weird, but you do so much period stuff growing up in England that it's lovely. Also the dialogue is all stuff and situations I understand. When I'm 11 or 12 and having to be devoured by a gigantic plant called the Devil's Snare, I don't know what that would be like in real life! It's nice to do films now where I can draw on my own life.
Was this the first time you were offered the lead role in a romantic comedy?
I got two scripts around the same time; one was this and one was another film, which I have to say was a fantastic script, but very similar to this. I think this one had a more satisfying story arc, and the truth is, when you get a script like this, it's a very easy decision to become a part of it. There's an image people have of actors reading tons of scripts, and they do, but a lot of them are very average. So when you find something special, you jump on it, because there's going to be another ten people who want to play the same part.
I would think a lot of actors might roll their eyes when they get rom-com scripts because of the stigmas attached to the genre.
It's more the action films that I roll my eyes at. There's a real trend in screenwriting that if a movie comes to you from a studio, you can have a really smart movie with a great premise, but there's just a law where at some point it has to turn into an action movie when there's no need for it to. With the romantic-comedy stuff, I know what you're saying because there are so many out there and they're not very funny, but my agents are very good at sending me stuff they suspect I'll like.
What in particular made this script stand out?
It undercuts a lot of the tropes you find in movies like this. In romantic comedies, all the problems of love are solved by love and by doing great acts of romance, like my character's trip to Ireland. In real life, flying to Ireland is a mental, extreme thing to do, and Zoe's character calls him on that.
You do have a standard-issue best-friend character to confide in. But then they cast Adam Driver, an atypical actor for this kind of role.
Yes, exactly. He's not like most actors, and not like most best friends, I assume.
He has a very specific style of acting. Did it take some getting used to?
I think early on his career he was asked to use that a lot, because it's something he does brilliantly. But I think there's a lot more to him as an actor that we're about to see. I doubt very much that Star Wars will be a similar performance to this movie. But he's an extraordinary improviser and will come up with something new and hilarious for every take. And I think people expect him to be loud and brash, but he's a really quiet, humble guy. I wouldn't say shy, but he's low-key. Zoe made the point that in these romantic comedies, the two leads are far and away less interesting than all their crazy friends, but I'd like to think in this film that we're as interesting as the people that surround us.
You and Zoe Kazan share a kiss in the movie that's cathartic for your characters and for the audience. Did you guys feel that same catharsis?
I think we did, and it was cathartic for the whole crew, because Michael had left it for the last scene we filmed, which is really brilliant of him and never happens, so thank you, Michael. Obviously Zoe and I are both in relationships, but because the whole film is building towards this moment, there's a bit of nervousness around it. And it doesn't matter if you're kissing someone onscreen or in real life, but you don't want to suck at it. I think that's the scene in the film that hopefully surprises people by how emotional it is, because it's been quite witty and funny and bizarre until that point. But I think that scene packs a real punch.
You have a well-documented obsession with the NFL. How would you sell the league to a non-football fan?
I would say it's the most all-around athletic sport in terms of speed, hand-eye coordination, and strategy. The quarterback position amazes me, to go into every game having memorized 30 or so plays and knowing what they're all called.
So you're a student a game?
I'm still trying to learn it. I kind of understand offense and what everything means. But defense, you might as well talk binary to me. It's like when people start talking about nickels and 3-4 and 4-3, I kind of know what that means, but it's taking me a long time.
Are your Sundays completely reserved for watching football?
During the football season, yeah. And I'm pretty lucky that I'm going out with a massive football fan as well, so it's not like I'm making someone suffer through it.
What's another obsession you have that might surprise people?
Eminem. I'm obsessed with him. His last album was the most-played thing on my iPod. Some of his lyrics are about football as well. My favorite line on the new Eminem album was "Stomping them like Ndamukong / I'm rushing like a Urkanian LaDainian Tomlinson." So I found a way of combining my obsessions, which is even better.
When did you pick up your Eminem fandom?
When I was 9 or 10 and "The Real Slim Shady" came out. I knew all the words to that when I was 10. I remember being in the shower when I was 11 on my Japanese press tour, rehearsing that song. It's a really nasty song in parts so I didn't know what I was saying.
Would you ever consider doing another franchise?
Absolutely I would. It would have to be something that I love, but I would never close myself off to something like that, particularly because franchises are going in a really interesting direction. Of course there are big shitty ones as well, but the Batman movies or The Hunger Games or Potter, I'm proud to say, are interesting. It no longer has to be a dirty word. There's a desire out there for big movies that are also smart. And with choices like Joss Whedon and Marc Webb to direct, I think that shows a desire in people to make the most interesting versions they can.