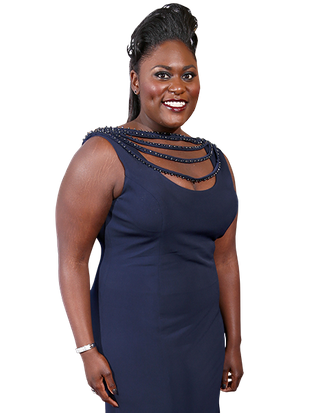 Orange Is the New Black's Danielle Brooks.
Photo: Christopher Polk/Getty Images
You've watched all of Orange Is the New Black's second season, yes? Wonderful. Then you may proceed. The rest of you, please note that this post contains many spoilers about the show.
For most of Orange Is the New Black's second season, Taystee was lost to the mind-powers of Vee, the abusive drug-dealer mother figure who'd given Litchfield's most delightful inmate a family in exchange for a life of crime. To our horror, Taystee broke up with BFF Poussey and began dealing again (including slipping heroine to recovering addict Nicky) before breaking free of Vee's spell. She seems to be back on the up-and-up now, but we're still reeling from that rough patch. Vulture talked to Juilliard grad Danielle Brooks, who's already in the middle of shooting next season, about Taystee's journey thus far, and why she's so relieved Taystee and Poussey got back together.
Any idea yet what Taystee's crime was?
As of now, it's still a mystery.
Also a mystery: Why Taystee was ever topless on a bulldozer with barbecue sauce on her titties. Again!
[Laughs.] Yeah, that was written by Nick Jones, who also went to Juilliard with me. He was a writer while I was an acting student. When I first started playing with that monologue, I was playing it so overly dramatic. I was like, This is a real moment. I remember Jenji saying to me, "Is this a real moment? Or is this a Taystee moment? Is she telling the truth? Or is she not telling the truth?" I found that so interesting about her! [Laughs.] Was she pulling people's legs, or was she telling the truth? It was a lot of fun to do. Because I was playing it really dramatic and serious, Andrew McCarthy, who directed that scene, was also like, "Just tell the story." I was actually very shocked about how people responded to that monologue. People seem to love it.
Do you have your own version of what happened? Or do you feel like Taystee made it up?
I think Taystee totally made it up! I think it's funnier if she made it up.
She's sort of a born entertainer.
Yes, that's definitely a Taystee trait. She tries to bring humor and laughter and joy in moments that are dark. Being in prison alone? It's not a fun place to be. She's like, Any moment that I can have fun and enjoy myself while I'm here, I'm gonna do that. But the journey she's taken for season two is that she can't do that anymore. She hits this breaking point when Vee comes back and she has to deal with the issues that are in front of her, and she can no longer hide behind her laughter to deal with her pain.
What's terrible is before Vee showed up, Tastee had decided to get herself together. She was screwed by the job fair, but we know from her flashback that she was a driven, self-motivated kid.
Yeah, I feel like Taystee really took to heart the conversation that she and Poussey had in the library after Taystee returned to Litchfield in season one. When they have the job fair this season, you see how much Taystee really is trying to get a job and trying to get out of her situation and pull herself up by her bootstraps. But again, the system is against her. The cards that she's been dealt are not helping her win the game of life. That's the beauty of having Poussey there too, because even in the midst of all life is bringing her way, she still has someone who is 100 percent loyal to her, who loves her unconditionally — and you see that after Taystee has just been ugly to her. Poussey is the one thing that has been consistent in her world.
Of course all the season two episodes went online all at once, but did you hear from angry Taystee and Poussey shippers?
Yes! Especially a lot from African-American women. It seems to me that they're really happy to see a relationship that's two black women supporting each other and not knocking each other down. Especially with all of the reality television on. Love and Hip Hop. R & B Divas. The reason these shows are on is because of the conflict between black women, so it's a great time to show that's not how we really are in life. Sometimes we do argue with each other, but we're not always angry and tearing each other down.
Did you work with the actress who played Young Taystee? She was perfect.
I actually did not get to spend time with her, but I did get to meet her after she shot her scenes and she was so sweet. She did her research on her own, with no help from me besides what she got from watching — if her mother let her watch. I don't know, though. [Laughs.]
"Brichelle, you back the fuck off." "I love science." "I'm cute." I liked knowing Young Taystee and Young Suzanne were such confident little girls.
She's been Taystee since she was little, right? [Laughs.] The way she gets to be a part of Vee's squad is by her education and by her smarts. That was written so beautifully.
And yet there's a real innocence to her, too. Like when she's discovering her third hole.
That's another thing I didn't know about her! I did not know — in my head, she has to be a virgin, right? She's not that experienced sexually, I would think. I didn't know that about her! That just brings another beauty to this character that most people would not see on the surface, so I loved that. Taystee not knowing where her three holes were and exploring her body with her fellow sisters in prison. [Laughs.] I thought that was cool.
I know you can't say much about next season, but do you think Taystee feels bad about reintroducing heroin into Nicky's life?
That was messed up! I know. She was doing that on the outside, too! She was selling drugs. That hustle, at that moment, was natural — or, I don't want to say natural, but that was something that was familiar to her. It didn't matter who it was. It sucks being the one to have to do that! But that's the beauty, I guess, of human beings. We're all flawed. We all have things we regret and wish we could take back. I hope people can relate to Taystee in that way.
I know you have to run, but tell me about Ghetto Dorm Sorority.
Yes. GHETTO DORM! [Laughs]. Well, as you know, at Litchfield there are three sections. You have the Latino dorm, you have the suburbs, and you have the ghetto dorm. That means we mostly work together and spend a lot of our time together, so you know, we're very silly girls. I was talking to Adrienne C. Moore, who plays Black Cindy, and I was telling her I saw these two guys on the train and they were stepping, and they were so good! I was like, "We have to find a way to incorporate that in the script." But, I mean, we're not writers, so that's not gonna happen. So instead we got all the girls together and decided to do a little step, which in the black communities and sororities is a big thing. There are step competitions and step shows. It's just part of the culture. We just wanted to have some fun.
You took it the most seriously. You were really stepping.
Thank you! I know! Haaaaaa!