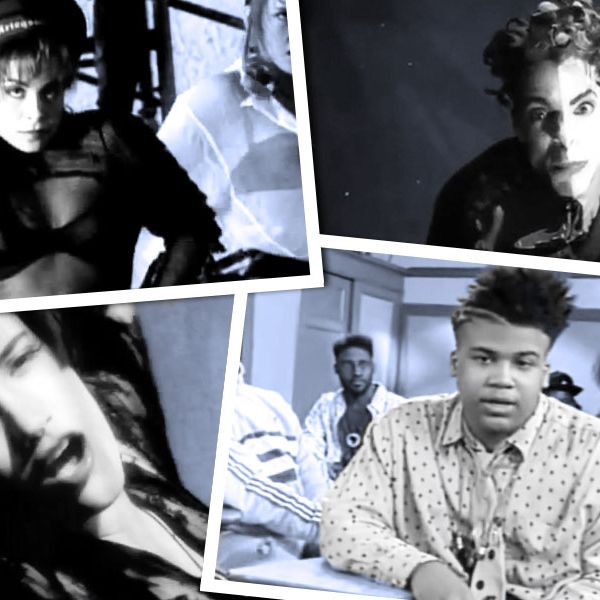 Twenty-five years ago today, the world was gifted with one of its greatest romantic comedies, as When Harry Met Sally opened in theaters. But what were moviegoers listening to as they drove their Pontiac Fieros to the cineplex to watch Billy Crystal meet Meg Ryan? This week's installment of my Somewhere in Time column revisits the top 40 songs circa July 13, 1989, so hop in the DeLorean GIF and let's get into it. I can promise a lot of unstructured sport-coats, an ozone hole full of hairspray, New Kids, electric youths, and Rod Stewart. You'll have what Martika is having.
40. Donna Summer, "This Time I Know It's for Real"
I will begin this column with some hardcore grammar grumpery. This line has now officially bothered me for 25 years: "You'd be amazed how much I love you so." How much I love you so? Isn't that basically: How much I love you so much? It's a little like "She's so fine as can be" from New Edition's "Candy Girl," in that they're both wrong and neither one is something their lyricists spent two minutes thinking about, much less two and a half decades like I have, but here we are. Hi!
39. The Jeff Healey Band, "Angel Eyes"
In the second half of the '80s, there was pretty much always one blues man on the pop charts — Robert Cray, then the Fabulous Thunderbirds, then Jeff Healey — but never more than one, and none of them managed a second hit album. It wasn't so much a fad as a quota. (It's clear Bruce Willis wants on the list, based solely on this Seagram's Golden Wine Cooler commercial, but my conscience will not allow it.) (Still, will you look at that shit?)
38. New Kids on the Block, "Hangin' Tough"
By contrast, every few years since the reign of the New Kids, there have been boy-band trendlets, gangs of tweezed, media-coached young bucks who attack the chart in clusters until the girls decide they're too cool to be manipulated, and their little sisters pick it up three years later. We're in one such moment right now, and it's fun for those of us who don't care for sports to analyze it: Will Louis be the Robbie Williams of One Direction, or is Harry the obvious choice? Is 5 Seconds of Summer or Emblem3 the BBMak of this moment? Who'll end up headlining the Vegas Chippendale's revue of 2028? But really, the only question that holds my interest is: In ten years, which Backstreet Boy or 'N Syncer will follow Donnie Wahlberg's lead and open a burger joint? Gotta be Joey, right? The allure of a FatOnes would be too much to resist.
37. Tom Petty, "I Won't Back Down"
Okay, so in July of 1989, I had just graduated high school and was on my way to the college of my choice, which I had not yet chosen. I had gotten into a few cool little artsy schools where I thought I might be able to develop my skills as a writer. I'd gotten into one all-male college in Virginia, the application to which was in retrospect a decision I made entirely with my frustrated libido. And then there was the other school, the very good Catholic school full of freshly scrubbed, barn-jacket-wearing future lawyers and doctors, the school where I could simply transform by osmosis into the thing I thought I was supposed to be: practical, sharp, happy, straight. This school put me on the wait list and, as in my romantic life, the surest way to win my devotion was to indicate a lack of interest. I kept pushing, they finally relented, and thus began my long, fruitless attempt to become a normal person.
36. Bette Midler, "Wind Beneath My Wings (From Beaches)"
Not familiar with it.
35. New Kids on the Block, "I'll Be Loving You (Forever)"
These days, thanks to social media, fans have countless ways to connect with their boy band of choice. But back in 1989, if you wanted to keep your favorite New Kid with you at all times, it came down to dolls, trading cards, and 1-900 hotlines. Here are the boys, promising eternal love at a babysitter's-wage-friendly $0.45 per minute.
34. De La Soul, "Me Myself and I"
I could go on about the significance of 3 Feet High and Rising to the suburban teenager of the '80s, but for right now let's just savor that Randee of the Redwoods cameo.
33. Gloria Estefan, "Don't Wanna Lose You"
Between Gloria Estefan and Laura San Giacomo in sex, lies, and videotape, 1989 was a hot year for eyebrows.
32. Sweet Sensation, "Hooked on You"
I don't remember this, but apparently in 1989 it was fashionable to look like you're going to some kind of Atlantic City debutante ball.
31. Donny Osmond, "Sacred Emotion"
So, listen: If you were to read the words "Our love is like a sacred emotion, and it's burning bright for the whole world to see," you would say — even before you learned that they were sung by Donny Osmond — that those are some Mormon-ass lyrics. That's why it's such a shock to see this video, which seems to foretell not only the Bruce Weber era of the Abercrombie & Fitch catalogue, but also somehow Burning Man. Somewhere in Utah, Marie was masking her jealousy with a savage, toothy smile.
30. Winger, "Headed for a Heartbreak"
Kip Winger: best chest hair in the business, non–Huey Lewis division.
29. Richard Marx, "Satisfied"
Though we remember When Harry Met Sally as a hit movie, it actually opened gradually around the country. First on just a handful of screens, then a couple hundred, never on more than 1,100 (in contrast with Transformers 4, which opened on more than 4,200). I guess when your romantic lead is Billy Crystal, you hedge your bets.
28. Don Henley, "The End of the Innocence"
In the summer of 1989, NBC quietly debuted a new sitcom that rewrote the rules so thoroughly, we are still feeling its effects and watching its reruns multiple times a day 25 years later. I speak, of course, of Saved by the Bell. Incidentally, if you are not listening to April Richardson's "Go Bayside" podcast, you are missing out on some top-notch cultural criticism.
27. Jody Watley with Eric B. & Rakim, "Friends"
So I went to college in Massachusetts, at a school that was roughly 99 percent kids from New England, and what I found most disorienting is that people from New England use verbal abuse as a basic form of communication. Making fun of you constantly is how they show they like you, and it took nearly my whole freshman year to figure that out. (By my senior year, I came to realize that it was also how they show they don't like you. Massachusetts, you are straight-up bewildering.)
26. Real Life, "Send Me an Angel"
In 1989, Real Life recorded a new (but nearly identical) version of "Send Me an Angel" for the soundtrack to The Wizard, a Fred Savage movie that capitalized on the hot '80s trend of "watching someone else play Nintendo."
25. Cyndi Lauper, "I Drove All Night"
Goofy Cyndi Lauper gets a lot of attention. Activist Cyndi Lauper gets a lot of attention. But where is the love for sexy Cyndi Lauper, on rare display here?
24. Neneh Cherry, "Buffalo Stance"
Look for Neneh Cherry this summer, touring with Terence Trent D'Arby and Jane Child on the Monsters of Unfulfilled Promise Tour.
23. Debbie Gibson, "No More Rhyme"
On her uptempo numbers, Ol' Deb was so kicky, so fresh, so electrically young. But these ballads are Anne Murray city. I had totally forgotten about this one, which is understandable, because I'm listening to it right now and forgetting it at the same time.
22. LL Cool J, "I'm That Type of Guy"
In 2009, to promote his new lead role in NCIS: Los Angeles, LL Cool J released the track "No Crew Is Superior," which contains lyrics like "Teamwork makes the dream work when you're awake." LL Cool J is that type of guy.
21. Henry Lee Summer, "Hey Baby"
Henry Lee Summer was a mullet-sporting roots-rocker who seems to have sprung fully formed from the loins of Bruce Willis's Seagram's Golden Wine Cooler ad. Here are Brooke Shields and Arsenio Hall pretending to be familiar with his work.
20. Karyn White, "Secret Rendezvous"
Between Karyn White and Dino, 1989 was a hot year for oversize jackets from Wilson's Leather.
19. Paula Abdul, "Cold Hearted"
And now some song-title grumpery: This song is called "Cold Hearted." Not "Cold Hearted Snake," not "He's a Cold Hearted Snake," just "Cold Hearted." I have no dog in this fight, but if you say it wrong, I cannot stop myself from correcting you. We '80s pop-culture kids who were raised on Casey Kasem are real sticklers.
18. Richard Marx, "Right Here Waiting"
Richard has a knack for releasing good-bye songs right around the time people are checking out of summer camps or leaving for college. As Barry White is to fucking, Richard Marx is to hugging, crying, and promising to write.
17. Roxette, "Dressed for Success"
Having just been sprung from my jacket-and-tie, "Dead Poets Society"–style high school, I stood at the threshold of a life where I could wear what I wished; and in 1989, I wished to wear a Banana Republic button-down two sizes too large and unbuttoned to the navel to expose whichever Hard Rock Cafe T-shirt I chose, over carefully pegged jeans and boat shoes. This is one detail of turn-of-the-'90s teenage life that Saved by the Bell gets exactly right.
16. Michael Morales, "Who Do You Give Your Love To"
Here's another one that got lost in the folds of my brain. Michael Morales was a pop-rock guy from Texas, and not, as you might conclude from the video, Lionel Messi in an Ann Wilson wig.
15. Rod Stewart, "Crazy About Her"
Oh, but the real forgotten classic of this moment in pop-music history is way down at the bottom of the chart: Roachford's "Cuddly Toy" should be a classic. It should be playing at every wedding. Your town's worst cover band should be rehearsing it right now. Where is the justice?
14. The Doobie Brothers, "The Doctor"
The Doobie Brothers were at a stage in their career when they could just rerecord "China Grove," call it something else, and we'd be like, "Sure."
13. Dino, "I Like It"
Dino was the opening act on New Kids on the Block's Hangin' Tough tour. Dino did package shows at theme parks with Sweet Sensation and Linear. Dino is currently married to one of the Cover Girls. Dino is 1989.
12. Natalie Cole, "Miss You Like Crazy"
Somewhere in California at right around this time in 1989, Lyle and Erik Menendez were hatching a plan to kill their parents. Also, Daniel Radcliffe was being born. Circle of life.
11. Great White, "Once Bitten, Twice Shy"
Finally, some idiom-usage grumpery: "Once bitten, twice shy" is a saying, not an adjective, so "I'm once bitten, twice shy, babe" makes no sense at all. That's like: "I'm a penny saved is a penny earned, girl" or "You are a stitch in time saves nine, Mrs. Bradley." Also, this song is the worst.
10. Milli Vanilli, "Baby Don't Forget My Number"
After Milli Vanilli were unmasked as lip synchers, Arista Records was forced to offer refunds to customers who wanted to return their MV cassettes. This has always struck me as hilarious: Does the fact that mouths other than the mouths on the cover were singing the words mean that the entire product is defective? If so, how much album-cover Photoshopping constitutes a faulty recording? Do we want our "Alien" download money back, now that we know Britney's raw vocal is a little weak? Whoever sang these songs, they are jams, we all know it, and there's simply nothing funnier than a person plunking down nine bucks at a Sam Goody for a Milli Vanilli tape and then insisting upon total musical integrity.
9. Bon Jovi, "Lay Your Hands on Me"
Fun fact: I am writing a good chunk of this column on an airplane, and the tiny woman in the seat behind me is jabbing her seat-back television so hard it moves my entire chair. She is either building a playlist or playing a vigorous game of Bejeweled or applying for a home loan, I can't tell. But it has passed irritating and come back around to hilarious several times, to the point where I'm delirious with fatigue. And this is how much I avoid conflict: It is easier for me to imagine that she'll read this somewhere down the line and regret her behavior than it is to simply turn around and say, "Please stop poking my head."
8. Expose, "What You Don't Know"
Dudes, this is what happens when you hang out with your carefully groomed bros, watching sports and giving choreographed high-fives on a pristine white couch: Your girlfriends might slip out the back for secret world-tour rehearsals.
7. Fine Young Cannibals, "Good Thing"
For the midwestern teenage girl of 1989, a cassette of Fine Young Cannibals' The Raw and the Cooked was de rigueur, as ubiquitous as Ray-Ban aviators and a top-knot in a scrunchie, as important as a friend with a white Volkswagen Cabriolet.
6. Bobby Brown, "On Our Own (From Ghostbusters II)"
Just as "Lucy Liu, my girl Drew, Cam'ron D, and Destiny / Charlie's Angels, c'mon" ties Destiny's Child's otherwise timeless "Independent Women" to the otherwise largely forgotten Charlie's Angels, this song's Ghostbusters II–centric rap sections prevent it from being the classic it deserves to be. Do we need to know that the Ghostbusters are stuck throwing parties for a bunch of children? Will the kids of tomorrow relate to proton packs? Would Vigo the Master of Evil even care that battling Bobby Brown's boys is not legal? (And are spectral forces bound by New York State law?)
5. Love and Rockets, "So Alive"
Not bad, but everybody knows "No New Tale to Tell" is the crucial Love and Rockets jam.
4. Prince, "Batdance (From Batman)"
A few weeks before, Batman opened to a then-record $40 million weekend, aided in large part by a genius marketing campaign: posters in multiplexes across the country bearing a simple Bat Signal. No release date, no title, just the image. Dick Tracy would mimic the strategy a year later, as would — to greatly diminished returns — the Yugoslavian-financed, Matt Salinger–starring first Captain America film.
3. Simply Red, "If You Don't Know Me by Now"
Mick Hucknall: the Malcolm Gladwell of music.
2. Madonna, "Express Yourself"
By the end of this summer, I was on to the next stage of my life: actively trying to stifle my pop-culture obsessions in a very practical school full of bright New England kids who seemed to hate me. And you know how repressed gay people have a tendency to act way too straight all day and then act out sexually after a few drinks? I was too Catholic for that, but after my third Keystone Light, I'd start talking obsessively about music to whomever was unlucky enough to be by my side. I was a self-loathing pop-culture obsessive. I often wonder how my life might have been different if I'd gone to one of those artsier schools, where I could have viewed my passions as assets rather than liabilities, where I wouldn't have had to bumble my way back to the right path. I've concluded I'd probably have ended up some garbage cokehead studio guy. A tiny, manageable bit of shame can actually turn out to be a valuable thing in the long run.
1. Martika, "Toy Soldiers"
I'm still getting over the fact that Martika is married to Nikki, which I found out a few columns ago. Am I giving you the facts, or am I tricking you to go deeper into the Somewhere in Time archive? Yes.