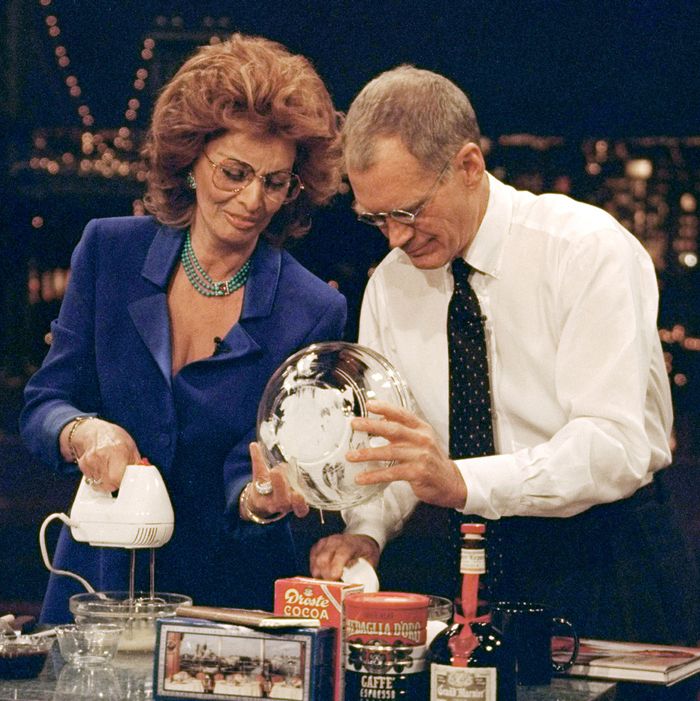 Dave bakes a delicious tiramisu with Sophia Loren on The Late Show.
Photo: Alan Singer/CBS
Last year's announcement that David Letterman would be retiring was met with great sadness in viewers of a certain age, but indifference by younger audiences, who largely thought of him (if at all) as that old guy who fought with Jay Leno over some show none of them ever watched. And with the final Letterman episode coming up on Wednesday, no number of think pieces can explain how big a deal this departure is in the history of modern television. In large part, this is because some of the most powerful material is locked in a vault at 30 Rock and, luckily for millennials interested in learning more, hidden deeper on the web.
In his NBC days, Late Night With David Letterman rewrote the script for what could be done on network television when it seemed like no one was watching. With its low-budget, do-it-yourself vibe whose influence can be found in every homemade online video from Grumpy Cat on down, here's just a smattering of moments (including a few throwbacks from early in the CBS run) that endure in older fans' hearts and minds, in some cases more than 30 years later.
(And for more, featuring some other great examples of Letterman's interviews and remotes, don't miss Josh Wolk's 2012 Vulture piece.)
"Somebody Kill Me!"
While SNL and SCTV were already doing great low-budget parodies of NBC series, Letterman gloried in being particularly bad at acting. Years before his immortal 1994 "Wanna Buy a Monkey?" performance in protégé Chris Elliott's "star" vehicle Cabin Boy, Dave played the overemoting lead role in the Late Night TV-movie parody "Boy With a Migraine" (with his grown man living at home and riding a bike providing some crucial DNA to the aforementioned Elliott's later TV series, Get a Life):
Equally memorable, and featuring Letterman's then-trademark biting the network hand that was feeding him, the heartrending 1983 after-school-special parody "They Took My Show Away," featuring Dave as the TV-loving parental figure "Mr. Letterman," who must explain to little Jimmy that there will be other shows to watch — specifically the now-infamous, then-upcoming NBC series Mr. Smith and Manimal — when Jimmy's favorite show, Voyagers, is canceled.
"We Want to Get Everything Off on the Right Foot"
One of the things that made Dave an early champion of Howard Stern was their shared dismay at how badly NBC treated them, especially after GE purchased NBC parent company RCA in 1986, as seen here in Letterman's Michael Moore–esque (amazingly, three years before Roger & Me) doomed effort to ingratiate himself with the new bosses:
"Paul, Do You Know Who's Across the Hall?"
During the NBC period — before there was an audience for 24-hour-a-day cable channels — 12:30 a.m. (when Late Night aired) seemed a lot later than it does today, and getting big-name guests posed a considerable challenge for Letterman's producers. But since Dave's show taped at the same time as early evening NBC mainstay Live at Five, there were occasional opportunities to try to capture their big-name guests, like this 1983 encounter, in which notorious cigar-smoker Letterman gently chastises screen legend Sophia Loren for her backstage smoking:
Later, as Dave became too recognizable to do these kinds of things himself, he used a surrogate (in this case, an NBC page) to get an impromptu interview with Joan Collins. Things get weirder when guest Tony Danza offers his insights:
"What's Most Important Is You, the Home Viewer."
In 1986, the Late Night fourth-anniversary special took to the skies in an effort that was very expensive but still looked incredibly cheap. Boarding a 747 to Miami, the show featured clips and live segments, including "Stupid Pet Tricks" that were done in the narrow aisles. (While NBC has kept a lot of clips from this era off the web, this anniversary special — and several other early ones — remains available, offering rare clips of these unforgettable episodes.) Here's Dave doing a wide-ranging "best-of" viewer-mail segment from a makeshift desk in the front of the cabin:
"Sometimes … That Welcome Turns Sour"
Also from the fourth-anniversary special were some classic 1980s Letterman interviews from the pre-Madonna days — among them a fool-pitying Mr. T, pneumatic ex–Mrs. Mick Jagger, Jerry Hall … and Teri Garr in an excerpt from the format-breaking episode where a football-jersey-clad Dave did the entire show from his office, claiming that the staff was simply too tired to do a proper show:
"I Like to Drive Around"
Letterman's love of the open road — beyond his notorious struggle to obey speed limits in the '80s and '90s – is well known. Even before co-owning a racing team with frequent guest Bobby Rahal, Dave would take any opportunity to get behind the wheel on-camera, whether it was renting a convertible, insuring it to the hilt, and driving through a car wash with the top down, or doing an episode from the back of a flatbed truck. In one of many road travelogues Dave recorded when in L.A. (this one from early in the CBS Late Show run), he spends a day visiting fast-food restaurants with Zsa Zsa Gabor:
"I'm Beginning to Annoy Myself"
Even without Zsa Zsa as his co-pilot, Letterman loved making on-camera visits to chain restaurants — at least before his quintuple-bypass in 2000 — with Dunkin' Donuts (where he sampled all of their 52 varieties), Taco Bell, and IHOP among his destinations. In a 1990 Late Night segment, he operated a McDonald's drive-through, at one point asking a patron if she would go buy them some ground meat because "we're completely out of hamburgers":
Three years later, on the Late Show, Dave would make multiple passes through a New Jersey McDonald's drive-through as a customer:
"Welcome to New York, Sometimes Called 'Fun City'"
Watching Letterman's NBC shows offers a snapshot of pre-Giuliani-era New York, with old-school passersby providing atmosphere that none of the West Coast late-night shows have managed to emulate. In the mid-'80s, when Dave could still do man-on-the-street segments unrecognized (or, in the case that follows, misidentified as a different comedian, one who would have his own late-night show for a very brief time a few years later), Dave would ask passersby to stop and chat in segments titled "Mr. Curious":
Dave clearly loved doing the equivalent of stand-up comedy "crowd work" with New Yorkers and visitors to the city alike. When pretaped remotes weren't optimal, he'd again use surrogates, like the perpetually clueless Larry "Bud" Melman (played by Calvert DeForest) to have awkward conversations with anyone they could get to stop in front of the camera. Here, Larry welcomes visitors to New York at the Port Authority bus depot:
Throughout this remote, it seems as though neither Melman nor Letterman had any advance knowledge of what Melman was going to say, typified in an exchange that is, frustratingly, absent from the web clips, as Melman remarks on Port Authority having "the magical smell of men enjoying themselves." Laughing, Dave responded in a way that, while tame by today's Daily Show standards, marked Letterman as willing to go places TV really hadn't gone before:
"The smell of men enjoying themselves … you just can't beat it." He paused, enjoying a moment of shocked audience silence, before capping it with "so to speak."
The audience exploded with guilty laughter. They — we — were in on it with him, and would be for 30 more years.