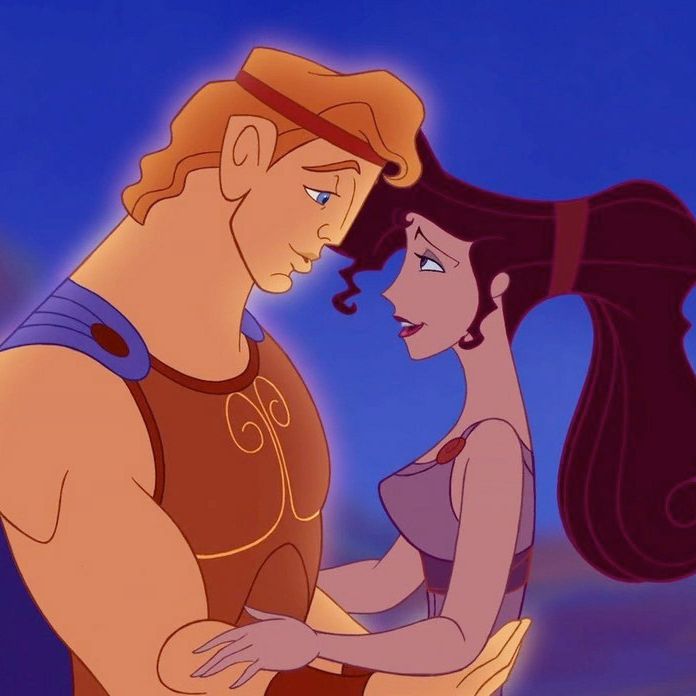 Removing the sentimental nostalgia connected with the classics (Aladdin, The Little Mermaid, The Lion King; pick your poison) is nearly impossible, and when you do manage to watch these movies objectively, the results can be disappointing. But on the occasion of the latest muscle-driven, super-veiny adaptation of Hercules, I am supremely, objectively confident that I'd rather be watching a sequel to the 1997 Disney film — the Hercules with the tiny head atop a giant neck, the maybe-mullet, and the pronounced chin that could only be drawn by a team of animators. Despite all the adaptations and all the hunky Greek heroes we've amassed over the years (yes, I'm aware that Ryan Gosling once played Young Hercules), there will only ever be one man I think of as Hercules. That man is … Tate Donovan. (Well, his voice, anyway.) The animated version not only happens to be my favorite Hercules adaptation, but also my favorite — and perhaps the most underrated — Disney movie of all. Here's why.
It's a hero movie and a rom-com.
Who knows if the Greeks imagined that one day their mythological hero would play the leading man in a romantic comedy? But the Disney spin is as traditional as a rom-com gets: There's a meet-cute, a big misunderstanding, and a happy ending. (There are even multiple montages!) But in addition to the love story, the backbone of the Hercules tale is that for him to become a hero and live again "amongst the Gods" (a.k.a. in the "parents' basement" of the sky), he has to do some great thing. Sure, that thing turns out to be saving his girlfriend from Hades — but he definitely has to work for it. Just look at this quippy dialogue:

Megara is better than any Disney Princess out there.
And while Megara, the great love interest, is eventually at the whim of Herc's adoration, she's one of the few non–Disney Princess love interests who has an actual personality. She's dry ("I'm a big, tough girl. I tie my own sandals and everything."), rude ("So did they give you a name along with all those rippling pectorals?"), and definitely a feminist ("Well, you know how men are. They think 'No' means 'Yes' and 'Get lost' means 'Take me, I'm yours.'"). She even has an actual backstory that happens to be fascinating: She sold her soul for a shitty ex-boyfriend. Just imagine if it were possible to actually do that. We'd all be screwed.
Hermes is voiced by Paul Shaffer.
And who can resist insider Paul Shaffer jokes?
The soundtrack is killer (even by Disney standards).
As with all animated heroines, Meg works through her denial in song. "I Won't Say I'm in Love" is a traditional Disney lament, but Hercules gives it a unique Motown edge. Whoever decided to turn the Muses into a girl group à la the Supremes is a genius: Lillias White, Cheryl Freeman, LaChanze, Roz Ryan, and Vaneese Thomas, all women with Broadway backgrounds, take the soundtrack above and beyond the typical Disney song-and-dance. The film leads with "The Gospel Truth," a Dreamgirls-inspired number that, as promised, also lives in the tradition of gospel. The Gospels even get their own montage-driven song, "Zero to Hero," one that goes from the Pointer Sisters' "Jump" to the Isley Brothers' "Shout" in a matter of minutes. Even Herc's solo, the inspiring "Go the Distance," is everything Disney aspires to — it was even nominated for Best Original Song that year, but lost to Titanic's "My Heart Will Go On." Tough break, Michael Bolton!
I actually learned some useful stuff! And I wanted to know what happened next.
Did you know that in the original Hercules myth, Hercules kills the two children he and Megara eventually have together while in a fit of temporary madness? (Some even say he killed her as well.) Somehow that plotline did not make it into the TV spinoff. I would still watch it, though. It has French Stewart! And Lisa Kudrow! And even Tate Donovan — who was apparently free to continue his run as Herc.