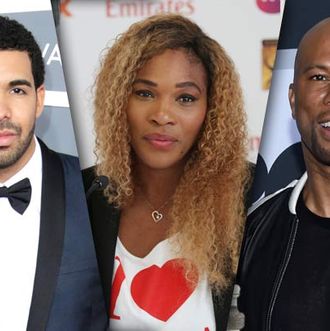 Photo: Jeff Vespa/Getty Images, Guiseppe Fama/Corbis, Michael Buckner/Getty Images
Finally, the definitive answer to why Drake and Common were beefing in 2012: Serena Williams. It may not seem important now, but the two were saying some pretty mean stuff about each other! (Drake: "You ain't muthafucking Frank Sinatra. Uh, lil bitch." Common: "I just ask that when you see me, you speak up, ni—a, that's all / Don't be ducking like you never wanted nothing.") Our best guess turned out correct, as Common explains what happened to DJ Vlad:
At that time, I think it was the Drake-Serena situation. I didn't know what was going on with that. And I ain't know if he was throwing shots at me. My ex [Serena] and [I,] were going our separate ways. So unfortunately the war might have been over a girl, but at the time, I never said that. It wasn't totally that. It was more of Do you respect me? 'Cause I actually like you as an artist.
So concludes this edition of Low-Stakes Rap Mysteries From Two Years Ago.