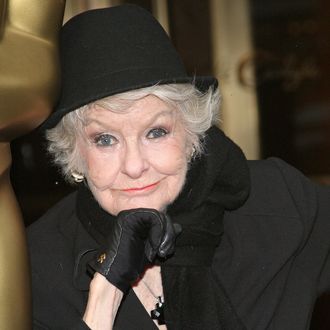 After a long, full, and varied career and a long, full, and varied life, Elaine Stritch passed away this morning. She was 89.
Born in Detroit on February 2, 1925, Stritch left Michigan for New York to study at the New School's Dramatic Workshop alongside classmates Marlon Brando and Bea Arthur. She made her stage debut in 1944 and her Broadway debut in 1946, in Loco. She'd go on to a legendary stage career that included five Tony nominations, with her finally winning her first in 2002 for her one-woman show Elaine Stritch at Liberty. She is maybe best known for originating the role of Joanne in Stephen Sondheim's 1970 musical Company. (Read a full, wonderful timeline of here career here.)
Stritch, of course, had many notable roles in TV and movies, leading her to eight Emmy nominations and three wins. Most recently, she is possibly best known for playing Jack Donaghy's cantankerous yet almost-lovable mother on 30 Rock. Very recently, Stritch was the subject of a documentary, Elaine Stritch: Shoot Me, around which New York published this must-read profile. We also recommend this profile from 1995. In 2011, Intelligencer asked Stritch, as part of their 21 Questions, "What do you actually do all day in your job?" She answered: "Try to stay in the moment and celebrate what's going on at the time it's going on. Like being alive." Watch some clips of her doing just that below.