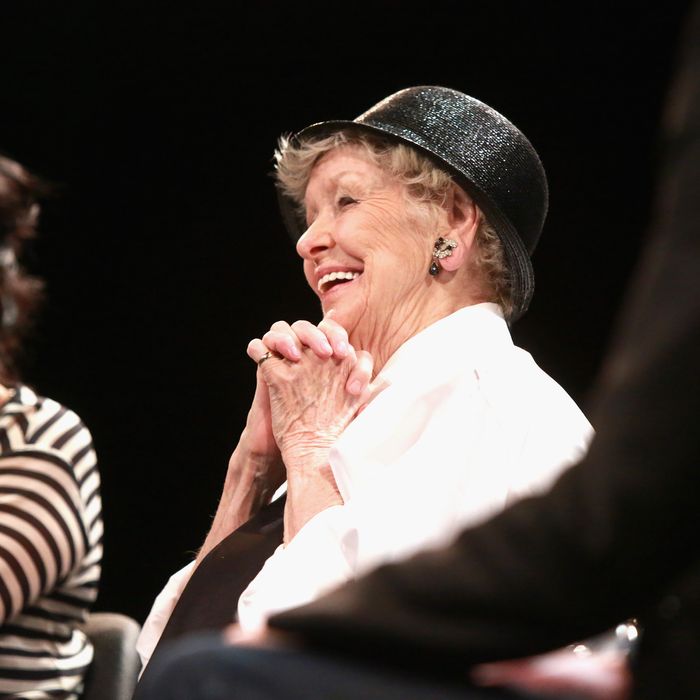 Photo: Robin Marchant/2013 Getty Images
Ten months ago, I stumped Elaine Stritch. As we sat around her kitchen table, I mentioned that in her one-woman Broadway show, she had said she wished she had been able to write Noel Coward's epitaph. Who, I wondered, would she want to write hers?
Much of my two hours with her was raucous. This moment was the only time she didn't either cackle with glee over some joke or story or bark at me for some nettlesome question she didn't like.
"I never thought of that," she said with wide eyes. I waited for her reply, but it became clear she really hadn't thought much about what happened to her after her death. "A logical question. A hard question." I gave her a few more beats to consider a response. "I know a lot of people that I'm very fond of, who I'd like to know what they thought of me."
That she didn't know for certain just how beloved she was is the eternal burden of all humans, but especially artists and performers. Today, when news spread that Stritch had died at 89, her enduring cultural significance and admiration was unmistakable. She led a thousand news and entertainment websites, trended on Twitter, drew the requisite parade of accolades and condolences from the famous and anonymous alike. Not even a plane crash that could portend World War III managed to overshadow her passing.
But the question stunned her, I suspect, because even after her recent broken bones and the intensifying fatigue brought on by her diabetes, even after leaving her beloved New York City for Birmingham, Michigan, a quiet suburb of her native Detroit, she didn't like to think much about not being alive.
She sat across from me that afternoon at the mercy of her nurse, her voice still as strong and haughty as ever but her body in varying stages of disrepair. Yet even under those circumstances, she was open to the idea that a director might call with the perfect script and she'd be back on some stage somewhere. If she could help it, she would neither rot away nor fade into obscurity here. "This is what you do: You put your best outfit on, get your shoes, go to dinner, meet Mrs. Nederlander, meet all the famous people who live in this town," she said, unaware that Barbara Nederlander had died three years earlier. "That's exciting. I like celebrities. I love people who are famous. Always have. I'm going to be happy here."
Like nothing else, that spirit is what made us love this Broadway legend so much. She was irrepressible, impossible to censor, incapable of being embarrassed or ashamed, simultaneously classy and inelegant. She wasn't traditionally beautiful, she didn't have a particularly melodious voice, and her sole fashion imitator might be Diane Keaton. But she projected integrity, honesty, vulnerability, and charisma with a force that demanded she be seen, heard, noticed.
She hated being handled or coddled, as when I began a question about her ability to walk by saying, "I hate to ask this but … " "You don't hate to say it, and you shouldn't," she said. "It's a fact. Look at me. You'd have a screw loose not to ask." Then the nurse and I hoisted her up and she led me on a tour of the apartment that included a black baby grand piano that doubled as an awards shelf, the metal chair that was her only prop in Elaine Stritch: On Liberty, and a nightstand where dozens of her signature Coke-bottle glasses were arrayed in rows like magazines.
The world came to her on her terms. She proposed to her husband rather than the reverse; considering her era, that ought to say it all. She was lobbied into one of her last, possibly most famous, role as Alec Baldwin's mom on 30 Rock. She did it because she adored Baldwin and Tina Fey, even if she didn't really think the show was funny. "There's nothing diplomatic about me; it either is or it isn't," she told me when I asked if she was just being polite about her feelings about her new town. "If I didn't like Birmingham, I would yell it out to you. You think about Madison Avenue and the streets and the horns, fuck you. I don't care about that shit. As long as I can be some place where I'm happy and people say, 'Oh, hi, Ms. Stritch,' it's fine with me. I'm cool."
At one point, she was talking about wishing she could play something on Mad Men. An older secretary, perhaps. I reminded her that they had one who hilariously died at her desk a few seasons back. "Oh yeah! Oh yeah! Good point, good point, wouldn't want to repeat someone else's thing," she said. "I want to be original."
As I parted with her, she remembered the vinyl copy of Noel Coward's Sail Away I had brought with me to stoke her memory. "You want me to sign that for you?" she growled with a grin. "Give it to me. I'll sign it. I bet you can get something for it. I bet it'll be worth something on eBay."
I'll never know.