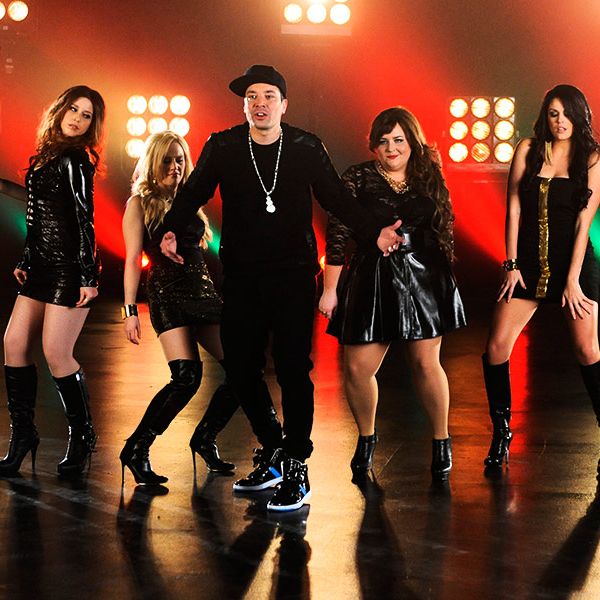 Today's Emmy nominations of course set off a tsunami of snubs-and-surprises responses. But beyond the obvious oversights and well-deserved moments of recognition are some deeper cuts. Let's take a harder look at the full list of nominations.
SNL's "Home for the Holiday (Twin Bed)" is nominated for Best Original Song.
Also in that category: Key & Peele's awesome Les Mis parody, and Lin-Manuel Miranda and Tom Kitt's opening number from the 2013 Tonys.
Orange Is the New Black's nominations are for season one.
So that feeling that Danielle Brooks got robbed for not being nominated as Taystee? Start crossing your fingers for next year.

Wahlburgers earned a nomination.
For Best Unstructured Reality Program. (Its competition: Alaska: The Last Frontier, Deadliest Catch, Flipping Out, Million Dollar Listing, and Wild Things With Dominic Monhagan.) This is the first year for the category.
Martin Freeman is nominated in both lead and supporting categories for acting in a miniseries or movie.
Though he seems sort of unlikely to win either. (Not that he's not great! Just that he has a lot of tough competition.)
For the second year in a row, Margo Martindale is the only performer to be nominated for The Americans.
The show did not even get nominated for outstanding hairstyling! Martindale is great, but The Americans deserved a bunch more nominations.
We need a better definition of guest for actors and actresses.
Joe Morton does not feel like a guest actor on Scandal, nor does Robert Morse seem like a guest on Mad Men. (Dylan Baker as a guest on The Good Wife? Yeah, that's fair.) Kate Burton is on a lot of Scandal, and Allison Janney was easily the best part of this season of Masters of Sex. Laverne Cox, Uzo Aduba, and Natasha Lyonne are not guests on Orange Is the New Black! Ugh, Emmy bylaws, why must you be so vexing?
Treme is a miniseries, but True Detective is a drama.
No.
No Elisabeth Moss!
Sad forever.
And no Merritt Wever, either.
Last year's winner for Supporting Actress in a Comedy didn't make the nominations this year. Boo.
Sleepy Hollow earned one nod.
For Best Opening Main Title Theme Music.
So did Community.
For Stunt Coordination in a Comedy Series or Variety Program.
Steve Buscemi wasn't nominated for Boardwalk Empire, but he still picked up two nominations.
One for his guest role on Portlandia, and one for his AOL series Park Bench With Steve Buscemi.
Inside Amy Schumer and Key & Peele were both nominated for Outstanding Writing for a Variety Series.
Yay! K&P also picked up nominations in hairstyling and makeup categories, plus one for original song. ("Les Mis." So great.)
The Sound of Music Live earned four nominations.
Outstanding Directing for a Variety Special, Outstanding Special Class Program, Outstanding Technical Direction, and Outstanding Music Direction. Music Direction … okay, fine.
Between Two Ferns and Childrens Hospital are competing against each other.
Outstanding Short-Format Live-Action Entertainment Program might be the most exciting category: BTF, Childrens Hospital, Parks and Rec in Europe, The Soup: True Detective, and … uh … the Bruno Mars Super Bowl halftime show. Not sure how that snuck in.
Archer and Bob's Burgers are competing against each other, too.
The Outstanding Animated Program category puts H. Jon Benjamin up against himself. (Though somehow he's not nominated in the voice-over category.) Along with Archer and Bob's, also nominated are Futurama, South Park, and Teenage Mutant Ninja Turtles. Hm, looks like somebody got to sit at the grown-ups table this year.
The CW earned two nominations.
One for Outstanding Special and Visual Effects for The 100, and one for Hairstyling for a Multi-Camera Series for The Originals. That means The Originals has more Emmy noms than The Vampire Diaries.
HBO has 99 nominations.
CBS has 47, NBC has 46, FX has 45, PBS has 34, and Netflix has 31. This year's most-nominated comedy is Orange Is the New Black, with 12 noms, and the most-nominated drama is Game of Thrones, with 19. Fargo picked up 18 nominations, and The Normal Heart nabbed 16.