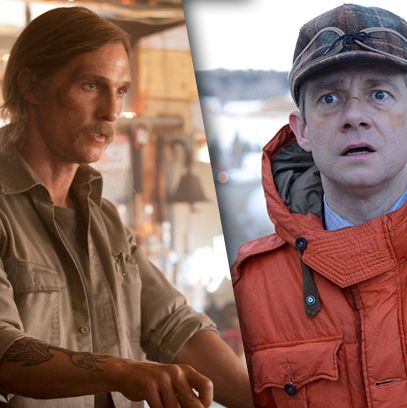 You may be wondering why True Detective is competing in the Best Drama category at this year's Emmys against long-running series like Breaking Bad. It's a good question, and one that doesn't have a logical answer. By all appearances and nearly every measure we can think of, True Detective is a limited series. Or a miniseries. Or an event series. Or whatever you want to call an eight-episode show that will reset its story, characters, and cast for its second season. You know which other show is doing that? FX's Fargo, which also has plans to reincarnate entirely (save for the title). But look over there — Fargo is competing in the miniseries category. What gives?
Here's how the Academy of Television Arts and Sciences defines a miniseries:
A miniseries is based on a single theme or story line, which is resolved within the piece. In a single awards year, all of the parts must be presented under the same title and have continuity of production supervision. A miniseries consists of two or more episodes with a total running time of at least four broadcast hours (at least 150 program minutes).
That's pretty straightforward, and applies to both True Detective and Fargo. However, there is a caveat! The ruling on Emmy eligibility goes:
A limited-run series with a "created by" credit CANNOT enter as a miniseries unless the producer for the limited run series applies for and receives entitlement to dual qualification, i.e. qualification in more than one category, because of an affirmative determination by the Awards Committee that the limited run series has elements of both drama series and miniseries categories.
So, because True Detective executive producer Nic Pizzolatto has a "created by" credit — a classification the Writers Guild of America gives to the creators of a regular series — True Detective is eligible only for the Emmys' drama series category by default. In fact, Pizzolatto would have had to petition ATAS's awards committee to move out of the drama race and into the miniseries category. That's what American Horror Story co-creator Ryan Murphy had to do for American Horror Story, which was revealed to be a closed anthology series after the first season's story concluded. As for Fargo, the credit executive producer Noah Hawley received reads "created for television by" — and because that's not the exact same thing as "created by," the show was free to submit into the miniseries category without fuss.
Why True Detective and HBO would opt to compete in the more competitive drama race is another matter. We had a few theories, among them the idea that True Detective stands a much better chance of trumping the final season of Breaking Bad than Game of Thrones, and it has been several years since HBO took home best in show for drama, the most prestigious award doled out at the Emmys.
The ruling that the "created by" credit determines all is a weird technicality that probably needs to be revisited. Vulture asked ATAS senior vice-president of awards John Leverence if the organization was bothered that True Detective and Fargo, two shows that have the same closed structure and designs on rebooting next season, would be competing in separate categories. He told us, "The fact that you're asking that question probably answers the question."