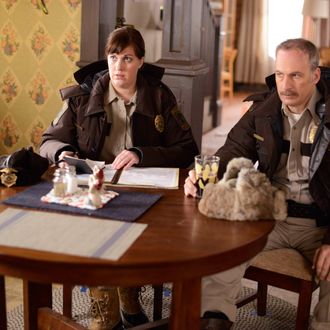 As reported earlier today at the Television Critics Association summer press tour, FX ordered a second season of Fargo for fall 2015. And as many of you had speculated, the next edition will be set in Sioux Falls circa 1979. To jog your memory about the season finale: Molly's dad, diner owner Lou Solverson, tells Lorne Malvo that he'd left behind his state trooper job decades ago because of a ghastly incident that took place in Sioux Falls, involving bodies "stacked so high, you could've climbed to the second floor." "I'd call it animal except animals only kill for food," he said. Season two will follow the events leading up to that incident, picking up with Lou as a 33-year-old man recently back from Vietnam, along with his 4-year-old daughter, Molly. (Alas, that means neither Keith Carradine nor Emmy nominee Allison Tolman will be returning.)
Executive producer Noah Hawley told reporters Monday at FX's press tour session that the year before Ronald Reagan was elected as the nation's president felt particularly fertile for a true crime story. "It was the best of America vs. the worst of America. There was a sense this war had come home with people. Lou fought in Vietnam, came home and thought he'd left the war behind and here it is. It's domestic now," he said. Hawley also revealed that we'll meet and learn what happened to Molly's mother, and explore the early relationship between Lou and Lieutenant Ben Schmidt, Gus's old boss in Duluth. Events will take place in Laverne, Minnesota, Sioux Falls, and, yes, Fargo.
Hawley wrote every episode in the first season but will be sharing the wealth in season two with the four writers who helped him break story. "It would be unfair not to let them write a script," he said. The period piece will look to a different set of Coen brothers movies for inspiration as well, including Miller's Crossing and The Man Who Wasn't There (starring, of course, Fargo season one baddie Billy Bob Thornton). One thing that won't change between seasons? The Coen brothers' minimal level of participation. Though they signed off on the original pilot script, the Coens "are not really interested in a day-to-day creative involvement," Hawley said.