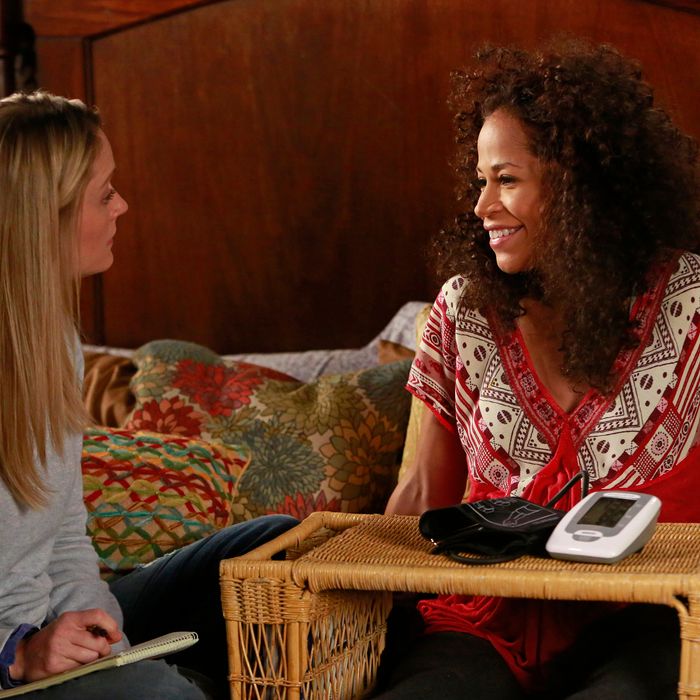 THE FOSTERS - "Mother" - The Fosters face an unforeseen tragedy in a new episode of "The Fosters," airing Monday, July 21 at 9:00 p.m. ET/PT on ABC Family. (ABC FAMILY/Ron Tom) TERI POLO, SHERRI SAUM
Photo: Ron Tom/ABC Family
Every week, The Fosters finds a new way to make me cry — often through empowering love, sometimes through supportive honesty. This week's big tearjerker caught me by surprise, though, because it's something very rarely depicted on television: The Fosters included a late-term abortion, and it was really damn sad.
On last night's episode, Lena developed life-threatening pre-eclampsia, and her doctor told her the condition was getting worse and endangering both her and her baby. After a wrenching conversation with her wife Stef and an even more wrenching one with her mother, Lena decided to terminate her pregnancy at 20 weeks. The show kinda-sorta glossed over the fact that that's an abortion, but it is. Everyone was very sad, but ultimately, the decision to survive and parent her five children seemed like the right one for Lena and the Fosters.
Terminating a pregnancy is not inherently tragic — women have a variety of abortion experiences — but for Lena (and Stef), this was devastating. She really wanted this baby; she'd dreamed about this baby and already fought with the baby's sperm donor over parental rights. A lot of stories on The Fosters are about making the best of a family situation that's not on its face what most people would wish for, but this was the first time the show's emotional philosophy led to an instance of abject sorrow. In general, the show has a "you'll be surprised how things work out" central premise: Think you want your biological parents to stay married? You'll be surprised — your dad's a frequently irresponsible alcoholic, but your mom's new wife is actually the shiiiiit and is an excellent parent. Think every foster home is a temporary abuse facility? You'll be surprised — these people are great and are gonna adopt you and love you like crazy, with the warmth and structure children apparently crave. Think you want to have a biological child? You'll be surprised — you, uh, will have to terminate that pregnancy, and grapple with the fragility of all human life and relationships, and you'll confront the built-in heartbreak that is inherent to parenting. Sorry, Lena.
Even within the sob-o-matic structure the series is prone to, the show put a slight spin on the "teen show does obligatory abortion episode" idea: This was about a parent's reproductive health and choices, and about a wanted pregnancy that put the mother's life at risk. While we might expect a story line about an unplanned teen pregnancy, this was a whole different set of issues and ideas, one almost completely absent from mainstream TV shows — which is off, since 61 percent of women who terminate a pregnancy already have at least one child. Abortion is something we don't see a lot of on TV in general, even though one in three women will have an abortion in her lifetime. I don't need every show to be a perfect statistical depiction of the modern condition, but it's nice every once in a while to see some acknowledgement of the lived experiences of women. It's not just fancy prestige premium-cable shows that examine the occasional brutal tragedies of life. Come for the earnest teen drama, stay for the progressive politics, and then stay even longer for the deeply felt human drama.