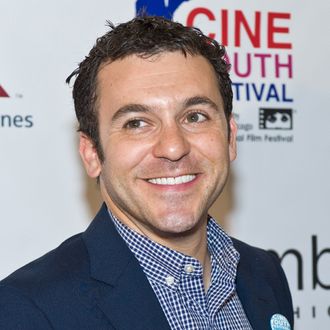 Fred Savage.
Photo: Timothy Hiatt/Getty Images
The connection between ABC retro comedies The Goldbergs and The Wonder Years is about to get a little closer. Vulture has learned that Fred Savage, beloved by millions of late-1980s TV fans as Kevin Arnold on the latter ABC comedy, has signed on to direct an early season-two episode of ABC's more recent hit. Adam F. Goldberg, The Goldbergs' creator and namesake, says that he didn't just hire Savage because he's a fan of The Wonder Years (though he very much is) or because he thought it would be a cool way to link the two comedies (though it very much is). The Artist Formerly Known As Butthead is actually an Emmy- and DGA-nominated TV director who's helmed multiple episodes of comedies such as Party Down, It's Always Sunny in Philadelphia, Modern Family, and Happy Endings. "Fred is one of the biggest TV directors out there now," Goldberg told us Tuesday night at an ABC cocktail party. "And Wonder Years was such a huge influence for me growing up. It's the reason I wanted to become a writer. So it's really cool and full-circle to have him directing an episode for us."
In addition to snagging Savage, Goldberg is already well into the process of planning a couple of themed episodes for sophomore year. The Hollywood Reporter had the news in the spring that there'll be a half-hour tribute to a to-be-revealed John Hughes movie, while Goldberg tells us that he's working on an episode tied to 1981's royal wedding of Charles and Diana. "My mom was obsessed with the royal wedding," he says. "She bought collectible plates and stayed up until 4 in the morning watching it. So the episode is about Beverly [Wendi McClendon-Covey] asking my dad to renew their vows." Not surprising to anyone who's watched the show, but that request is not met enthusiastically by husband/dad Murray (Jeff Garlin). "My dad's thing about marriage was: It's not like a magazine subscription. You don't renew, you just sign up and that's it." (Expect a happy ending anyway, complete with a Goldbergs-style wedding. That same episode will also feature a subplot detailing Goldberg's youthful passion for Twisted Sister and his attempt to start a band with his brother. The Goldbergs begins its second season September 24; reruns of the show are airing at 8:30 and 9:30 p.m. Wednesdays throughout the summer.