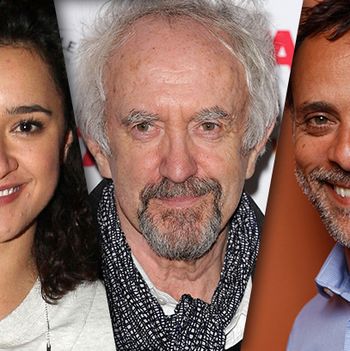 The tagline for season five of Game of Thrones might as well be: Dornishmen (and -women) are coming. [Commence spoilers up through GoT's fourth-season finale.]
At Comic-Con today, HBO announced a slew of new characters that will be introduced next season, many of them from the land of the late, skull-squashed Prince Oberyn Martell. We'll meet Oberyn's older brother Doran Martell (played by Star Trek: Deep Space Nine's Alexander Siddig) and Doran's son Trystane Martell (Toby Sebastian). According to the official press release sent out by HBO, Trystane is heir to Dorne and betrothed to Cersei spawn Myrcella Baratheon. Myrcella, who was last seen being shipped off to Dorne, has been recast with actress Nell Tiger Free, which had been rumored.
Then there's three bastard daughters of Oberyn, known to fans of the books as the Sand Snakes: Nymeria Sand, who is good with a whip (Jessica Henwick); Tyene Sand, who is good with twin daggers (Rosabell Laurenti Sellers); and the eldest and most fearsome of the lot, Obara (Keisha Castle-Hughes, who won was nominated for an Oscar for 2003's Whale Rider). Also on Team Martell: Doran's personal bodygaurd Areo Hotah (DeObia Oparei).
Elsewhere, King's Landing will host the High Sparrow (Jonathan Pryce of Brazil and so much more) and we'll also meet sleazy slave owner Yezzan (Enzo Cilenti).
Meet the new cast members in the video below, which was shown at Comic-Com.
No word yet on who will play Lady Stoneheart. (We kid!)
Note: This post has been updated throughout.