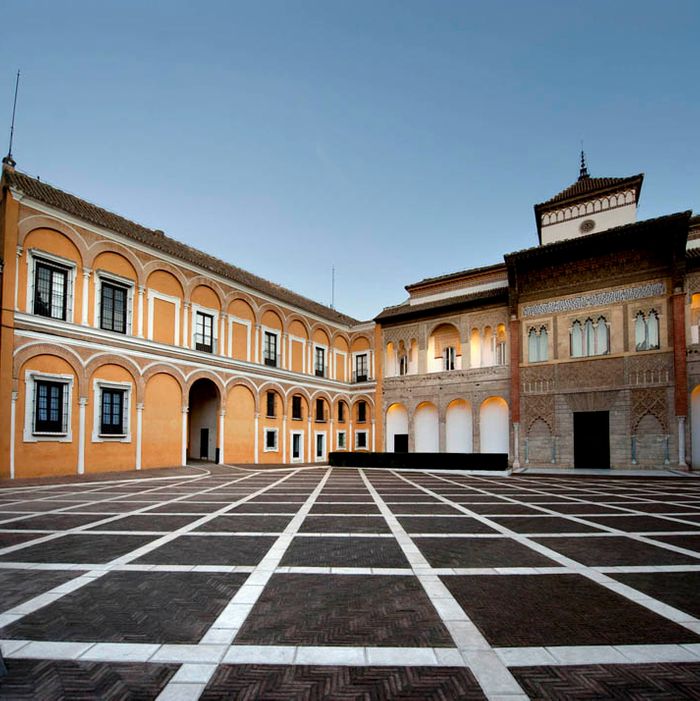 Photo: Courtesy of Alcazarse Villa
Season four of Game of Thrones may have just ended last month, but the next trip to Westeros isn't that far away — at least for the show's cast and crew, who are currently prepping for shooting to start this summer and fall. While HBO has yet to make official announcements about new additions to the cast and other major changes, some juicy tidbits have been trickling in from abroad, giving us more of an idea of what we might see come season five. More information is sure to arrive at HBO's Comic-Con panel this Friday, but for now, here is what we know so far about who's involved and where season five may be shot.
[Warning: The rest of this post contains spoilers concerning the upcoming season of Game of Thrones, as well as plot points from George R.R. Martin's A Song of Ice and Fire books relevant to the reports we've rounded up.]
Casting
As far as the casting is concerned, a handful of new season-five roles were announced at Comic-Con, but the rumor mill waits for no one. Prior to the announcement of nine new cast members, New Zealand reported that Keisha Castle-Hughes was up for the part of Nymeria Sand, one of the notorious Sand Snakes. This turned out to be partly correct, as was the rumor that Nell Tiger Free would be replacing Aimee Richardson as Myrcella. Castle-Hughes will play Obara Sand, not Nymeria (who will be portrayed by Jessica Henwick). Other new cast members include Toby Sebastian as Myrcella's fiance Trystane Martell; Alexander Siddig as Trystane's father and Oberyn's brother, Prince Doran Martell; Rosabell Laurenti Sellers as Tyene Sand; Deobia Oparei as Areo Hotah, the captain of Doran's palace guard; Enzo Cilenti as the slave trader Yezzan; and last but not least, Jonathan Pryce as the High Sparrow, the High Septon of the Faith of the Seven, who gains more power in the wake of Tywin's death. Also, German actor Tom Wlaschiha could be back as Jaqen H'gar, according to a post, since taken down, by his agency.
Locations
Major plot points in season five will take place in the dearly departed Prince Oberyn Martell's Mediterranean-esque homeland of Dorne. George R.R. Martin has said before that when creating the separatist kingdom he was influenced "a bit by Spain," so it makes sense that the show would go there eventually. (HBO originally considered using Spain for other locations, Martin revealed, "but ultimately [Spain was] beaten by Croatia.") And go there it will in season five, thanks to the Martell plotline. Beginning in mid-October, the province of Seville looks to be the main arena for scenes shot in Spain, which HBO has confirmed, prompting a flood of inquiries to the local producers from those who wish to be extras or crew. At least one palace, the Alcázar in Seville, is on the list of locations for Martell HQ (pictured in the photo above), although the Alcázar de los Reyes Cristianos in Córdoba and the Alhambra in Granada have also been considered, according to local reports (the former is a Moorish-built castle from the 1300s, and the palace's courtyard was used in Ridley Scott's Kingdom of Heaven). Other Spanish locations being considered are a bullfighting arena and a desert area near Osuna for a battle scene.
The two palaces in Spain are likely to be the homes of the Martells: Sunspear and the Water Gardens. (The Red Viper told Cersei in season four that he'd seen Myrcella swimming with two of his daughters at the Water Gardens.) Local reports in Spain indicate that the HBO production intends to make the fountains and ponds there a dark blue, using a dye that will evaporate afterwards and won't affect the historical monuments; a test for the dye should be taking place in early October. (See a slideshow of possible spots being scouted here.) The bullfighting ring should double for the fighting pit in Meereen (a.k.a. Daznak's Pit, kind of a gladiator-type Coliseum). The aforementioned battle scene, meanwhile, is likely to involve the Yunkai armies (and sellsword companies) who've come to Meereen to try to oust Daenerys Targaryen.
Although Game of Thrones has shot in Croatia in seasons past, using Dubrovnik to sub for King's Landing, the Croatian production is expanding to Šibenik for a shoot in mid-September to take place at two fortresses. This week auditions were held for extras, adults of all ages, and more than 500 people lined up on Tuesday for the honor. Of those, 200 should be selected and notified within two weeks.
Local reports in Šibenik indicate that the local diocese was not pleased with a scene to be shot around the cathedral of St. James, and that Bishop Anthony IV was "personally sabotaging" the shoot because "he does not like the content." This is an easy-to-parse clue for readers of the George R.R. Martin book series — it likely involves a pivotal scene in which Cersei takes a particular punishment from the more militant religious forces in Westeros. Another bit of evidence to support it being about Cersei's walk of shame: The applications potential extras filled out asked, "Do you consent to the recording of nude scenes?" — which might be standard practice in the industry and especially for any scene in Game of Thrones, but could also speak to that Cersei section's prolonged out-of-doors nude scene. Then again, this location could instead be used for scenes in Braavos, where the Arya story line will head, and not King's Landing. If so, the cathedral could be used for the exterior for Arya's new school, the House of Black and White, although the supporting news about the bishop and the nudity question doesn't entirely jibe with that.
Directors
In the meantime, directors for the next season have been announced:
Episodes 1-2: Michael Slovis (Breaking Bad)
Episodes 3-4: Mark Mylod (Shameless)
Episodes 5-6: Jeremy Podeswa (Boardwalk Empire)
Episodes 7-8: Miguel Sapochnik (House)
Episodes 9-10: David Nutter (The X-Files)
Nutter, who helmed the Red Wedding episode, is the only one on the list who has previously directed a Game of Thrones episode. Showrunners David Benioff and Dan Weiss, who have directed in the past, are opting out this time around, probably to focus on writing and producing. And there won't be any female directors this time around.