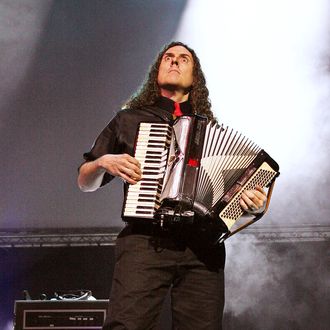 Photo: Paul McConnell/2007 Getty Images
Following news of the mysterious Beyoncé-style rollout of eight music videos in eight days, Weird Al Yankovic has released an equally mysterious track list for his forthcoming album Mandatory Fun. Some of the tracks are more obvious than others: It's safe to assume that "Tacky" is the promised Iggy Azalea "Fancy" parody, and that "Handy" is a spoof of "Happy" (or maybe the other way round), while Stereogum guessed reasonably that "Foil" must be a take on "Royals" and "Word Crimes" is probably "Blurred Lines." Otherwise, these all seem pretty obscure. Maybe "First World Problems" is a parody of A$AP Rocky's "F**kin' Problems" — pretty edgy! — and we assume "NOW That's What I Call Polka!" must have something to do with the famous "NOW That's What I Call Music" compilation albums. As for "Jackson Park Express," well, we suppose it could be a parody of the 1969 Crosby, Stills & Nash folk song "Marrakesh Express," although that seems a little dated.
Here's the full list. Feel free to make your own guesses below.
1. "Handy"
2. "Lame Claim to Fame"
3. "Foil"
4. "Sports Song"
5 ."Word Crimes"
6. "My Own Eyes"
7. "NOW That's What I Call Polka!"
8. "Mission Statement"
9. "Inactive"
10. "First World Problems"
11. "Tacky"
12. "Jackson Park Express"