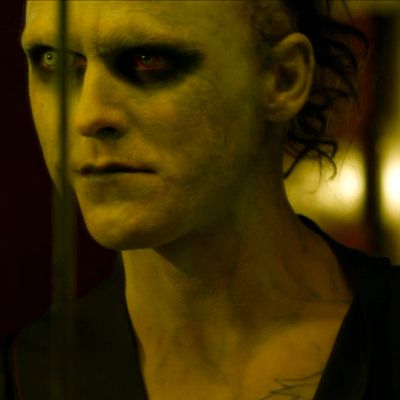 THE STRAIN "Gone Smooth" – Episode 3 (Airs Sunday, July 27, 10:00 pm e/p) – Pictured: Jack Kesy as Gabriel Bolivar – CR: Michael Gibson/FXTHE STRAIN "Gone Smooth" – Episode 3 (Airs Sunday, July 27, 10:00 pm e/p) – Pictured: Jack Kesy as Gabriel Bolivar – CR: Michael Gibson/FX
Photo: FX
Please be advised: This interview with Guillermo del Toro contains spoilers about a particular scene from "Gone Smooth," last night's episode of FX's The Strain.
In last night's episode of The Strain, transforming goth-rocker Gabriel Bolivar lost his junk in the toilet. Sploosh! Through the FX series' first three episodes, the scene ranks as the grossest, weirdest, WTF? moment on a show full of them, so naturally, it made us wonder: Where the hell did that come from?
As luck would have it, co-creator Guillermo del Toro was on hand last week at the Television Critics Association press tour in Los Angeles, and the typically chatty director seemed giddy to be asked about the scene in "Gone Smooth," which he called the horror series' most pivotal moment yet. "It's the thing that tells you these are not sexy vampires," Guillermo del Toro told Vulture with a laugh. "Don't expect any 'action.'" The missing member is an important part of the biology of del Toro's bloodsuckers, he said, and it took the production team more than a month to figure out how to get the look just right. "I can tell you we did so many iterations of the pubic area — I tried triangular, rectangular, asymmetric, round …" del Toro counted, "and every single fissure that I put in, it looked like he had turned into a lady."
But The Strain is not Twilight, he said, and his vampires are neither male nor female. "So we ended up [doing] was going smooth, which is what we called the episode," del Toro giggled. "It was still so much work, I have to tell you. We did makeup, digital effects, sculpted things in clay. I supervise all the nasty stuff in the show, and that was the one thing that we did the most versions of." Producers went back and forth over whether or not we would see Bolivar's vital organ go down the drain, but decided it was a moment better left to the imagination. "At some point we decided, 'Let's just hear it fall off. He's peeing and then, Plop!'" del Toro said. "Especially interesting for me has been the reaction of guys. They reacted much more strongly. I hear them go, Uuuugh. I really wanted the character that most enjoyed his tool to lose it."
Despite the loss, Bolivar's got big things coming to him, more so than the other characters. Without giving anything away, del Toro said, "For me, he's the most interesting character. He really has a destiny. What he's hearing in his head, that voice, it's what he's always longed for. Bolivar always wanted a will bigger than his own, and he searched for it in rock and roll, but only now is he finding it."
But, you might still be thinking, I heard that The Strain's vampires shit and eat at the same time. How do they shit when everything's been smoothed out? It's an excellent question! First, you should know that the vampires are modeled on ticks. "Part of the many notes I kept as a very strange young man was the fact that ticks, when they eat, they defecate — as they are drinking your blood, they are shitting plasma and refuse," del Toro explained. "Organisms that are very efficient can sometimes fuse a single opening. That's what I wanted to give these vampires. You can't see it, but his cloaca is beneath." Translation: Rest assured, Strainiacs, simultaneous shitting and sucking is coming to your screen soon.