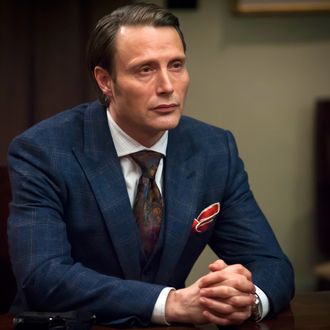 This post contains spoilers for Hannibal season three. Don't read any further unless you're caught up.
At tonight's Comic-Con panel, the Hannibal producers revealed a number of tasty tidbits about the upcoming third season, which they explained will pick up a year after the massacre that closed out season two. "We want to be very vague with who survived that bloody, bloody night, and because we wanted to land the characters in a place where they were active," said executive producer Bryan Fuller, explaining that the fourth episode will fill in the gaps between the two seasons. "It was very intentional that we wanted to take a space, land Hannibal and Bedelia, because the first episode is very much a pilot for a new series starring Gillian Anderson and Mads Mikkelsen. It was important for us to have a passage of time so we could come into their story at the most dramatic point."

Still, they did reveal the names of some of the characters who made it out of the bloodbath: Raúl Esparza's Dr. Frederick Chilton, for one — who made a surprise appearance at the panel — and whom Fuller reveals will be a major part of the next season (and season four) despite taking a bullet to the face. "Chilton's like a weeble wobble. You shoot him in the face, and he just comes right back … I told Bryan [Fuller] I expect him next season to have an eyepatch, a hump, and a parrot," Esparza joked. The dead and limbless Dr. Abel Gideon (Eddie Izzard) will be back, too, apparently, but only in a flashback scene. Meanwhile, a number of characters from the books will also be joining the fold over the next couple of seasons, including Commander Pazzi (played by Giancarlo Giannini in Ridley Scott's Hannibal), Lady Murasaki, Francis Dolarhyde, and Cordell, with Fuller explaining that there are going to be "a lot of fun Easter eggs for those who are big fans of the books."

As for whether Clarice Starling will ever make it onto the show, producer Martha DeLaurentis explained that they hope to be able to introduce the character around season four, when the events of the show would begin to overlap with the films, but that all depends on whether MGM will agree to grant them the rights. "We want to do it with MGM. If they say no, because they want to do their own series, then we'll just do our own mash-up," she added. Fuller, meanwhile, promised a "full-court press" to get the rights to the character, but joked they could always do "Schmarice Schmarling." Has anybody asked Shmodie Shmoster how she feels about this?