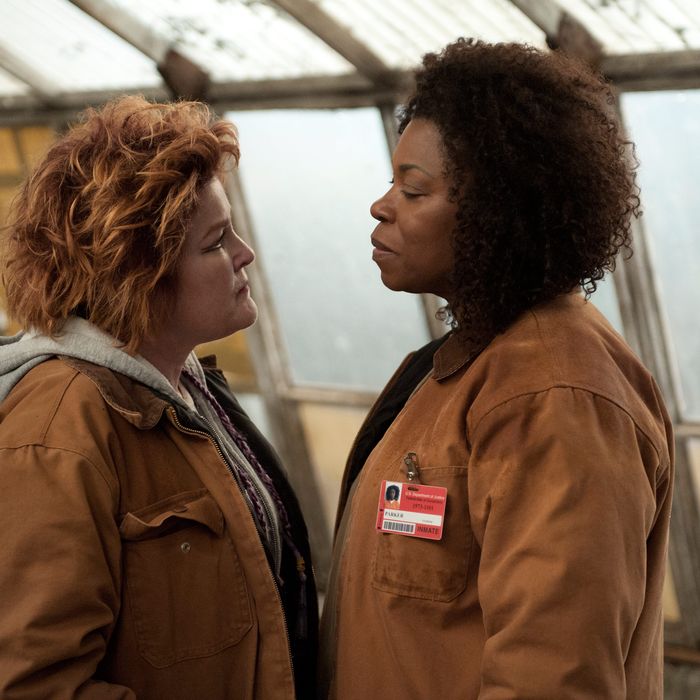 Michael Sheen as Dr. William Masters and Lizzy Caplan as Virginia Johnson in Masters of Sex (season 2, episode 1) - Photo: Michael Desmond/SHOWTIME - Photo ID: MastersofSex_201_0552
Photo: JOJO WHILDEN/Netflix
Surprise! It is the one-year anniversary of the premiere of Orange Is the New Black. (The year goes so fast when you have two seasons to binge-watch.) While the cast and showrunners celebrate with multiple Emmy nominations, you can commemorate the one-year anniversary with a little help from Vulture. Here is a comprehensive reading list of all the many Orange Is the New Black interviews and recaps we have published over the past year. Reading them is almost as fun as a party!
Interviews
Jenji Kohan's Week in Pop-Culture Consumption
2 p.m.: Farrah Superstar: Backdoor Teen Mom. "We watched it in the writers' room. Now we have to work it into the show so no one can sue us for harassment."

A Day Apartment Hunting With Natasha Lyonne
"Here's hard evidence that I'm aging: When I was a little girl, the goal was to move out of Brooklyn, okay? My grandparents live in Flatbush, and I'm supposed to be trying to move back to Brooklyn?"
Orange Is the New Black's Taylor Schilling on Cockroaches, Laura Prepon, and Piper's White-Privilege Rant
"That was another intense scene to shoot. There was pie-throwing in it."
Orange Is the New Black's Taylor Schilling on Real-Life Piper's Advice and Getting Skeeved Out on Set
"Orange is not my favorite color, but I'd prefer it to the taupe."
Orange Is the New Black's Laverne Cox on Her History-Making Emmy Nomination and Celebrating With Justin Timberlake
"This is such amazing validation after years of rejection, years of being told no, years of being told I could not have a career as an actress."
Orange Is the New Black's Kate Mulgrew on Season 2, Stunts, and Her Special Mashed Potatoes
"I understand how to fall, how to knife, how to hit and be hit."
Orange Is the New Black's Kate Mulgrew on Embracing Red's Spiky Hair and Russian Accent
"So I finally said, 'Just cut it, just spike it, let's go magenta, let's just go.'"
Orange Is the New Black's Yael Stone on Lorna's Crime, the Chain-Print Dress, and Stalkers
"Let it be known I really jumped out that window. I want you to know that."
Hanging Out With Orange Is the New Black's Yael Stone
"I lie awake all night long thinking about a vowel that I definitely, definitely, got wrong."
OITNB's Laura Prepon on Dancing to 'Milkshake,' Singing Meatloaf, and the Mystery of Real-Life Alex
"She is MIA, girl. I do not know where she is. And it's kind of like … we don't talk about the real Alex — I don't know."
Natasha Lyonne Just Joined Twitter and Is Already Addicted
"You'll know [it's me] by the picture from Pee Wee's Playhouse, and also by the filthy things that are being tweeted. I've only been on for a day."
Orange Is the New Black's Lorraine Toussaint on Playing Vee and Doing Nudity in Her 50s
"There was a point where after you've done a take or two, I mean, what's there to hide when there's nothing to hide? You're emotionally, psychologically, physically naked."
OITNB's Dascha Polanco on Daya and Bennett, Doodling Penises, and Her Johnny Depp Crush
"I like Meryl Streep. Johnny Depp — Lord Jesus. Lord Jesus, there's a fire!"
OITNB's Lea DeLaria on the 'Bulldyke' Debate, Onscreen Masturbation, and Hitting on Natasha Lyonne
"This girl [in real life] ran out of a hardware store, screaming, 'Big Boo! Big Boo! Please sign my screwdriver,' and hands me a screwdriver and a Sharpie to sign her screwdriver."
OITNB's Taryn Manning on Being Typecast As a Crackhead, Playing a Meth Addict, and Those God-Awful Teeth
"You know, I tend to get cast as the more troubled — I like to call them colorful or layered — characters."
Orange Is the New Black's Uzo Aduba on Crazy Eyes, Flirting Techniques, and Peeing on the Floor
"I think after a certain point, we were all just like, 'Wow. Okay.' We just went there."
Orange Is the New Black's Fig Explains the 'Beer Can' Scene
"She loves power. And the idea of something being taken from her is heartbreaking, and I think she was willing to do whatever it was that she needed to do."
Orange Is the New Black's Kimiko Glenn on Prison Showers and Shooting a Sex Scene with Natasha Lyonne
"But at the time, it didn't feel like majorly embarrassing or sexual, it was just kind of another thing that you were acting out and trying to execute A, B, and C."
Why Orange Is the New Black's Flaca Is So Important
"I'm so excited to find out more about her. We all know that she's a different type of Latina. She's a Latina that loves the Smiths."
Orange Is the New Black's Pablo Schreiber on Playing Pornstache and All the Show's Estrogen
"And I also had that mustache, so I was walking around and people were as horrified as you were watching, just being near me."
Don't Expect Much Pornstache on Orange Is the New Black Next Season
"He'd be a doting father. I think he's very interested in legacy, like he wants to make as many mini-Pornstaches as he can."
Orange Is the New Black's Matt McGorry on What He Wants for Daya and Bennett
"Maybe I'd even like to see them break out and have a life that's separate."
Jason Biggs on His New Show Orange Is the New Black and Feuding With Amanda Bynes
"I will say my favorite thing in the world is when I get recognized wearing a hat and sunglasses and the person goes, 'Nice try.'"
Episode Recaps
Season 1:
Episode One Recap: A Nice White Lady
Episode Two Recap: Jalapeño Peppers
Episode Three Recap: My Good Life
Episode Four Recap: You Clean the Piss
Episode Five Recap: Definitely a Chicken

Episode Six Recap: Climbing Everest in Flip-flops
Episode Seven Recap: My Kingdom for a Doughnut
Episode Eight Recap: Your Fault, Your Mess
Episode Nine Recap: We Finally Experience the SHU
Episode Ten Recap: Playing the Long Game
Episode Eleven Recap: We're Untangling
Episode Twelve Recap: All Dried Up With the Puff Blown Off
Season 2:
Premiere Recap: Piper Being Piper
Episode 3 Recap: Can I Hold the Miracle?

Episode 4 Recap: We'll Be Married

Episode 5 Recap: Turf Wars
Episode 6 Recap: Are You the Sun?
Episode 7 Recap: Compassionate Release
Episode 8 Recap: The Scorpion and the Frog
Episode 9 Recap: Funeral Wedding
Episode 11 Recap: How About I Kill the Bitch?
Episode 12 Recap: What Are We, Pirates?