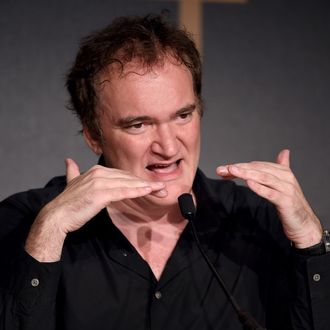 Director Quentin Tarantino speaks at a press conference during the 67th Annual Cannes Film Festival on May 23, 2014 in Cannes, France.
Photo: Ian Gavan/Getty Images
When an early draft of the script for Quentin Tarantino's ensemble Western The Hateful Eight leaked earlier this year, a "very, very depressed" Tarantino declared that he was not planning to continue with the project. But at a live script reading in April, the director announced that he was working on a second draft of the screenplay, stirring hopes that the post–Civil War stagecoach drama might not be doomed after all. Now those suspicions have been confirmed: At a Comic-Con panel promoting his Django Unchained–Zorro crossover comic book on Sunday night, Tarantino was asked by an audience member whether The Hateful Eight would be his next feature, to which he responded, after a pause: "Yeah. We're going to be doing The Hateful Eight at the beginning of the year." It's not clear exactly which actors will make up the cast — most of the participants from the live read are expected to reprise their roles — but whomever it is had better keep those new scripts locked up tight. We've got our eyes on you, Bruce Dern.