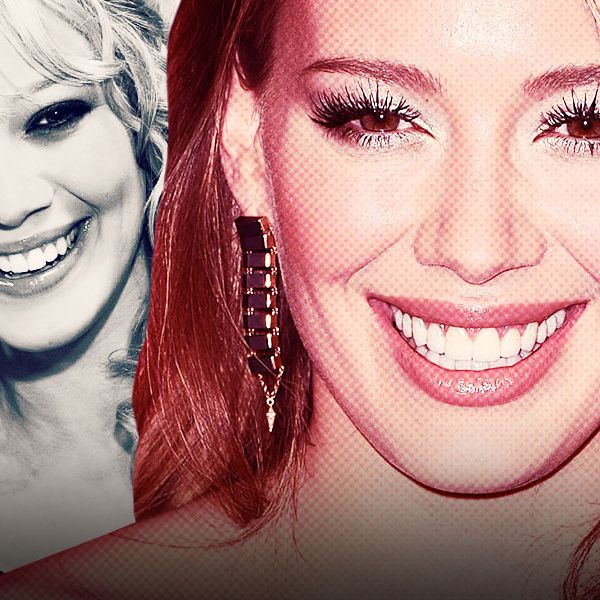 Ever since fans caught wind of Hilary Duff's impending new album last fall, there's been a surprising amount of talk about what it would sound like. Well, speculate no more — lead single "Chasing the Sun" was released just yesterday. Duff's been quiet for more than five years, so we've compiled an audio history of her dozen years in the music industry, from her duets with Christina Milian and Lil Romeo to her "edgier" work with superproducer Kara DioGuardi. Take a walk down memory lane with us.
2002
In an effort to parlay her fame from Lizze McGuire to the recording industry, Duff releases "I Can't Wait," a cover of a Brooke McClaymont song. It's met with a resounding sigh of "well, I guess this is happening, huh?" Later that year, Duff proves her brand loyalty (synergy!) with a cover of "Tiki Tiki Room" for a Disney compilation. It remains a better song than the Baha Men's quasi-offensive "Hakuna Matata" cover from the same album.
In the winter, she releases her "first" album, the soundtrack to the Disney Channel original movie Santa Claus Lane. It features a duet with Lil Romeo, who, to his credit, at least shares a writing credit on the song, which Duff does not.
2003
Metamorphosis, Duff's true first album, is released, yielding hit singles like "So Yesterday," "Come Clean," and "Sweet Sixteen," the last of which is co-opted as the theme song to MTV's reality series My Super Sweet 16.
During a guest appearance on NBC's American Dreams, Duff plays a member of the Shangri-las and sings lead vocals on "Leader of the Pack."
Duff stars, Parent Trap–style, as two characters in The Lizzie McGuire Movie, which ends with the still-popular-a- theme-parties "What Dreams Are Made Of." It's like Britney Spears on Pop Rocks–flavored steroids.
2004
Hoping to seize upon the success of Duff's debut album, her record label rush-releases a self-titled follow-up. Lead single "Fly" quickly becomes the go-to angst anthem of millions of teens across the country whose parents just don't understand them.
Duff dips back into the illustrious Disney song well and emerges with "The Siamese Cat Song," a duet with her sister Haylie. The pair also releases a cover of "Our Lips Are Sealed," but "Siamese" is really the one you should hear because, well, synthesized cat noises.
MTV, clearly dissatisfied with the cuts from Hilary Duff, selects "Come Clean" as the Laguna Beach theme song.
Duff also stars in Raise Your Voice, a musical drama that features the single "Someone's Watching Over Me." Get those tissues ready.
2005
In celebration of her illustrious career, Duff releases a greatest-hits album called Most Wanted, with three new songs, one of which — "Wake Up" — is produced by then-boyfriend and Good Charlotte member Joel Madden. She also embarks on her first concert tour in support of the album.
2006
Remember Haylie Duff? Hilary enlists her sister once again for a cover version of Madonna's "Material Girl."
2007
This is when Duff starts to get to the good stuff. Working alongside later American Idol judge Kara DioGuardi, the singer crafts Dignity, a synth-pop album with dance-floor-ready singles like "Stranger" and "With Love."
2008
Who in a million years would've thought Hilary Duff would sample Depeche Mode's "Personal Jesus?" She did, on 2008's "Reach Out," one of two new tracks on her second (yes, second!) greatest-hits compilation. Withhold your judgment, though; it's kind of a jam.
2014
After many years away, "Chasing the Sun" is released to an incredibly critical audience.